Four London Knights were selected in the NHL Entry Draft over the weekend, continuing an impressive streak for the team. The Knights have had at least one player drafted to the NHL dating back to 1969, a streak that extends to 49 consecutive years. Since then, the Knights have had 28 players selected in the first round, with three going first overall (Rick Nash, Patrick Kane, and John Tavares). You can see the full list of Knights draftees here.
With four players selected to NHL teams this weekend, the Knights have now had two or more players drafted for nine straight years. During that span, a total of 34 players have been drafted, and 17 of those players spent time in the NHL this past season.
Let's take a look at the four most recent Knights draftees:
Robert Thomas
Round 1, Pick 20
Robert Thomas was selected 20th overall by the St. Louis Blues on Friday evening. Ranked 22nd by NHL Central Scouting, Thomas was taken two spots higher than projected. Thomas is a highly skilled playmaker who registered 16 goals and 50 assists across 66 games last season, giving him exactly a point per game. He has shown impressive faceoff ability, winning 56.7% of faceoffs taken across 106 OHL games.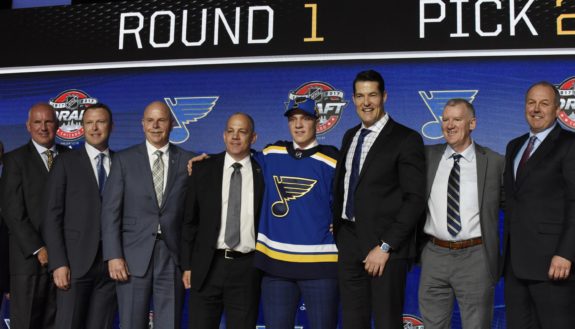 Thomas becomes the 14th London Knight to be drafted in the first round of the Draft since 2007. The Aurora, Ontario, native is expected to be NHL ready in two to three seasons.
Alex Formenton
Round 2, Pick 47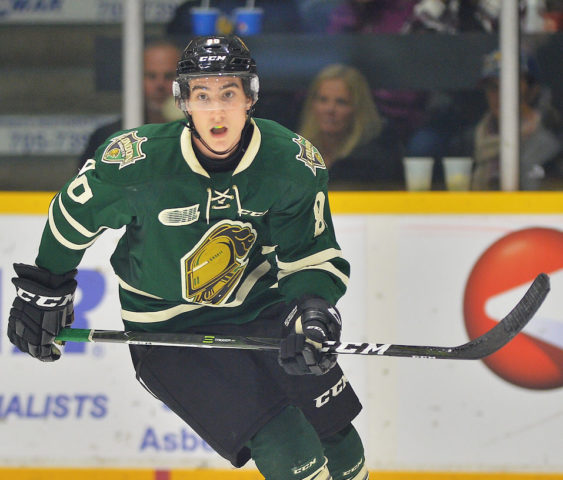 Formenton was the second London Knight off the draft board on Saturday morning, going 47th overall to the Ottawa Senators. Playing in his first OHL season this past year, he recorded 16 goals and 18 assists in 65 games.
The 6'1″ winger will need to add some bulk as he currently weighs in at 166 pounds, but he possesses the speed and skill to be a solid NHLer. The King City, Ontario, native spent three seasons with the Toronto Nationals of the GTHL before joining the Knights, where he was coached and mentored by Wendel Clark.
Brandon Crawley
Round 4, Pick 123
Congrats to @crawldiddy14 on being picked by the @NYRangers! pic.twitter.com/ozpGMgFGEJ

— London Knights (@LondonKnights) June 24, 2017
The next Knight to be selected was defenseman Brandon Crawley, who was selected 123rd overall by the New York Rangers after being overlooked in the 2015 and 2016 drafts. The New Jersey native recorded 27 points in 61 games this past season and had an impressive +55 rating. Crawley won a Memorial Cup with the Knights in 2016 and has shown improvement in each of his three OHL seasons.
Crawley will look to earn a contract with the Rangers during training camp. If he is not offered a contract, he may return to the Knights as an overage player for the 2017-18 season.
Jacob Golden
Round 5, Pick 147
Brent Flahr: "Jacob is a terrific skating defenseman with quality puck-moving ability." #mnwild #NHLDraft pic.twitter.com/nsWwBFo5gp

— Minnesota Wild (@mnwild) June 24, 2017
The fourth and final London Knight to be selected was defenseman Jacob Golden at 147th overall by the Minnesota Wild. The Toronto, Ontario native opted to join the Knights this past season instead of attending Harvard. In 38 games with the Knights, Golden recorded two assists and had a plus-three rating.
The 18-year-old is known for his skating ability and should be in line for a bigger role with the Knights in 2017-18. The Wild hope that he can be a steal in the fifth round if he can be developed properly.
Continuing the Streak
The London Knights will look to extend their NHL draft success to 50 consecutive years next season. The Knights will have five players draft eligible for the 2018 NHL Entry Draft: Evan Bouchard, Liam Foudy, Billy Moskal, Richard Whittaker, and Jordan Kooy.
There's a better chance than not that the streak will continue for the storied OHL franchise.