With the Fourth Pick in the 2017 NHL Entry Draft, the Colorado Avalanche Have Selected Cale Makar From the Brooks Bandits in the AJHL.
About Cale Makar
The second defenseman off the board, Cale Makar is one of the more well-rounded players in the entire draft. A solid defender who excels with the puck on his stick, Makar is a difference maker offensively. His play is tremendous in all three zones and there is very little risk for the Avalanche coming out of the draft with a prospect as good as Makar. It's unclear when Makar will make his debut, but he has a chance to make a huge impact from the second he makes his debut in the NHL.
THW Prospect Profile Excerpt
A year ago, you could be forgiven if you had never heard of Brooks Bandits defenseman Cale Makar. Last season, Makar was a very good player in one of Canada's top junior A leagues, the Alberta Junior Hockey League. He was one of the league's leading defensemen. This season, he's taken another step and has emerged as an elite player in the AJHL and one of the most talked-about defensemen in the entire 2017 NHL Draft class.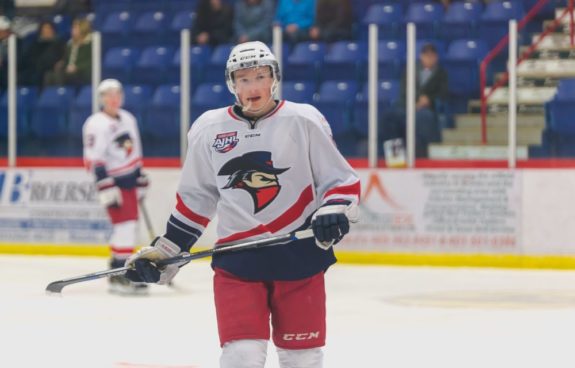 If there are two words to describe Makar's game, they would be "speed" and "skill." Makar is a very good skater. He frequently can use his acceleration and maneuverability to go from the right point to the net-front area in short order, which allows him to generate a lot of high-quality scoring chances. His skating ability also affords him the ability to leap into the rush frequently, as he's mobile enough to rush back to help break up offensive rushes that go the other way. Makar's skating ability alone makes him a very tantalizing prospect in the 2017 class.
Combine Makar's excellent skating with his puck-handling skills, though, and he becomes very intriguing. Part of Makar's leap up the various draft rankings has come from his uptick in production. He's scoring at a higher rate than he was last season – over a point-per-game pace, as a defenseman – and has followed up a season when he was one of the best offensive players in the AJHL with one where he's one of the best offensive players in all of Canadian junior A hockey. He is flat-out one of the most dynamic offensive threats in his level of hockey and age group.
The obvious question mark about Makar is regarding the level of opposition in the AJHL. He's been dominating the league, but the perception of junior A hockey is that is a mixture of players that aren't quite good enough to play in major junior and players that are avoiding major junior due to having collegiate aspirations. While the AJHL (and junior A in general) aren't quite up to the level of the major junior leagues, players that are dominant at that level would be at least very good major junior players. Makar's also not a massive physical specimen – he's a fairly skinny 5'11" – and it's not like he's a big kid bowling over junior A players. He's a very good hockey player, but the lack of head-to-head meetings between him and other 2017 prospects might hurt his draft standing relative to the rest of the field due to those minor qualms about the quality of junior A.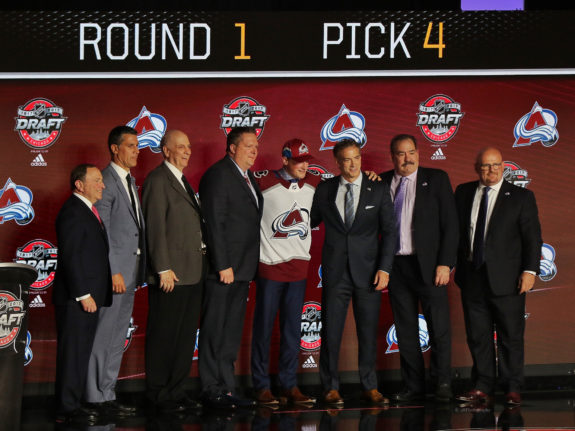 In the past decade, just eight players have been drafted from a junior A league in the first round. Only two of them – Tyson Jost in 2016 and Kyle Turris in 2007 – have been drafted in the top 10. Makar has turned a lot of heads and generated a lot of buzz with his dominance of the AJHL this past season. He may be the first defenseman selected in the draft, given his surge up most rankings and some injuries to Swedish blueliner Timothy Liljegren. Makar is a tantalizing prospect whose team will be able to be patient with from a developmental stance, as he's headed to the University of Massachusetts (Amherst) next season. Based on his progress over the past couple of seasons, he'll likely be worth the wait.
Full player profile can be found here
How This Affects the Colorado Avalanche Plans
The Colorado Avalanche are coming off of one of the worst seasons in the history of the NHL. As such, an impactful player like Makar is exactly what the Avalanche need moving forward. Though Makar isn't likely to make his debut in the 2017-18 season, he won't have to as the Avalanche are in a full rebuild right now. With young pieces like Nathan MacKinnon, Mikko Rantanen and others already in place, Makar has a chance to join a group of very talented, young players.
Brandon Share-Cohen has covered the NHL and various professional sports for seven years. Working with The Hockey Writers, Brandon works extensively on covering the Boston Bruins in addition to his role as the News Team Lead.