While veterans Ryan Getzlaf, Corey Perry, and Ryan Kesler are the primary faces of the Anaheim Ducks, the team also has some younger players who have taken on major roles.
Rickard Rakell, age 24, led the club in goals in 2016-17 with 33. The 26-year-old Jakob Silfverberg added 23. Nick Ritchie is only 21 and has become a key player. Hampus Lindholm and Cam Fowler both seem like they have been around for awhile (and will continue to be thanks to long-term contracts), but they are just 23 and 25 years old, respectively. Rising goaltender John Gibson is only 23.
Behind these players, Anaheim has a handful more in the pipeline who should make their marks in the NHL before long. Out of this rich array of up-and-comers, Sam Steel, Jacob Larsson, Max Jones, and Josh Mahura are the four most noteworthy.
Note: Winger Ondrej Kase (age 21) and defenseman Brandon Montour (23) are not considered in the list below, as they each have had sufficient NHL experience to no longer be labeled as "prospects." Kase appeared in 53 regular-season games and nine postseason contests for the Ducks in 2016-17. Montour, meanwhile, suited up for 27 regular-season games and 17 more in the playoffs, where he was a major bright spot for Anaheim.
Sam Steel (Center)
Steel might prove to be the steal (no pun intended) of the 2016 NHL Entry Draft. The Ducks selected the Alberta native 30th overall, six picks after they selected winger Max Jones.
At an even six feet tall and 179 pounds, the lefty-shooting Steel isn't a big player, but his skill level more than makes up for that. He is a cerebral player who uses his smarts, excellent vision and passing skills, and a quick and accurate shot release to pile up points and make a difference for his team.
Those attributes translated to an incredible 2016-17 WHL campaign where he led not only that league, but the entire CHL in scoring. Steel tallied 131 points (50 goals and 81 assists) in 66 games with the Regina Pats—an average of essentially two points per game. He poured in another 30 points (11 goals and 19 assists) in 23 playoff games.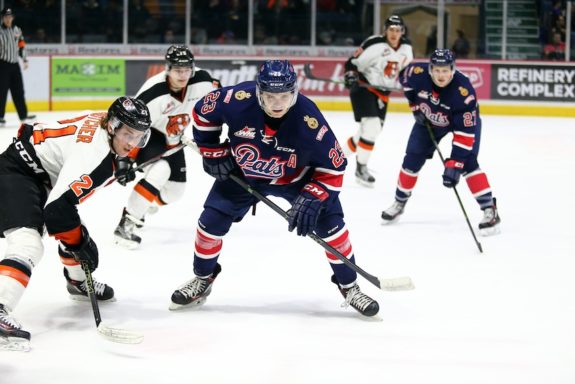 In winning the CHL Top Scorer Award, Steel joined some pretty impressive company that includes Sidney Crosby (a two-time winner), Patrick Kane, Brad Richards, Alexander Radulov, Daniel Briere, Marc Savard, and current Toronto Maple Leafs youngster Connor Brown. Not all CHL top scorers go on to have productive NHL careers, but as evidenced by this list, there are plenty who reach NHL stardom.
Even though he is only 19 years old, Steel should get a long look in training camp prior to the start of the 2017-18 season, as he seems poised to challenge for a roster spot. That said, even if he doesn't make the Ducks' roster for the upcoming season, he is not far away. He should soon prove to be an impact center who can provide consistent offense.
Jacob Larsson (Defenseman)
Larsson, like Steel, was a late first-round pick. The Ducks selected him 27th overall in the 2015 draft. At 6-foot-2 and 192 pounds, Larsson has decent size and should be able to add a bit more to his frame. More importantly, the Swede is an intelligent and effective all-around defenseman.
In the defensive zone, he uses smart positioning and strong stick work to limit time spent in his own end. From there, his superb vision and puck-moving capabilities help drive the play the other way. These skills along with his skating and passing abilities are of the utmost importance in today's NHL.
Larsson spent most of last season on loan with Frolunda HC in Sweden's SHL but did get some time in North America, including a four-game cup of coffee with the big club after earning a roster spot out of training camp. Larsson did not pick up any points in his brief appearance with the Ducks, but the experience of making the team last season while Hampus Lindholm was in a contract holdout should help him this time around.
While Anaheim has a deep and talented group of NHL defensemen, an abundance of them are right-handed (Sami Vatanen, Josh Manson, Brandon Montour, Kevin Bieksa, and Korbinian Holzer). While handedness can be a bit overblown, it doesn't hurt that the left-handed Larsson would bring a little more balance in that area. The 20-year-old stands a very good chance of not only making the NHL roster, but landing a more meaningful role with Anaheim this season.
Max Jones (Left Wing)
The Ducks selected the aforementioned Jones at No. 24 overall in 2016, only a handful of picks before Steel. Jones is a skilled power forward, the type of player to which the Ducks have become accustomed, so it's no wonder they nabbed him in the 2016 draft. His 6-foot-3, 203-pound frame aids him in puck possession and in getting to the front of the net. His size also does not hinder his skating ability, which is above average.
Jones, an American from Michigan, has shown growth in his game over his past two seasons with the OHL's London Knights. In 2015-16, he tallied 28 goals and 24 assists (52 points) in 63 games. He did not appear in as many games in 2016-17, due in large part to an arm injury sustained from a teammate's shot, but he increased his point-per-game average by notching 36 points (17 goals and 19 assists) in 33 games. He might have put up even better per-game numbers had the injury not disrupted his progress.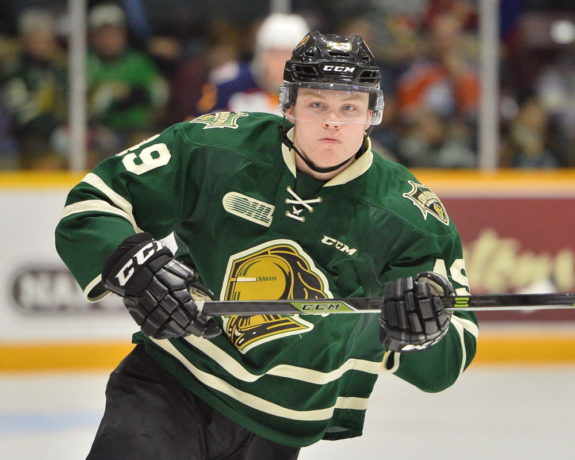 While Jones is a promising and hard-working player, he will need to exercise more discipline going forward. The other major reason why he missed so many games in 2016-17 was because of a suspension for cross-checking an opponent in the face. That suspension, handed out in February, forced him to the sidelines for 10 games and was the second major suspension of Jones's junior career. He received a 12-game ban less than a year earlier for delivering a blindside hit in a playoff game against the Owen Sound Attack (incidentally, that was the same team against whom Jones committed the crosscheck that resulted in his 10-game suspension).
Playing with an edge can be a good thing for Jones if he can control it. He has a plethora of tools to have a successful NHL career, but he needs to show a little more maturity. Since he is only 19, there is plenty of time for him to develop more discipline. If he does, he should be suiting up for the Ducks by 2018 if not sooner.
Josh Mahura (Defenseman)
Mahura, who hails from Alberta, is another player the Ducks picked up in what is looking to be a very fruitful 2016 draft. Anaheim selected the left-handed defenseman in the third round, 85th overall.
Mahura is another component of the Ducks' deep pool of skilled young defensemen, which is perhaps their biggest organizational strength. He is not particularly big (6 feet tall, 179 pounds), but his mobility allows him to play a solid 200-foot game. He is another good passer and he possesses an above-average shot from the point.
The 19-year-old is actually a WHL teammate of Steel thanks to the Red Deer Rebels trading him to Regina this past season. After posting an impressive 33 points (nine goals and 24 assists) in 39 games with the Rebels, he brought a nice presence to the Pats, chipping in 20 points (eight goals and 12 assists) from the blue line in 34 regular-season games after the trade. He then had a very impressive postseason with 21 points (eight goals and 13 assists) in 23 contests, so the offensive part of his game continues to grow.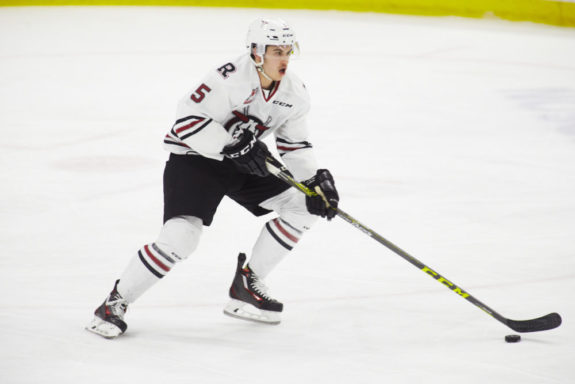 This full season of success, even with two different teams, had to be a nice experience for Mahura after the tumult of his 2015-16 campaign. A knee injury suffered early on that year cost him nearly the entire regular season. He did return for 17 playoff contests, showing few signs of rust, which was a great sign. For Mahura, hopefully that performance and his progress this past season have made up for the time he lost.
Barring a slew of injuries to Anaheim's back end, Mahura will likely not see any NHL action this season, but he is another nice piece for the Ducks to have in their defensive pipeline.
Honorable Mentions: Nicolas Kerdiles (LW/C), Kalle Kossila (LW/C), Nick Sorensen (RW), Troy Terry (C/RW), Maxime Comtois (LW), Antoine Morand (C), Marcus Pettersson (D), Olle Eriksson Ek (G), Kevin Roy (C/LW), Andy Welinski (D)
Tom has been with The Hockey Writers for almost four years. After previously covering the LA Kings and the New York Rangers, Tom now covers the Anaheim Ducks.
While in college at Clemson University, the 2016 college football national champions, Tom wrote game summaries and feature articles for the official team website of the Greenville Drive, a Class-A minor-league baseball team and affiliate of the Boston Red Sox. Tom is happy to be able to continue to fulfill his passions for sports and writing with THW.