On Friday, the Anaheim Ducks announced the signing of center Dennis Rasmussen, formerly of the Chicago Blackhawks, to a one-year contract worth $725,000.
NEWS: We have signed center Dennis Rasmussen to a one-year contract!

📰: https://t.co/iM2m5DJ6LG pic.twitter.com/C37O9fNa25

— Anaheim Ducks (@AnaheimDucks) July 7, 2017
Rasmussen, formerly of the Chicago Blackhawks, represents a serviceable depth addition down the middle for Anaheim. With his acquisition, though, the Ducks might be slowing down the ascension of their top prospects—Sam Steel in particular, and Max Jones secondarily—to the NHL level.
Rasmussen an Average Fourth-Line Center
The positive part of this signing is that it was very affordable and as such does not represent any real risk for Anaheim. At one year and $725,000, the Ducks certainly did not overpay for Rasmussen. That said, his time in Chicago over the past couple of seasons has shown that he is nothing more than a prototypical fourth-line center. The Ducks might have been attracted to his size (6-foot-3, 205 pounds), especially since that fits with their team identity, but what matters more is what results from that size.
Across most key measures, Rasmussen does not seem like a player who will make a major impact.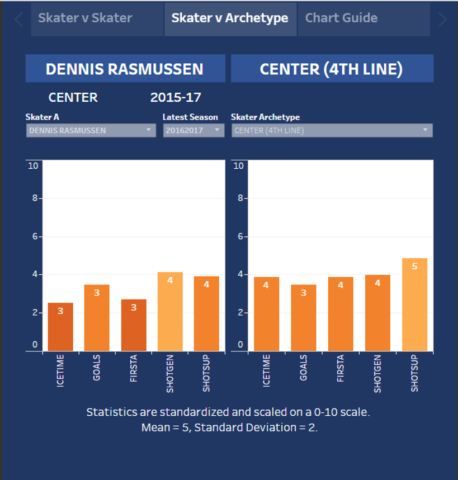 Rasmussen's shot generation and shot suppression numbers are very average in relation to the archetypal fourth-line pivot. He does not excel in any particular area, so the Ducks should not expect to uncover a hidden gem, especially considering Rasmussen is already 27 years old. His faceoff numbers are also underwhelming, as he has a career success rate of just 45.6 percent.
Rasmussen managed four goals and four assists in 27 games, though interestingly, he shot just 5.2 percent in 2016-17, down from 9.5 percent in 2015-16. So it's possible that he could chip in a few more goals if his shooting percentage jumps back up to something around seven or eight percent, but even so, the Ducks should not view him as a significant source of offense.
Will Steel or Jones See NHL Action?
Sam Steel
The Rasmussen signing in and of itself isn't a major move. It's for a minimal term and a very low salary. So why critique his game so closely? After all, behind Ryan Getzlaf, Ryan Kesler, and Antoine Vermette, Anaheim could use a little more depth down the middle, at least at first glance. Rasmussen represents a viable fourth-line option along with Chris Wagner.
The main reason to examine Rasmussen's game so closely is the opportunity cost that a lineup spot for him would incur. The Ducks' signing of Rasmussen, on top of the recently-signed Derek Grant, makes it more difficult for highly-skilled 19-year-old center Sam Steel to earn a regular spot with the club.
Steel, while only 19 years old, appears poised to take his game to the NHL level very soon. He might very well need another year and some AHL experience before graduating to the NHL, but with his talent, he should be given every opportunity to make that jump this season.
At six feet tall and 179 pounds, Steel could stand to bulk up a bit, but he has enough size to compete at the professional level right now. From a skill standpoint, Steel represents a very exciting prospect for the Ducks and their fans.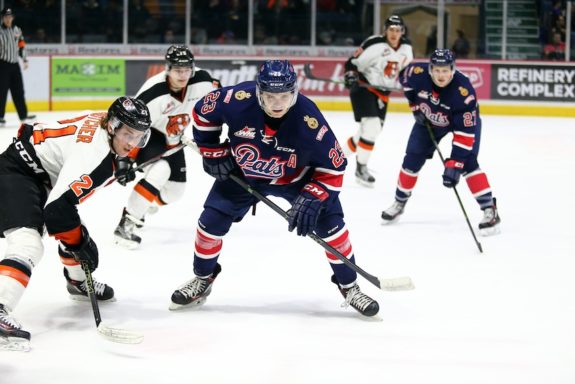 He led the entire CHL (which includes the WHL, OHL, and QMJHL) in scoring in 2016-17, notching a whopping 131 points (50 goals and 81 assists) in 66 games with the WHL's Regina Pats—essentially averaging two points per contest. He added another 30 points (11 goals and 19 assists) in 23 playoff games.
Past winners of the CHL Top Scorer Award include Connor Brown (now a productive player for the Toronto Maple Leafs), Patrick Kane, Alexander Radulov, Sidney Crosby (twice), and Brad Richards. While there are other names on the list that have not yet or did not experience major success in the NHL, this is nevertheless strong company for Steel.
A first-round pick (30th overall) of the Ducks in 2016, Steel could add a level of depth scoring to Anaheim before even reaching his full potential. Now, though, with Rasmussen aboard, the path to a full-time role with the big club becomes that much more difficult.
The Ducks now have somewhat of a logjam at the center position, so Steel would be competing for playing time with Rasmussen and Wagner. Perhaps Anaheim could play him on the wing for a time if he earns a roster spot in training camp, but Logan Shaw and Ondrej Kase will be vying for playing time as well—especially the 21-year-old Kase. 
Max Jones
Then there's fellow 19-year-old and 2016 first-round pick (24th overall) Max Jones. In two seasons with the OHL's London Knights, Jones has not put up the eye-popping numbers of Steel but did eclipse a point-per-game average in 2016-17 with 36 points (17 goals and 19 assists) in 33 games. At 6-foot-3 and 203 pounds, Jones embodies the type of skilled power forward the Ducks have grown accustomed to over the years.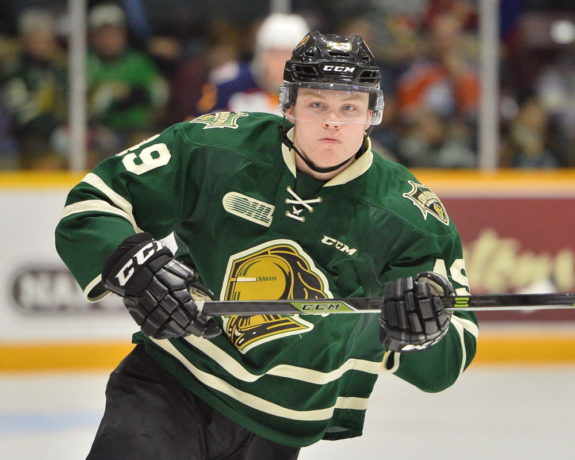 While he is very physically mature, Jones needs to show more discipline. His rough style of play has crossed the line on a couple of occasions and earned him lengthy suspensions. Anaheim general manager Bob Murray did not mince words when discussing Jones's issues, but did show that he likes the player and tools the Ducks have to work with.
"He's got to grow up a little bit," Murray said to the Orange County Register when discussing Jones back in June 2016, right after Jones was drafted. "He's immature. He's got to grow up. If you saw after [the first suspension] and watched him play, he was much better at the Memorial Cup. He was very good, very under control.
"I'd rather have to tame a guy down than have to try to prop a guy up."
Jones likely needs more seasoning before making the jump to the NHL. It's also possible that he could challenge for a spot if he has an impressive training camp. If he does, though, it will be a tough lineup to crack, something the Rasmussen signing only exacerbates. Jones is a winger, but if Rasmussen is in the lineup and someone else (even Steel) is thus moved to the wing, that could be detrimental to Jones.
The Ducks have some young players in their system who should get a long look going into the 2017-18 season. That makes the signing of the 27-year-old Rasmussen a bit of a head-scratcher. Given his age and previous NHL experience, it stands to reason that he will enter training camp with a more firm grasp on a roster spot than hopeful rookies. Head coach Randy Carlyle and the Ducks will need to look past these types of biases.
Again, the contract is not a risk, and at one year, Rasmussen could very well prove to be a useful stopgap if Steel, Jones, and other youngsters are not yet ready for full-time NHL roles. In that sense, Anaheim could be hedging its bets. On the other hand, if these younger players do prove themselves in training camp and show they are ready, the Rasmussen acquisition could be an unnecessary roadblock to their progress.
Tom has been with The Hockey Writers for almost four years. After previously covering the LA Kings and the New York Rangers, Tom now covers the Anaheim Ducks.
While in college at Clemson University, the 2016 college football national champions, Tom wrote game summaries and feature articles for the official team website of the Greenville Drive, a Class-A minor-league baseball team and affiliate of the Boston Red Sox. Tom is happy to be able to continue to fulfill his passions for sports and writing with THW.