For a great many of the NHL's top stars, the AHL has been a feature of their long journey towards professional success.
Working in partnership with the NHL, the AHL is a professional league that offers each team an affiliate location to serve as it's main development site. While the AHL draws just a slight fraction of interest in comparison to the NHL, most serious fans know about their affiliate team and the top prospects associated with that team in a given year.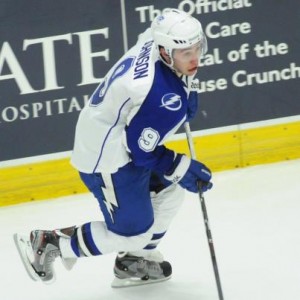 Most prospects, usually excluding the top tier of NHL-ready draftees, will make at least one stop in the AHL for conditioning, development, and maturation into professional hockey. The transition from Junior hockey to the NHL is a large gap, so most players coming from the CHL, for example, will stop by the AHL en route to their draft team.
Although some prospects only need a couple of months or a year of adjustment before jumping to the NHL, many will endure a gruelling three-year process post-draft before being called up.
Another source of top prospects playing in the AHL comes from NCAA free agent signees. Just like a couple of players on this list, the AHL offers a perfect place for prospects in their early 20s to make the necessary adjustments to be able to move from college hockey to the big leagues.
The following five players are ones to watch in the AHL for 2017-18, as they continue along their path of development aligned for a future in the NHL. Each is considered a top prospect for their respective teams and are one of the first players who could be called upon for a promotion to the NHL. If they remain in the AHL, they will be among the league leaders in their positions.
Charles Hudon – LW/C – Laval Rocket (MTL)
Age: 23
Acquired: Drafted 122nd overall in 2012
AHL Experience: 211 games
Charles Hudon is the most experienced AHLer on this list, having spent three years in the League heading into 2017-18. A fifth-round pick from five years ago, Hudon returned to the QMJHL for two years before entering the Montreal Canadiens' organization.
Having spent the three years of his entry-level contract in the AHL, Hudon was rewarded by receiving a two-year contract with Montreal on June 15th, 2017, the first year of which is two-way before it becomes one-way for 2018-19.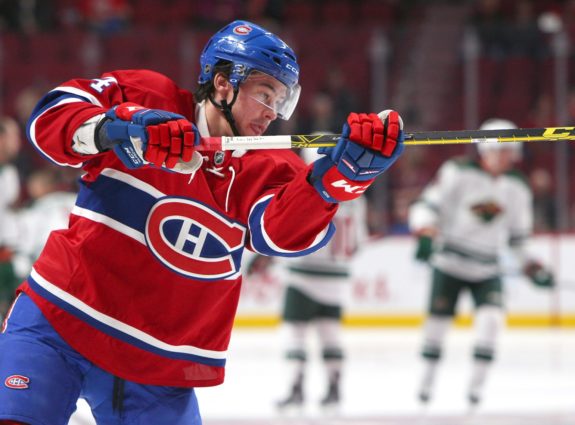 In the past three years, Hudon has ranked second on his team in points each year, with 57, 53 and 49. He also added 19, 28 and 27 goals in those seasons. To many around the League, likely including Hudon himself, he is more than ready to make the jump to the NHL. While the Canadiens' lineup is fairly deep with experienced NHLers, Hudon represents something that the team has been desperate for, for years: a true goal scorer.
Although untimely injuries were the root of Hudon's problems last year, including the reason for his demotion after a three-game stint with the Canadiens, he has finally turned that page of his book. Healthy and eager to make a difference, Hudon will likely begin the year in the AHL again, if not for a spectacular training camp.
If he does return to the Laval Rocket and the AHL, watch for Hudon to be one of the few point-per-game players in the League.
Spencer Foo – RW/C – Stockon Heat (CGY)
Age: 23
Acquired: Signed from Union College, NCAA, on June 28, 2017
AHL Experience: 0 games
Spencer Foo is a very interesting prospect. He spent his NHL-Draft eligible season playing midget hockey back home with the CAC Edmonton Canadians. He then spent two years in the AJHL, where he made huge improvements in 2013-14, potting 40 goals in 60 games and earning a commitment to Union College. His first two years at Union were good, but not noteworthy and not enough to draw NHL interest.
Finally, in 2016-17, Foo had a breakthrough. He finished fourth in NCAA scoring with 62 points in 38 games, including 26 goals. Foo is an uber-competitive forward with a tremendous skill set. He skates well with the puck and has great vision in developing plays.
Woah, @spencerfoo ?

How the right winger finished off the #FlamesDevCamp. pic.twitter.com/0it7Lx2TXs

— Calgary Flames (@NHLFlames) July 9, 2017
While Foo will be given every opportunity to make the Flames out of training camp, the team is fairly solidified up front. Most likely, the 23-year-old will be given some time to adjust to professional hockey in Stockton. If that is the case, Foo has the ability to quickly become a difference-maker at the AHL level.
Foo, a Hobey Baker finalist in 2017, instantly became one of the Flames' top prospects and will be among the first players looked at for a call-up. But before that happens, he will be a player that Heat fans watch with awe.
Christian Fischer – RW/C – Tucson Roadrunners (ARI)
Age: 20
Acquired: Drafted 32nd overall in 2015
AHL Experience: 63 games
Christian Fischer has progressed very well since his draft year. Drafted out of the U.S. National U18 Team, Fischer opted to go the OHL route instead of NCAA. He thrived in his one year with the Windsor Spitfires, scoring 40 goals and 90 points in 66 games. As an American, Fischer was eligible to join the AHL for 2016-17.
During his rookie year in the AHL, Fischer was able to adapt seamlessly to the professional level. He has a strong frame and at 6'2″, 212 pounds, he projects as a power forward in the NHL. Unlike many big, physical forwards, Fischer has the skill set to keep up with the best of the AHL, along with an electric release, showcased by his 20 goals in 57 games in 2016-17.
Although Fischer was able to earn a late season call-up, adding three goals in seven games, it looks likely that he will remain in Tucson for the majority of the 2017-18 season. Fischer led the AHL in points-per-game among U20 players last season with a 0.82 rate.
While there are certainly roster spots available on the Coyotes, the team is not trying to rush their prospects into the NHL (see Dylan Strome). As a result, Fischer will likely spend another year in the AHL. Another year of growth and maturity will do wonders for Fischer's game, making him a prime candidate to hit the point-per-game plateau.
Zach Aston-Reese – C/RW – Wilkes-Barre/Scranton Penguins (PIT)
Age: 22
Acquired: Signed from Northeastern University, NCAA, on March 14, 2017
AHL Experience: 10 games
Zach Aston-Reese, a lot like Foo, took longer than the usual prospect to develop. He spent his NHL-Draft eligible year in the USHL with the Lincoln Stars, where he had just 15 points in 53 games. A year later, he earned a commitment to Northeastern University. After two fairly average years, Aston-Reese found his playmaking ability. The next year, his fourth, the goal scoring came along as well.
The result was a 31 goal, 63 point campaign, and eventually, a contract with the Pittsburgh Penguins. In the latter part of the 2016-17 season, Aston-Reese was able to get into 10 AHL games with Wilkes-Barre/Scranton, where he added three goals and eight points, quickly proving his ability to play professional hockey.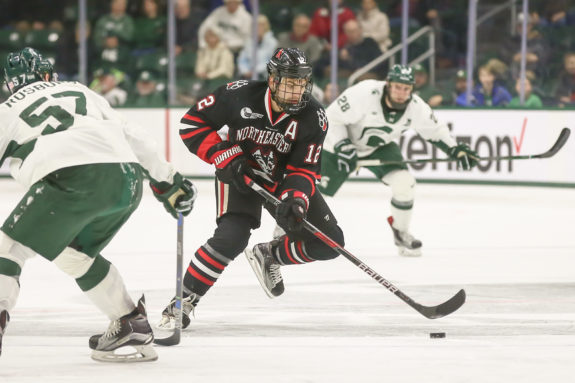 While Aston-Reese will undoubtedly be given an opportunity to make Pittsburgh's roster out of training camp, he will be facing an uphill battle with so many experienced NHL forwards. Spending a year in the AHL with allow Aston-Reese to grow and learn Pittsburgh's style while playing first-line minutes.
In all, Penguins fans can expect Aston-Reese to produce at a high level in the AHL, developing into a true NHL prospect. As a 22-year-old, he should be able to become a game-changer almost instantly, paving the way to be a top point producer on his team.
Contributor for the Toronto Maple Leafs and Prospects. Scout with the Oakville Blades of the OJHL. For questions, concerns, or comments, contact me at devinslawson123@hotmail.com or on twitter @SlawsonTHW.