If you go back through the years of the Edmonton Oilers' goaltending pipeline, everyone should come to the same conclusion—it's been a wasteland since the Oilers joined the NHL in 1979. There have been some stellar goaltenders in Edmonton's history like Grant Fuhr, Andy Moog, Bill Ranford, Curtis Joseph and even Tommy Salo. However, those goaltenders have been few and far between.
The fact of the matter is that for nearly 40 years the Oilers haven't had much luck drafting or developing goaltending prospects. Since joining the league, Edmonton has drafted 41 goaltenders. Of those 41, just four have gone on to play in over 100 NHL games. Since 2000 the club has seen just Devan Dubnyk (363 games) and Jussi Markkanen (128 games) surpass that benchmark.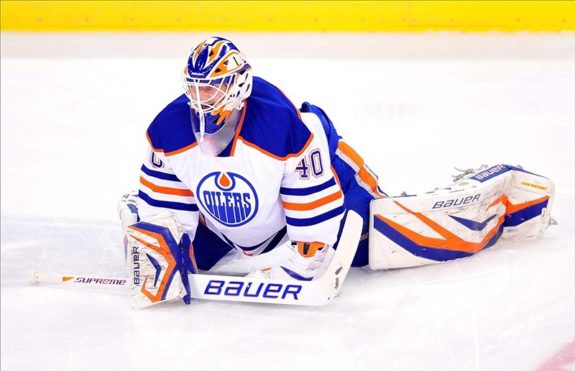 It's been a real wasteland. That said, times are a-changin', as they say. Over the past few seasons, the Oilers have added several intriguing goaltending prospects to the system, and the pipeline is flourishing for once. Laurent Brossoit, Nick Ellis, Dylan Wells, Stuart Skinner, and Shane Starrett are all goaltenders that bring hope to Edmonton's future.
If one or two of this crop can become NHL regulars, it'll give the Oilers hope for the day that Cam Talbot's reign as Edmonton's number one comes to an end.
Laurent Brossoit
Acquired: Trade with Calgary Flames in November 2013
The only goalie who sits higher on the totem pole in Edmonton than Laurent Brossoit is Talbot. Brossoit, 24, was pegged at one point as the Oilers' goalie of the future. For a myriad of reasons, it looks as if that tag has been passed to another prospect.
Brossoit was acquired from the Calgary Flames in November 2013 along with Roman Horak for Ladislav Smid and Olivier Roy. Fast-forward four years and Brossoit is the only player still with an organization involved in that deal.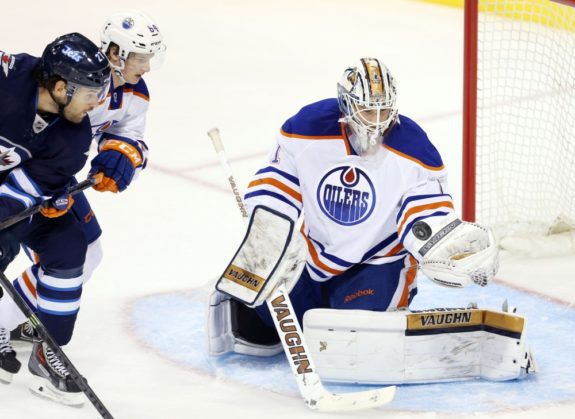 During his time with the Bakersfield Condors this season, Brossoit was one of the few shining lights on a struggling team. The Condors were one of the worst offensive teams in the minors but stayed competitive thanks to their goaltending duo. After Jonas Gustavsson was demoted to the minors, Brossoit was recalled and became the Oilers' de facto backup.
During that stretch, Brossoit would start just four games and had a month between starts on two separate occasions. Much of the reasoning for Brossoit's few and far between starts was because Talbot arguably had one of the best seasons for an Oilers goaltender in decades.
Regardless, Brossoit still provided Edmonton with a competent backup. In eight appearances this year, Brossoit recorded a 1.99 goals-against average and a .928 save percentage. Expect Brossoit to play more often in 2017-18 as he earns more trust from Todd McLellan and the coaching staff.
Nick Ellis
Acquired: Free-Agent Signing in April 2016
Nick Ellis has been a pleasant surprise for the Oilers. A college free-agent signing out of Providence College, Ellis played second fiddle to Calgary prospect Jon Gillies. Once Gillies turned pro, Ellis shone in the spotlight.
Last spring when the Oilers signed him, the Edmonton Journal's Jonathan Willis projected a long-term curve for Ellis. Willis anticipated he'd be an ECHL starter in his rookie season and an NHL goaltender by 2019-20.
According to those projections, Ellis has fast-tracked by three seasons. Once Gustavsson was demoted, and Brossoit recalled to Edmonton, Ellis stepped seamlessly into the Condors' starting job.
He finished his rookie season with a 2.69 goals-against average and a .918 save percentage in 34 games. Next season he'll split the starts with the recently signed Ed Pasquale.
As Oilersnation's Zach Laing points out, the boxcars from Ellis's rookie year were similar to Brossoit's first AHL season. At 6-foot-1 and 180 pounds, Ellis is technically the smallest goalie in the Oilers' system. Edmonton's added tremendous size to its prospect base, but don't let that hinder your opinion on Ellis.
Dustin Schwartz, the Oilers' goalie coach, has had high praise for Ellis in the past. Schwartz describes the 23-year-old as a highly competitive goalie who's becoming more technically sound.
Schwartz also states that Ellis is strong positionally and does a great job tracking pucks. Where Ellis ends up in a few years might surprise people. He's got NHL goaltender written all over him. The question is if Ellis's true potential is more of a 1A/1B or a backup.
Dylan Wells
Acquired: 2016 Fifth-Round Pick (123rd Overall)
Wells might have been ranked the 10th-best North American goaltender in his draft year by NHL Central Scouting, but he's emerged as one of the better goalies from his draft class.
The 19-year-old became the starting goalie of the Peterborough Petes and had a stellar year en route to the OHL Eastern Conference Final. Wells finished the year with the fifth-best save percentage among goalies with a minimal of 30 games in the OHL at .916.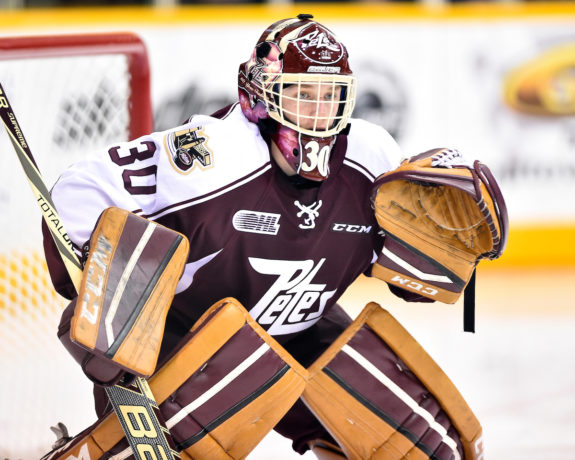 Of all the goaltenders in the Oilers' pipeline, Wells might have the highest upside. Along with another Oilers prospect, Stuart Skinner, Wells was invited to Team Canada's 2018 World Junior development camp. If he can beat out Carter Hart (Philadelphia) and Michael DiPietro (Vancouver), he'll be one of the goalies for Canada.
The Petes are also one of the stronger teams in the OHL. Between the two, Wells could potentially get a fair share of attention next season. Edmonton signed him to a three-year entry-level contract in May.
Shane Starrett
Acquired: Free-Agent Signing in April 2017
The Oilers signed Starrett out of Air Force Academy in April. The 22-year-old was passed over in the draft, but over the last two seasons has cemented himself as one of the better college goaltenders with Air Force Academy (NCAA).
In two seasons, Starrett has a 42-15-9 record, a 1.96 goals-against average, a .925 save percentage and nine shutouts in 70 games.
He's been one of the best goalies in the NCAA during that time and his 6-foot-5, 180-pound frame helps. He's currently battling for the backup job in Bakersfield, but will likely be headed to the ECHL's Wichita Thunder.
The 22-year-old was named the NCAA (AHA) Goaltender of the Year and was a semifinalist for the Mike Richter Award as the nation's best goaltender.
Starrett is a big goalie who moves very well for a man of his size and plays a fundamentally sound game. He's under contract for two seasons with a $817,500 cap hit. Like Ellis before him, Starrett will hope to make a strong transition to the pros in his first year.
Stuart Skinner
Acquired: 2017 Third-Round Pick (78th Overall)
The 2017 NHL Draft was considered to be a relatively deep talent pool for goaltenders. The Oilers liked Skinner so much that they packaged the picks they got from the St. Louis Blues (82nd) and Vancouver Canucks (126th) to move up four spots in a trade with the Arizona Coyotes.
Skinner, 18, was the fifth-ranked North American goaltender by NHL Central Scouting. He appeared in 60 games with the WHL's Lethbridge Hurricanes and posted a 3.26 goals-against average and a .905 save percentage.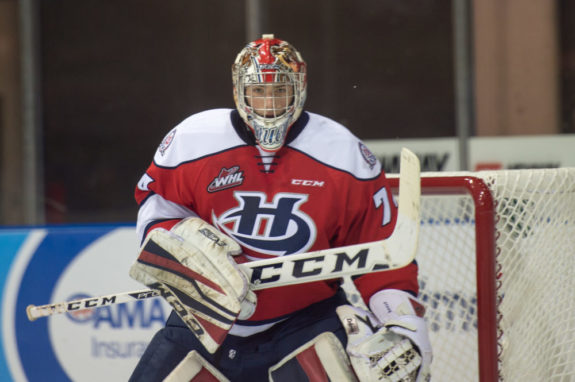 He's got an impressive skill set, and he's been the starter in Lethbridge since he was a 16-year-old. At 6-foot-4 and 205 pounds, he's got tremendous size for a future NHL goaltender. Skinner had a strong playoff this year and led the Hurricanes to the WHL Eastern Conference Final. He held a .916 save percentage during that time.
Skinner also represented Canada at the U-18 Ivan Hlinka tournament this season. In an interesting twist, if you follow the Nail Yakupov trade tree, Skinner is all that remains for Edmonton from that deal. Zack Pochiro wasn't tendered a qualifying offer and is currently an unrestricted free agent. So Yakupov for Skinner.
Edmonton Oilers Draft History
As per HockeyDB, below is the Oilers' draft history condensed to show all 41 goaltenders selected by the club. Just 10 of those 41 netminders made NHL appearances. As mentioned, only four would go on to play more than 100 games. For every Grant Fuhr and Andy Moog, there's a there's a Patrick Dovigi or Andrew Verner.
Here's the complete list for your amusement.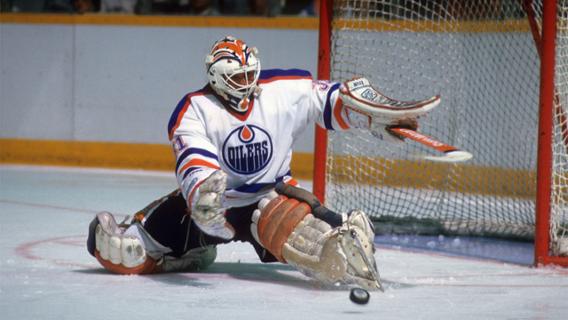 Oilers Draft History – Goaltenders

Draft
Ovr
Rnd
Player
Amateur Club
NHL GP

2017

78

3

Stuart Skinner

Lethbridge [WHL]

2016

123

5

Dylan Wells

Peterborough [OHL]

2015

208

7

Miroslav Svoboda

Trinec Jrs. (Czech Rep.)

2014

111

4

Zach Nagelvoort

U. of Michigan [Big-10]

2014

183

7

Keven Bouchard

Val d'Or [QMJHL]

2011

62

3

Samu Perhonen

JYP Jrs. (Finland)

2011

182

7

Frans Tuohimaa

Jokerit Jrs (Finland)

2010

121

5

Tyler Bunz

Medicine Hat [WHL]

1

2009

133

5

Olivier Roy

Cape Breton [QMJHL]

2006

133

5

Bryan Pitton

Brampton [OHL]

2004

14

1

Devan Dubnyk

Kamloops [WHL]

363

2004

274

9

Bjorn Bjurling

Djurgardens IF [SEL]

2002

31

2

Jeff Deslauriers

Chicoutimi [QMJHL]

62

2002

148

5

Glenn Fisher

Fort Saskatchewan [AJHL]

2001

133

5

Jussi Markkanen

Tappara [SM-liiga]

128

1999

81

3

Adam Hauser

U. of Minnesota [WCHA]

1

1998

113

4

Kristian Antila

Ilves Jrs (Finland)

1998

186

7

Mike Morrison

Exeter H.S. (N.H.)

29

1997

41

2

Patrick Dovigi

Erie [OHL]

1997

231

9

Alex Fomitchev

St. Albert [AJHL]

1996

221

9

John Hultberg

Kingston [OHL]

1995

83

4

Mike Minard

Chilliwack [BCJHL]

1

1994

179

7

Chris Wickenheiser

Red Deer [WHL]

1994

214

9

Jeremy Jablonski

Victoria [WHL]

1992

109

5

Joaquin Gage

Portland [WHL]

23

1991

34

2

Andrew Verner

Peterborough [OHL]

1991

232

11

Evgeny Belosheiken

CSKA Moscow [Russia]

1990

101

5

Greg Louder

Cushing Academy [Mass H.S.]

1990

143

7

Mike Power

Western Michigan [CCHA]

1988

187

9

Tom Cole

Woburn H.S. (Mass.)

1987

189

9

Gavin Armstrong

R.P.I. [ECAC]

1986

189

9

Mike Greenlay

Calgary Midgets AAA

2

1985

125

6

Brian Tessier

North Bay [OHL]

1985

251

12

John Haley

Hull H.S. (Mass.)

1984

42

2

Daryl Reaugh

Kamloops [WHL]

27

1983

180

9

Dave Roach

New Westminster [BCJHL]

1982

188

9

Ian Wood

Penticton [BCJHL]

1982

230

11

Chris Smith

Regina [WHL]

1981

8

1

Grant Fuhr

Victoria [WHL]

868

1980

132

7

Andy Moog

Billings [WHL]

713

1980

153

8

Rob Polman-Tuin

Michigan Tech [WCHA]
Edmonton Oilers regular contributor providing insight on all things Oilers including club history, prospect profiles, trade breakdowns, and everything else in between. Check back regularly for new and exciting content. Follow on Twitter @SanderTHW.