This article was originally posted in July, 2016.
The Edmonton Oilers aren't good at drafting, shocking. One of the most commonly known things out there in hockey is how purely awful the Oilers are at the draft. It's a key reason why this franchise has been mediocre at its best and putrid at it's worst since winning the Stanley Cup in 1990.
This franchise hasn't had any ounce of success in over a quarter century outside of a cinderella run to the finals in 2006. It's purely fascinating how bad you can be and the multitude of reasons the Oilers have struggled since their last championship. The fanbase can write a book at this point about the many reasons but that's not what we're here to do right now. Instead focus on one key area, the draft and something stumbled upon while looking through HockeyDB.
This isn't to say the Oilers haven't had a capable starter. Through acquisitions Edmonton has brought in the likes of Curtis Joesph, Tommy Salo, Dwayne Roloson and Nikolai Khabibulin to name a few that served the role as starters here but none were drafted and developed.
Nothing Drafted Between Fuhr In '81 and Dubnyk In '04
Between drafting Grant Fuhr (8th overall) in 1981 and Devan Dubnyk (14th overall) in 2004, the Oilers didn't draft a goalie that became a starter in 23 years. It wasn't for not trying either; the Oilers selected 26 goaltenders in the draft years between the Fuhr/Dubnyk gap, 27 if you include Bjorn Bjurling who was taken in the 274th overall the same year the Oilers picked Dubnyk.
All in all this franchise has taken a grand total of 41 goaltenders and of that crop just three have become starting goaltenders; Fuhr, Dubnyk and Andy Moog who was ironically taken 132nd overall in 1980 the year prior to Fuhr.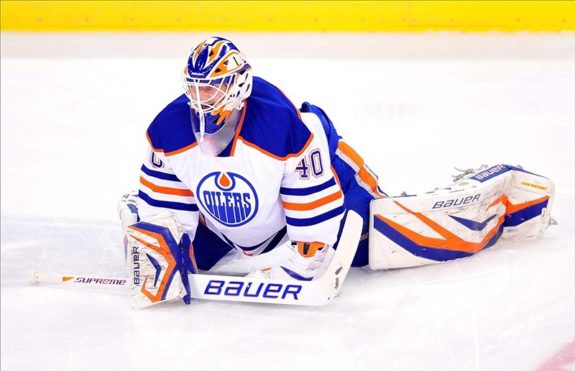 There have been some notable flame outs like Daryl Reaugh (42nd – 1984), Joaquin Gage (109th – 1992), Patrick Dovigi (41st – 1997), Jeff Deslauriers (31st – 2002), Olivier Roy (133rd – 2009) and Tyler Bunz (121st – 2010). Of that group Deslauriers, Roy and Bunz were the most highly regarded in recent memory.
Deslauriers Was The Chosen Draft Pick
Deslauriers was a QMJHL defensive rookie of the year in 2001-02, the top ranked North American goaltender in his draft year and second best overall behind Kari Lehtonen. After posting decent numbers with the Chicoutimi Sagueneens and being on the radar for Canada at the World Junior tournaments despite not making the team, he graduated to the AHL. A goalie with a 6'4 frame it seemed like the Oilers had found their heir apparent to Tommy Salo.
He struggled adjusting to the pro game and split time between the AHL and ECHL before solidifying himself as an AHL starter in 2006-07 with the Wilkes-Barre Scranton Penguins. In 2008-09 he was waiver eligible and the Oilers started to really fumble his development. They employed a three goalie system for the next three seasons with Deslauriers going down for the occasional conditioning stint in the AHL or sitting for long stretches. During this time Deslauriers would split the net with Dwayne Roloson, Mathieu Garon, Nikolai Khabibulin, Martin Gerber and Devan Dubnyk.
Eventually Deslauriers would lose the battle to Dubnyk and he signed with the Anaheim Ducks in 2011-12. The next year he'd find himself back in the AHL and now Europe. Overall Deslauriers played a total of 62 NHL Games and posted a 3.26 GAA and 0.901 SV%, never quite reaching his potential to be a future starter. This is equal blame on the organization that fumbled his development and a player that just never put it all together in the NHL.
Roy and Bunz Had Tremendous Junior Careers
Roy was another interesting name after being named QMJHL rookie of the year in 2007-08 and he played in the CHL top prospects game in his draft year. In his 20-year-old season playing for Cape Breton, he'd represent Canada at the World Juniors. He was supposed to be the starter but lost the job to Arizona prospect Mark Visentin.
Roy ended the tournament with a 3.57 GAA and 0.875 SV% in 3 games. He'd end up playing just 29 AHL games for the Oilers franchise over three seasons before being traded to Calgary in the Laurent Brossoit trade. Roy played out the rest of the year with the Flames AHL affiliate and was not tendered a qualifying offer. He's played the last three seasons in Europe.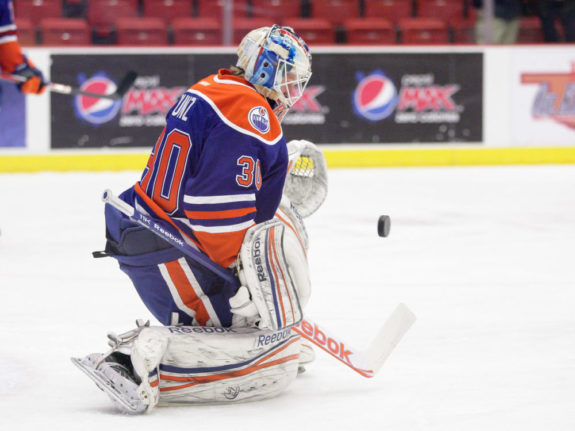 Bunz is another name that disappointed, he was stellar in junior backstopping the WHL Medicine Hat Tigers where he played 197 games. Bunz was a building block for the team that boosted Emerson Etem and Hunter Shinkaruk who led the team offensively with a combined 110 goals and 198 points his final year.
He was named the WHL top goaltender in 2011-12 but struggled with injuries and seemed to have peaked in junior. He'd play one game for the Oilers after a near life-threatening injury in March 2014 when a puck fractured his larynx. The Oilers didn't tender a qualifying offer at the end of 2014-15 and he retired the following year after attempting a comeback via tryout with the ECHL's Colorado Eagles.
The Complete List of Draft Picks
Here is the complete list of Oilers goaltending prospects drafted since the teams first draft in 1979.
1979 – None
1980 – Andy Moog (132nd), Rob Polman-Tuin
1981 – Grant Fuhr (8th)
1982 – Ian Wood (188th), Chris Smith (251st)
1983 – Dave Roach (180th)
1984 – Daryl Reaugh (42nd)
1985 – Brian Tessier (125th), John Haley (251st)
1986 – Mike Greenlay (189th)
1987 – Gavin Armstrong (189th)
1988 – Tom Cole (187th)
1989 – None
1990 – Greg Louder (101st), Mike Power (143rd)
1991 – Andrew Verner (34th), Evgeny Belosheiken (232nd)
1992 – Joaquin Gage (109th)
1993 – None
1994 – Chris Wickenheiser (179th), Jeremy Jablonski (214th)
1995 – Mike Minard (83rd)
1996 – John Hultberg (221st)
1997 – Patrick Dovigi (41st), Alexander Fomitchev (231st)
1998 – Kristian Antila (113th), Mike Morrison (186th)
1999 – Adam Hauser (81st)
2000 – None
2001 – Jussi Markkanen (133rd)
2002 – Jeff Deslauriers (31st), Glenn Fisher (148th)
2003 – None
2004 – Devan Dubnyk (14th), Bjorn Bjurling (274th)
2005 – None
2006 – Bryan Pitton
2007 – None
2008 – None
2009 – Olivier Roy (133rd)
2010 – Tyler Bunz (121st)
2011 – Samu Perhonen (62nd), Frans Tuohimaa (182nd)
2012 – None
2013 – None
2014 – Zach Nagelvoort (111st), Keven Bouchard (183rd)
2015 – Miroslav Svoboda (208th)
2016 – Dylan Wells (123rd)
2017 – Stuart Skinner (78th)
NHL Games Played By Draft Picks Breakdown
We won't include the recent picks from 2012 onward in this breakdown because their pro careers are still in their respective infancies. We will however include all the picks from 1979-2011 giving a five-year buffer for the young guys to develop.
All in all, Edmonton has drafted 40 goaltenders in their history and just three have played more than 200 plus games in the NHL. Keep in mind that goaltenders are the hardest field to pick from because they are an absolute crap shoot at the draft.
0 NHL Games – (24) Rob Polman-Tuin, Ian Wood, Chris Smith, Dave Roach, Brian Tessier, John Haley, Gavin Armstrong, Tom Cole, Greg Louder, Mike Power, Andrew Verner, Evgeny Belosheiken, Chris Wickenheiser, Jeremy Jablonski, John Hultberg, Patrick Dovigi, Alexander Fomitchev, Kristian Antila, Bryan Pitton, Glenn Fisher, Bjorn Bjurling, Olivier Roy, Samu Perhonen, Frans Tuohimaa

1-10 NHL Games – (4) Mike Greenlay, Mike Minard, Adam Hauser, Tyler Bunz

11-50 NHL Games – (3) Daryl Reaugh, Joaquin Gage, Mike Morrison

50-100 NHL Games – (1) Jeff Deslauriers

100-200 NHL Games – (1) Jussi Markkanen

200+ NHL Games – (3) Andy Moog, Grant Fuhr, Devan Dubnyk
In comparison Calgary has drafted three as well (Mike Vernon, Trevor Kidd, Craig Anderson) with both Jon Gillies (75th – 2012) and Tyler Parsons (54th – 2016) tagged with starter potential, making that a possible five. Montreal in that time has drafted seven since 1979.
Another random look at Ottawa and they've got three as well once Robin Lehner plays another year or two as the starter in Buffalo. Ottawa has only been in the league since 1992. Another team at random, Philadelphia has drafted seven if you include Pelle Lindbergh whose career was cut short by a tragedy.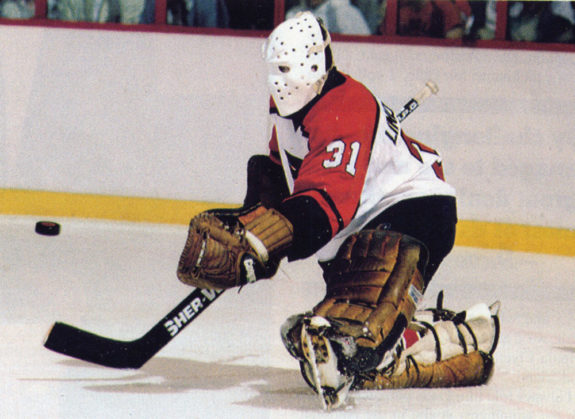 Looking at the current prospect bank that were drafted by the club there's limited promise. After failures with Keven Bouchard and Zach Nagelvoort who both lost their respective starting jobs in the QMJHL and NCAA, there's really only two draft picks that are promising. Dylan Wells and Stuart Skinner seem like the Oilers highest hopes of developing a drafted starting goaltender.
Wells emerged as one of the best goaltenders in the OHL in 2016-17, and along with Skinner, both are in the running for a spot on Team Canada's 2018 World Junior Championship team.
It was 23 years between Fuhr and Dubnyk. Who knows how long it'll be until another starter emerges.