Who doesn't like a good mailbag? With the NHL season right around the corner, it seems appropriate to start the Overtime With BSC Mailbag; a new series of articles where the hockey community can have their voices heard and questions answered! I will be taking questions on Twitter using the hashtag "AskBSC" and publishing a new mailbag article with regularity. The frequency will be determined by the demand for the articles, however, which means minimal interest will lead to a post each month. Slightly higher interest will lead to a post every two weeks, and continued involvement throughout the season could see a new mailbag every single week. Without further delay, however, here is the inaugural mailbag.
What city would be your next target for NHL Expansion? Looking forward to the new mailbag! (Matt Wilson via Twitter)
The two obvious choices for NHL Expansion following Vegas receiving a team include Quebec City and Seattle. Both cities have long vied for an NHL franchise – Quebec looking for its second after the original Nordiques were moved to Colorado, adopting the "Avalanche" name in the process. As the bids for the expansion process came down to Vegas and Quebec last year with Seattle taking a step back, the logical answer to this question is Quebec City.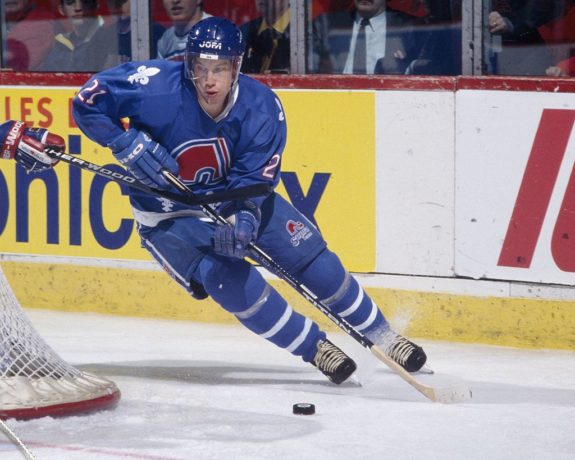 As demonstrated by the city of Winnipeg, a team leaving a city doesn't necessarily mean the city doesn't deserve a team. The Montreal Canadiens have one of the largest fan bases in the entire NHL, which isn't surprising given the fact that they're the only team in a province that boasts over eight million people. Prior to the Canadiens having a monopoly on the hockey market, however, the rivalry between the Nordiques and Canadiens was alive and well and was arguably one of the best rivalries in the history of the game. While the two fan bases likely wouldn't hold quite the same resentment for each other right off the bat, it would be good for the game to see a cross-province rivalry return in a province with so much hockey history.
Which college prospect do you see having the biggest impact for the [Bruins] next season? (Cam Hasbrouck via Twitter)
It's no secret that the Bruins spend a lot of time looking at the college hockey scene. It's tough to ignore when so many talented prospects play at schools like Boston University, Boston College, Harvard and Providence, among others. With so many recent draft picks of the Bruins choosing to continue their development in the NCAA before making the jump to the NHL, including recent examples of Charlie McAvoy, Jakob Forsbacka Karlsson, Matt Grzelcyk, Rob O'Gara, Danton Heinen and Anders Bjork, there's no reason to believe the Bruins will start paying any less attention.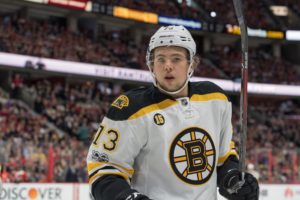 Out of the group mentioned above, however, four names stand out as potential impact players in the 2o17-18 season. Those players would be McAvoy, Bjork, Heinen and Forsbacka Karlsson. It's tough to quantify what a rookie can do with a team, especially when only one of those rookies appears to be a roster lock heading into the season (McAvoy). It's obvious that all four players are tremendously talented and could be big-time players for the Bruins for years to come. If any one player of the group has to be chosen, however, the safe bet is McAvoy.
McAvoy is the Cream of the Crop
Though he's only appeared in six playoff games in his NHL career and will be making his regular season debut next season, McAvoy already appears to be the real deal. Poise, skill and accountability. Those are just three words that can be used to describe the Bruins 19-year-old blueliner who left Boston University to sign with the Bruins last season for their playoff series against the Ottawa Senators. One thing was clear from the very get-go – McAvoy never looked out of place. In fact, he looked like a bonafide top-pairing defenseman from his very first game despite not recording a point or even a shot in that contest. With mobility, crisp passing and great vision, McAvoy could be a huge impact player for the Bruins next season as he will likely occupy a top-four role on the team's blue line.
What team do you see having a bounce back year? (Justin via Twitter)
It's hard to bet against the Tampa Bay Lightning given their roster. Their team simply looks too good on paper and has demonstrated too much ability in the past for me to not expect a bounce-back season. With the returns of Steven Stamkos and Ryan Callahan joining a team that boasts Nikita Kucherov, Tyler Johnson, Ondrej Palat, Victor Hedman, Anton Stralman, Andrei Vasilevskiy and potentially Mikhail Sergachev, the team simply has too much firepower to hold down. The Atlantic division is prime for the taking for any team ready to take the next step. The Lightning will likely be looking to reclaim their spot on top as a result.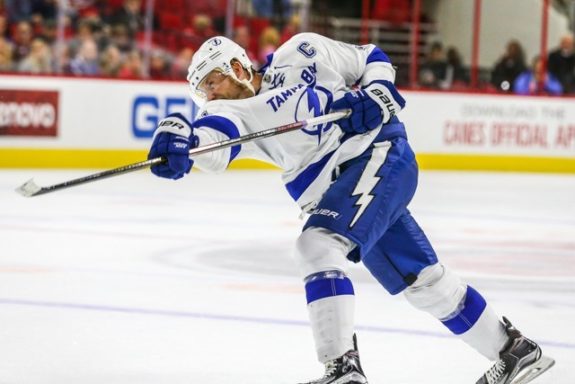 One thing to note is the fact that the team will be without budding star Jonathan Drouin. While many teams would struggle with such a loss, the Lightning's offense is still bursting with talent and their blueline could have found the solidifying piece it was looking for in Sergachev given his potential to fill in a top-pairing role for a long time at the NHL level. Whether or not he makes an impact right away is anybody's guess, but the Lightning likely won't be regretting thehockeywriters.com/montreal-canadiens-trade-mikhail-sergachev-tampa-bay-lightning-jonathan-drouin/ anytime soon.
Who replaces Chara on the left side when he retires? (Court Lalonde via Twitter)
It's tough to ever use the word "replace" when talking about someone who has impacted the Boston Bruins in such a long way for over a decade. One of the best players in the history of the franchise and a sure-fire Hall of Famer one day, Chara won't be easily replaced. It's going to take multiple players to help fill in for what Chara has been able to do with the team, from his leadership to his defensive ability (and that's not even mentioning his role in defending his teammates whenever necessary). In terms of filling his spot as the team's top-pairing left-shot defenseman, there are a few options.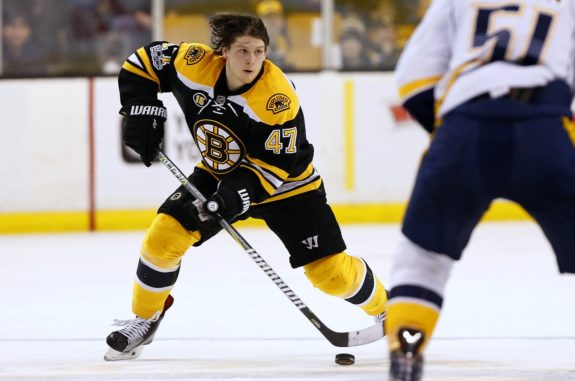 While Torey Krug may not be the best defensive player in the league, he's certainly one of the best defensemen on the Bruins roster given his mobility and ability to produce offensively. The issue with Krug playing in such a big role for the team as early as next season is the fact that he's yet to display the ability to be matched up against opposing team's top players. If Brandon Carlo can take the next step in his development and become a more well-rounded shutdown defenseman next season, it wouldn't be out of the question to use Krug in a top-pairing role with Carlo taking on the brunt of the defensive tasks. Still, that's a lot to ask for a player who would be only 22 years old in 2018-19 (assuming Chara retires after the 2017-18 season).
Will Chara play beyond 2017-18?
Assuming Chara doesn't retire and signs another deal with the Bruins to help ease in the next crop of players, it can't be assumed that he'll still be right in a top-pairing role. If he is, it would allow for players like Matt Grzelcyk, Rob O'Gara, Jakub Zboril and Jeremy Lauzon to develop into top-four NHL defensemen in the interim. If he isn't, then the Bruin would need to use any combination of those players and Krug to help fill the gap, barring any significant trade that fills the role.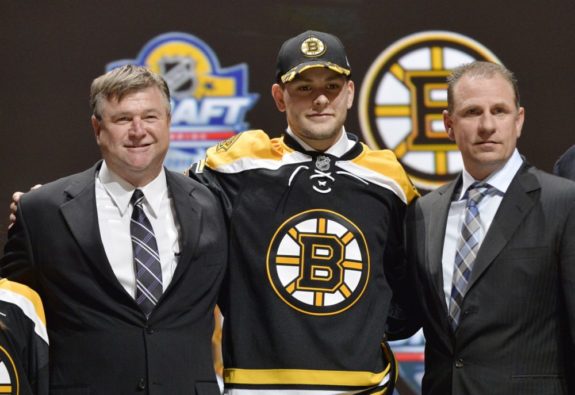 In the end, the long-term answer for the Bruins in terms of left-shot defensemen should come down to Zboril and Lauzon. Both players have tremendous skill sets and have displayed their talents at the QMJHL level, as well as at the World Junior Championships. If either, or both players can continue to impress, they could be next in line for big minutes at the NHL level.
Do you think the Bruins should extend Chara and, if so, for how long/much? (Matt D. via Twitter)
This is a pretty good follow-up question from the last one. If Chara can continue to play the way he has over the last few seasons, he should be extended for a one-year deal. He has still played at such a high level considering his age and knee injury and because of his impact on the roster, it would be hard to simply walk away from him if he still has fuel left in the tank. The Bruins don't have another player who can impact the game defensively in such a way who's currently ready to step in and take the reigns. Additionally, Chara's influence on young defensemen (as evidenced by Brandon Carlo) makes his value even higher.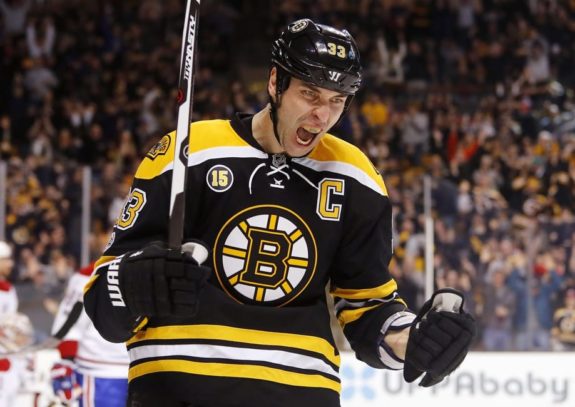 Assuming he can still contribute in such a way, the Bruins would be wise to sign him, but the price tag obviously comes into play. Set to cost $4 million against the salary cap in 2017-18, Chara comes on his most affordable deal since joining the team in 2006. If the Bruins can lock up Chara for that same cap figure or less, they would come away with a win. Again, this is assuming he can still play at such a high level. If Chara shows significant signs of regression in 2017-18, then the Bruins will have to decide whether or not it's worth extending him to a deal with so many young prospects just waiting for the opportunity.
If you had to choose the Cup winner for 2020-21, who would it be? (Judson Rempel via Twitter)
This is a loaded question. It requires a lot of foresight, predicting not only which teams will be ready to compete in three years time, but also which teams will no longer be competing. It's been seen a few times in recent years – the Los Angeles Kings, Boston Bruins, Detroit Red Wings and other who were once perennial Cup contenders, seemed to fall off and miss the playoffs. For the Bruins, that decline is seemingly over and the team is now on the upswing with their resurgence of youth. Still, that doesn't necessarily mean they're going to win the Stanley Cup in three years time. For the sake of making an unbiased pick, the Bruins won't be chosen as the winner in three years (though it's entirely possible that they can be contenders by that time).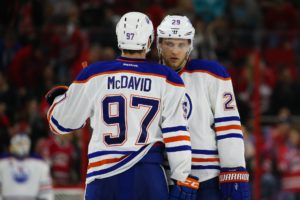 The obvious choices include the Toronto Maple Leafs, Edmonton Oilers, Columbus Blue Jackets and Winnipeg Jets. It's funny to think about now given how bad those four franchises have been in recent years, but it's also impossible to ignore the talent that each of those team possesses. The Blue Jackets earned over 100 points as a team last season after sitting in the cellar of the NHL just one season prior. The Oilers, Maple Leafs and Jets are all led by tremendous talent, highlighted by Connor McDavid, Auston Matthews and Patrik Laine respectively. It's hard to assume that any current contender will fall off so significantly in three years time that they won't be in the discussion, but teams like the Chicago Blackhawks, New York Rangers and Washington Capitals will likely be out of the picture given their current trajectories.
If any one team had to be chosen as the winner of the Stanley Cup in 2020-21, I'd have to go with the Edmonton Oilers. It was a tough decision to make given the talent of the Maple Leafs, Jets and Blue Jackets, but the Oilers have already shown that they can win a playoff round and will only continue to develop as time goes on.
Which prospects do you expect to see with the Bruins on opening night? (Brendan Bettez via Twitter)
There are quite a few prospects in the Bruins system who are ready or close to being ready to make the jump to the NHL roster. Players like McAvoy, Bjork, Heinen, Forsbacka Karlsson, Zboril, Gzelcyk, O'Gara, Jake DeBrusk and Peter Cehlarik who can all make an impact with the Bruins down the line. With so few spots actually open for prospects to claim, however, the opening night roster will likely include only three or four of those players.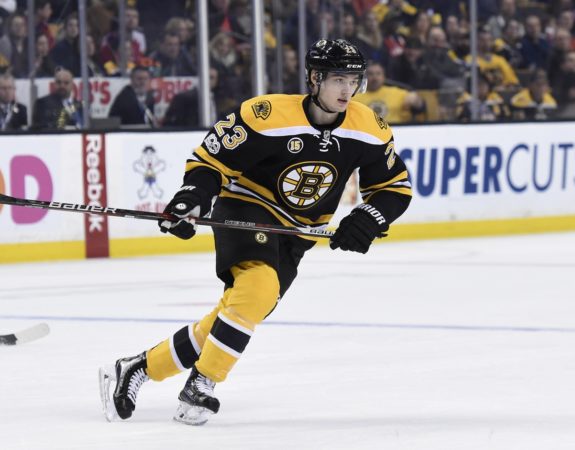 My picks would be McAvoy, Bjork, Forsbacka Karlsson and Danton Heinen. The other prospects mentioned should all see time with the big club if they continue to produce at the AHL level if any player on the NHL roster happens to get injured or goes on any prolonged slump. We've already seen McAvoy, Forsbacka Karlsson, Heinen, Grzelcyk, O'Gara and Cehlarik in limited NHL action, any all of them should be in line for another look at some point in the 2017-18 season, whether that comes on opening night or midseason, however, is anybody's guess.
If you have any questions for the next edition of the Overtime With BSC Mailbag, make sure you tweet at me using #AskBSC so it doesn't go unnoticed.
Brandon Share-Cohen has covered the NHL and various professional sports for six years. Working with The Hockey Writers, Brandon works extensively on covering the Boston Bruins in addition to his role as the News Team Lead.