Originally written in November of 2013 by Shawn Reznick. Pelle Lindbergh was regarded as one of the greatest Flyers goalies. Here now are some memories of the star netminder.
Next to Bernie Parent, Pelle Lindbergh was the best goalie to play in a Philadelphia Flyers sweater.  He had the skill; he had the charisma; he had a passion for Flyers hockey.

Philadelphia was riding a 10-game winning streak early in the season. After beating the Bruins on Saturday November 10, the team had six days off before facing their newest rivals – Edmonton. The Flyers were beaten by the Edmonton Oilers the year before in the Stanley Cup Final.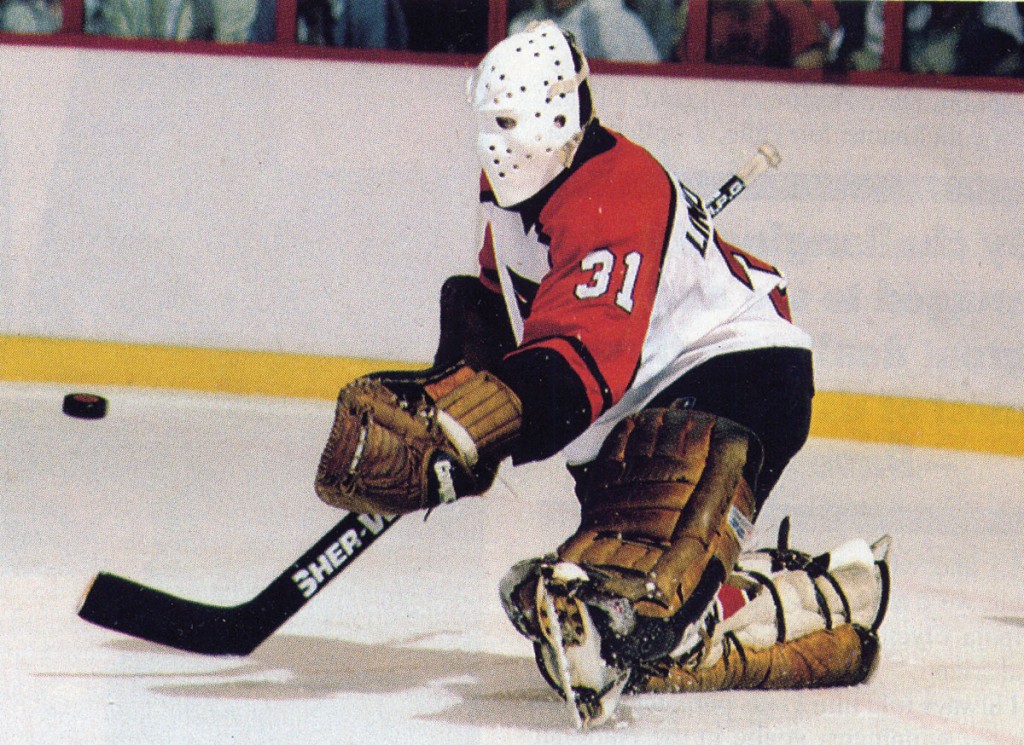 Pelle "Gump" Lindbergh was playing lights out and had recently won the Vezina Trophy during the 1984-85 season. The team was destined for greatness, but in an instant, the air escaped from the city of Philadelphia.
Pelle Lindbergh Crashes His Porsche
On that fateful Sunday morning, Lindbergh crashed his Porsche 930 Turbo into a wall in Somerdale, New Jersey.  Hours later he was pronounced brain dead and was eventually taken off life support. So much talent, so much promise, so much hope…gone in a matter of moments.
---
Latest News & Highlights
---
Bill Meltzer, a long-time Flyers fan and HockeyBuzz journalist who wrote a book on Lindbergh's life and the events leading up to his death, vividly remembers hearing about the unfortunate news:
I actually got a call from my best friend to turn on the television to see Pelle Lindbergh was in a car accident – and this was before they knew he was dead.  I remember I asked him, 'What channel?' and he said, 'EVERY channel'.  And that's when I realized it's got to be really bad.  I'd watched the game the night before so you went from the team being in the middle of a big winning streak and the elation of that, and then to concern and devastation.  It wasn't until much after that they discussed what was involved in the crash, but it was just the shock and it just being devastating.
Meltzer also remembers what he and other fans went through the week following Pelle's fatal crash:
Everybody went through the same gamut of emotions.  There was the elation of them winning – and they weren't just winning, they were rolling over teams.  They were clicking.  They had been in the Finals the year before that.  In the locker room after the game, Mark Howe told Jay Snider, this is the best team I've ever been apart of – that was the night before the crash.  I think at about 9:45pm on Saturday, I think everyone really felt this team was going to win the Stanley Cup.  The next morning it was a kick in the gut.  Pelle was such a popular player anyway.  Had it been anyone on the team it would've been awful, shocked, and horrified.  But when it's your Vezina winning goaltender who was one of the two or three most popular guys on the team, it turned into one of those things like…'how do you carry on from there'.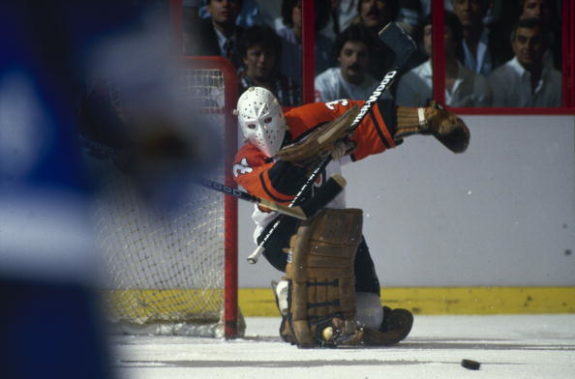 If you've been around the Flyers long enough, you definitely know Bruce "Scoop" Cooper.  He's been around the team since the 1970s and has an unhealthy amount of hockey knowledge.  Scoop imparted on me an underlying reason why Lindbergh didn't play against the Boston Bruins during the Flyers' winning streak:
I talked to [Pelle] a couple of hours before he was killed.  They were playing Boston that night and it was a Saturday night.  Bob Froese played because he was going to be traded to Los Angeles and they wanted to see him play one more time.  [The Flyers'] next game wasn't until the following Saturday against Edmonton, which was a very unusual thing because that was the team they had lost to in the Finals the spring before.

So Gump didn't play.  Frosty played and then [Lindbergh] was killed in the accident so the trade never happened.
Scoop also has a great memory from the Maine Mariners, the AHL team Lindbergh played for before being called up to Philadelphia:
We flew back on a charter from Glens Falls to Portland and [Lindbergh] got on the PA system and started speaking in Swedish.  Now there were a couple Swedish players Thomas Eriksson and Kevin Cady was the trainer who spoke Swedish.  They were just dying of laughter because he was talking about the stewardess in Swedish so nobody else knew what he was saying.
Kevin Cady, as Scoop mentioned before, was the trainer for the Maine Mariners who had befriended Pelle in his stint in the AHL. The two were great buddies so Pelle's death hit a little closer to home for Cady.  Cady recounts:
I was in Portland, Maine when I learned of the Pelle accident. I had been a Flyers equipment manager for the past two seasons but left at the end of the prior season to become a police officer in my native Portland. I was 22 at the time and Pelle was 25. I last spoke to Pelle the week before the crash when he told me the Flyer's players wanted me back with the team.I didn't think then that that would ever materialize since I had decided to move on to a new career. I had been with the Flyers organization since 1977 starting with the AHL Maine Mariners.
I learned about the crash via ESPN and called the Flyers coaches office in Voorhees, NJ. E.J. Maguire told me Pelle was, essentially, dead. He was the first person to tell me of Pelle's passing as the networks reported "grave condition" but not deceased.
You may also like:
I immediately flew from Portland to Philly and was picked-up at the airport by John Prettyman, a Voorhees Township police lieutenant and also a friend of Pelle.
We went directly to the hospital where I met with Kerstin Pietzch. She brought me to Pelle's room and she asked me to say goodbye to him as it was a matter of time. When I walked out of Pelle's room Mike Keenan grabbed me in a bear hug and whispered "We lost Gump." We broke down at that point and sobbed in the hallway.
I had spent parts of three summers with Pelle in Stockholm prior to 1985. He was probably my best friend at the time and he took me all over Sweden playing in celebrity soccer tournaments. Therefor I knew his parents fairly well; more so than anyone in North America. Over the next few days Anna Lise and Kerstin approached me and asked to attend the funeral in Sweden. The Flyers (Mr. Snider) covered the cost of the flights and I accompanied the family and Thomas Eriksson and his girlfriend Malin to Sweden with Pelle's body.
A few days later we were at Kerstin's home in Taby, Sweden having a small gathering on the eve of the funeral. Bob Clarke, Bernie Parent, and jay Snider were there. Bob Clarke, then general manager, pulled me aside and said he and the team wanted me to return to the Flyers as equipment manager. I immediately accepted and Bob said he would take care of the logisitics. I returned during December, 1985.
Cady also took me through the surreal experience of not having Lindbergh in the locker room:
The team rented a bus for Pelle's memorial service in Philadelphia. I was on that bus with the players. It just seemed like I belonged and needed to be on the bus. When I returned to the locker room for work on a regular basis the empty stall in the Spectrum and in Voorhees was a constant visual reminder. In all honesty, I believe we all went back to the hockey grind with Pelle's loss to the team being a constant background static. In the end, I think the players were exhausted from the emotional burden at the end of that difficult season that we checked-out early and lost easily in the first round of the playoffs against the NY Rangers.
The two had a special bond.  Each time they got together they'd find something to talk about or laugh about. You can't summarize Lindbergh in a single word, sentence, or paragraph, but Cady did his best:
My favorite memories of Pelle are too numerous to write about in a short essay such as this. I would say that he was one of the players I hung-out with consistently in Maine and Philly. Also my time in Sweden has a host of memories I still cherish today. I didn't care that he was an NHL goalie or Olympic medal winner. I was working on a day-to-day basis with world class elite hockey players every day. Some of those athletes would go on to be inducted in the Hockey Hall of Fame.

Pelle was simply a friend who welcomed me into his life at home. I maintained contact with his Mom until she passed in 2011. Kerstin Pietzch and her family visited me in Maine during the summer of 2011. I still have regular contact with Pelle's best friends and other relatives of his in Sweden.

Today, my oldest son Griffin – 16 years of age – is a goalie playing prep school high school hockey. He is a diehard Flyers fan and his number is 31. Perhaps Pelle would be proud of him. I remember Pelle telling me one time "I don't think being a goalie in the NHL is that big a deal. If I can do it then you can do it." Hmm, I'm not sure that's how it works Pelle.
Before wrapping up, Cady had this to say:
One final thought germane to this anniversary: I was with Pelle during the summer 1983 when he actually bought the Porsche 911 turbo he was ultimately killed in.  We went to VAG Stockholm, a high end car dealership, and Pelle took possession of the car.  I drove Kerstin's car from the dealership back to Barnansgaten 24 with Pelle leading the way.  My memory of this is significant because the car was Pelle's ultimate demise.
Lindbergh was full of life. He captivated fans across the sport, but Philadelphia always had a special place in Lindergh's heart dating back to his Hammarby days in Sweden. His idol, was Bernie, who became Lindbergh's mentor. He went through the highs and lows, but left everything out on the ice.
His number 31 will forever be unofficially retired by the Flyers. And on November 11th, we remember Pelle – the goalie, the player, the person.
---
---