Yin and yang represent duality, seemingly opposite or contrary forces which are actually complementary, interconnected and interdependent.
In part two of our three-part series, we examine how this duality fits Patrick Marleau. He is a great hockey player and he'll make for an interesting discussion for a spot in hockey's Hall of Fame. His upcoming seasons in Toronto will likely determine whether he gets in or not.
Related – Part 1: The Ever So Talented Patrick Marleau
Yet, for all the history Marleau has made, there is the uncomfortable history he didn't make. When one looks at the key moments in Sharks history, the player who holds more team records than anyone is rarely present.
Pluses and Minuses
Marleau's yin and yang presents itself in many ways. With 508 career goals, Marleau is fifth among active players in goals scored. In postseason goals, his total of 68 is second only to Jaromir Jagr among active players. He might even catch Jagr (78) with enough success in Toronto.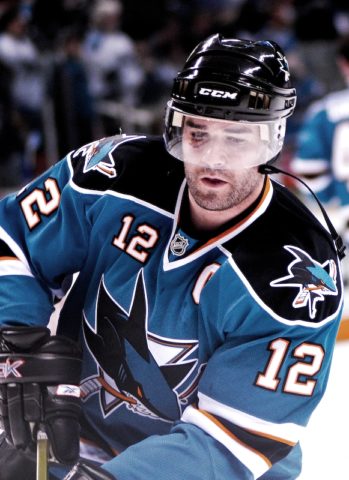 Yet in both the regular season and playoffs, Marleau is a minus player for his career. Not by much, but it is telling.
Marleau is often linked with Joe Thornton. Marleau as the greatest goal scorer in team history and Thornton as the greatest passer. They played together in about 1,000 games (including playoffs) over the course of a dozen seasons. Counting from Thornton's first game in San Jose in 2005, Marleau is minus-8 whereas Thornton is plus-183. Two other Sharks played over a decade with Marleau. Joe Pavelski is plus-112 and Marc-Edoaurd Vlasic is plus-129. How does Marleau wind up so dissimilar from these teammates?
In Marleau's best season, he was plus-21, in his worst, minus-22. Nine times, Marleau finished the season a plus player. Nine times he finished as a minus player. Once he finished even. Yin and yang.
History Intertwined
In franchise history, the Sharks have played 34 playoffs series. Marleau played in 30 of these. The franchise has won 17 playoff series, 15 during Marleau's tenure in San Jose.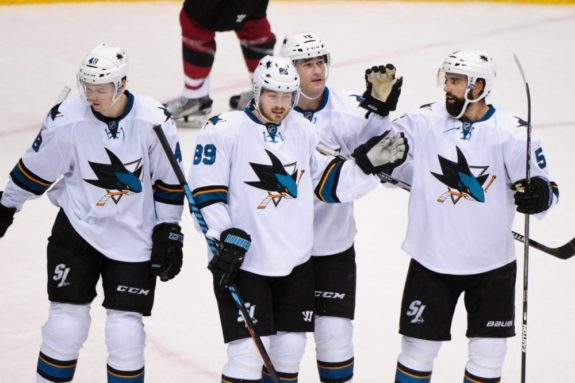 A common Marleau criticism is he disappears in the playoffs. Yet there is little difference from his regular-season scoring rates, with a modest uptick in goals and a modest downtick in points. Prorated to 82 games, Marleau averages 28 goals in the regular season and 31 in the playoffs. In terms of points, 59 in the regular season, 56 in the playoffs.
Since Marleau rarely misses games, he has been there for almost every major moment in franchise history. Yet his bigger moments were often overshadowed.
Success and Failure
In the opening round of the 2008-09 playoffs, Marleau nailed two timely goals. A third-period goal broke a 2-2 tie in Game 3 and gave the Sharks a 3-2 win. Two games later, a battling Marleau netted the overtime winner.
These are big moments if San Jose wins the series. But they didn't. Most Sharks fans prefer to forget the six-game loss to Anaheim (and Jonas Hiller's mind-boggling .957 save percentage). For Marleau's legacy, these big moments disappeared in the pain of a lost series.
Marleau also had a strong series in the Western Conference Final against the Vancouver Canucks in 2011, with five goals and seven points. But he was also the last Shark to touch the puck before Kevin Bieksa's stanchion-aided, cringe-worthy series winner in double overtime of Game 5.
In Game 4 of the series, a controversial 'too many men on the ice' call, essentially against Marleau, gave the Canucks a second 5-on-3 power play. Had Marleau gone over the boards to exit the ice, there would have been no call. But he waited for the door to open, and the Sharks took a penalty (a terrible, though technically correct call). It was the central moment in a sequence of 5-on-3 goals (three in total) which gave Vancouver a win in a game they were badly overmatched. This lost series was defined as much by its oddities as its play. And with it, a good performance from Marleau on a big stage became almost invisible.
Memory Lane
Marleau obviously did not operate in the shadows, but it is equally hard to say he was his best when the spotlight shone brightest. When looking the top moments in team history (plenty of people have compiled such lists), Marleau's limited presence is more than a bit surprising.
Local reporter Paul Gackle put together a good list of Marleau's memorable moments, and few are big moments in big games. Several were milestones, from his draft day selection to career goal 500 and career point 1,000.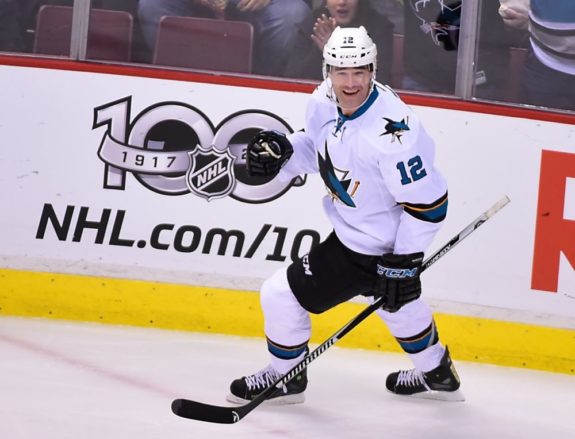 But big team moments in Gackle's list? Not as many as you'd think.
His four-goal outburst in the third period against Colorado back in January was thrilling but came against the worst team in the league playing their fourth-string goalie playing his second NHL game.
His white-hot start to the strike-shortened 2013 season made the list, but does one want to peak in the first five games of the year?
There were just two big team moments on Gackle's list.
Marleau ended an opening-round playoff series with an overtime goal against Vancouver in 2013. But the series was already 3-0 in favor of San Jose and Vancouver was massively overmatched. Marleau finished the sweep with four goals and five points.
His overtime game-ender in the 2009-10 playoffs against archrival Detroit might have been his biggest and most team-meaningful moment. It put the Sharks up 3-0 in the Round 1 series. Ironically, this might be a bigger highlight for Thornton, whose brilliant, needle-threading pass set-up the goal. Not on Gackle's list, but deserving, is Marleau's third-period goal in Game 5 of the same series. His tally, a classic Marleau rifle shot, broke a 2-2 tie and proved to be both the game and series winner.
More Yin
The Nashville Predators won't be sorry to see Marleau move on. He torched them in three series, all Sharks wins, with 13 goals and 6 assists in 16 games. He had a hat trick in a 5-4 win in Game 4 in 2006. In 2007, a Marleau power-play goal tied Game 5 at 2-2. Late in the third period, his second goal broke the tie and became the game and series winner. And while not as critical, it was Marleau's fast-break goal which led to Nashville goalie Pekka Rinne's stick-smashing meltdown in Game 7 of their series in 2016.
Marleau played a big part in the Sharks' first-ever trip to the Western Conference Final in 2004. In Game 2 of the opening round against St. Louis, Marleau fashioned a hat trick, putting the Sharks up 2-0 in their series. In the next round against Colorado, Marleau threw down a hat trick in the series opener, then added a goal and an assist in Game 2. The Sharks won both games and eventually the series 4-2. Alas, in the Western Conference Final against Calgary, Marleau went cold, going pointless in five of six games and finishing the series minus-4.
More Yang
To some fans, another series defines Marleau – the infamous reverse sweep against the Kings. Marleau had five points in the first three games of the series, including the overtime game-winner in Game 3 (the shot deflecting off a Kings player). Marleau had a pair of assists in Game 4, a 6-3 loss, then went scoreless in the final three games of the series.
Others might think of Marleau's lone trip to the Stanley Cup Final, where his lone point, a goal in Game 1, came in a losing effort.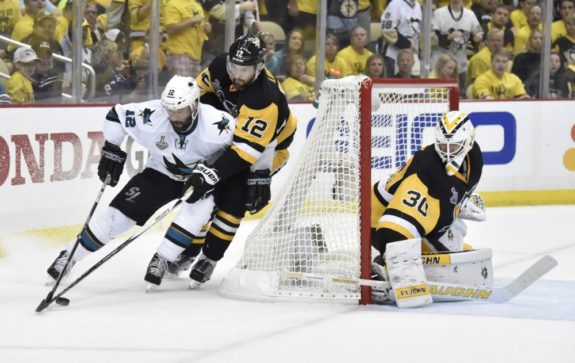 If it seems pretty much every Marleau shining moment has a disappointing counterpart, it is what it is.
A Fitting Finale
In the 2017 series against the Edmonton Oilers, Marleau, despite playing with a broken thumb, was one of the Sharks' more effective players. He delivered three goals in the series. His last game for San Jose, Game 6 of the series, provides as good a metaphor as any.
Early in the second period, the Oilers' Anton Slepyshev, owner of four NHL goals, buried his breakaway opportunity to put the Oilers up 2-0. Less than a minute later, San Jose had a chance to respond. It was Marleau, owner of 575 NHL goals, on a breakaway. And Oilers goalie Cam Talbot denied him.
These breakaway attempts (beginning at 1:05 in the video) were defining moments. In the third period, Marleau tallied his 576th NHL goal (including both the regular season and playoffs) to make this a 2-1 game. Alas, it was not enough.
Connor McDavid's empty-net goal, literally in the final second, sealed the game. This is the moment the curtain came down on Marleau's career in San Jose. Where was Marleau at this moment? Fittingly, he was at center ice, skating across the Sharks logo. Various glimpses of Marleau, as he departed the ice, suggest he understood this chapter of his life had just closed.
Defining Marleau
Which playoff series define Marleau? Was it the Stanley Cup Final? The reverse sweep? His dominant takedowns of pesky Nashville? His strong play despite a broken thumb in the recent series loss to the Oilers? The clutch plays against the Red Wings in 2010? Or the strange series against Vancouver in the 2011 Western Conference Final?
There is a lot to Marleau's career. But by missing the ultimate 'up,' a Stanley Cup win, the door is open for much debate on Marleau's legacy.
Marleau lifted the team nearly continuously over the course of his career. Yet truly exceptional players take teams to new levels. Marleau didn't quite get there. The Sharks were better off, year after year, because of him. But against the greater expectations, Marleau came up short.
For all Marleau brought to San Jose, most fans are grateful. And yet, if there is a time to move, it is now. An aging Marleau, in the twilight of his career, ventures to Toronto, a young team seeing a new dawn. Fittingly, the yin and yang of Patrick Marleau's career continues.
Coming Tomorrow
Part 3: Is Patrick Marleau Right for Toronto?
ZEKE is a native of the DC area where he witnessed the birth of the Capitals franchise. After graduating from Cornell University, which had seen hockey glory before he arrived, he moved west to San Jose. There he witnessed the birth of the Sharks franchise. His wait to witness a Championship from any of these teams finally ended in 2018.