Remember a few months ago when the Metropolitan Division was the most dominant in all of hockey? The Washington Capitals looked like a juggernaut who could not be stopped. The Columbus Blue Jackets arrived on the scene with a surprising breakout season. The Pittsburgh Penguins were clawing their way to a second consecutive Stanley Cup. Even the New York Rangers, the one team that seemed to get overlooked, finished fourth in the NHL in goals scored.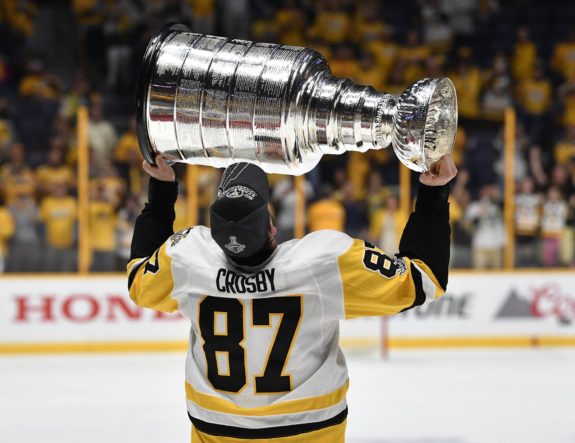 Of course you remember all that — it wasn't that long ago. In fact, we are only one month removed from Game 6 of the Stanley Cup Final. But a lot has taken place in the last month that has drastically changed the complexion of the Metropolitan Division.
Depending on how the season ended for your favorite team, perhaps you remember it fondly. Maybe it didn't end the way you wanted it to, but you were left with hope for the future. Or, worse, maybe it ended in the most disappointing way possible. Whatever the case, that's all you have now is a memory. The 2016-17 version of the Metropolitan Division is gone, and hockey fans are going to be surprised how different the 2017-18 model looks.
With that, let's take a look at some of the key factors that stand to change last year's most exciting NHL division.
Capitals Falling from Grace?
A Bleeding Blue Line
Washington followed up an excruciating end to their season with an equally uninspiring offseason. The first drop fell when Nate Schmidt was selected by the Vegas Golden Knights in the expansion draft. The Capitals have a logjam of talented defensemen that made it difficult for them to protect Schmidt, but his departure is damaging nonetheless.
Schmidt is a puck-moving, 25-year-old blue-liner who seemed to be coming into his own, and could have rounded out Washington's top four on the back end next season. For any Caps fans lamenting his exit, do not go back and watch highlight tape of the series against Pittsburgh, where he was very clearly Washington's most active defenseman for long stretches.
Schmidt wasn't the only loss suffered by the Capitals on their blue line, as Kevin Shattenkirk and Karl Alzner will both be dressing for new teams next season. The loss of Shattenkirk to the Rangers came as no surprise, as the Capitals knew they were likely getting a rental when they traded for him at the deadline. Alzner, who signed a five-year deal with the Montreal Canadiens, was just another blow to a once-elite (albeit expensive) defensive corps.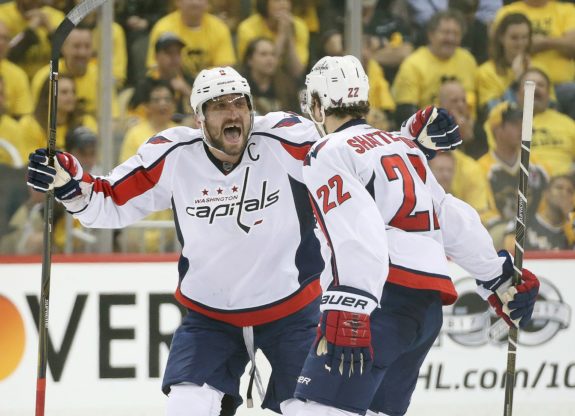 In any case, the Capitals went from having six defensemen with top-four ability down to three in Matt Niskanen, John Carlson and Dmitry Orlov. They will have to fill in the blanks the rest of the way, and we have long since passed the point when Brooks Orpik was the answer.
Oshie and Kuznetsov Get Paid
T.J. Oshie's eight-year, $46 million deal is going to be by far the most difficult front office move for Capitals fans to swallow in the long term. Oshie is undoubtedly a productive top-six winger, and he has proven the last two years he can bring it in the playoffs. But how much longer is he going to be worth a $5.75 million cap hit? He's already 30 years old, and the downswing of his career is going to begin sooner rather than later.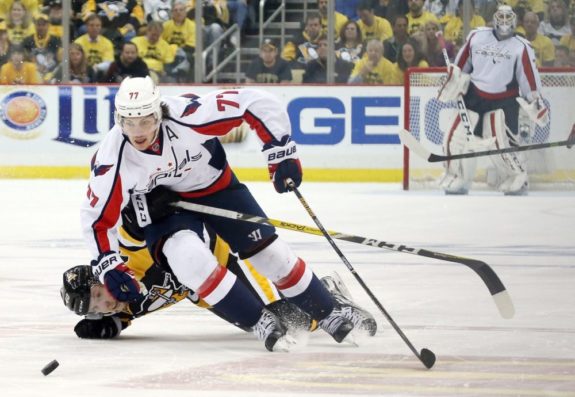 The Capitals would have been wise to distribute that money more evenly, perhaps in an attempt to keep at least one of their defensemen around. Washington has an aging core whose championship window is rapidly closing, and the decision to lock up a 30-year-old winger at that price, for that term, is puzzling.
The Caps also signed Evgeny Kuznetsov to an eight-year deal worth $62.4 million. Kuznetsov is quickly becoming Washington's best player, and is one unceremonious playoff elimination away from taking the reins as the face of the franchise. In an offseason full of disappointment, signing the 25-year-old to a long-term deal was one of the few bright spots.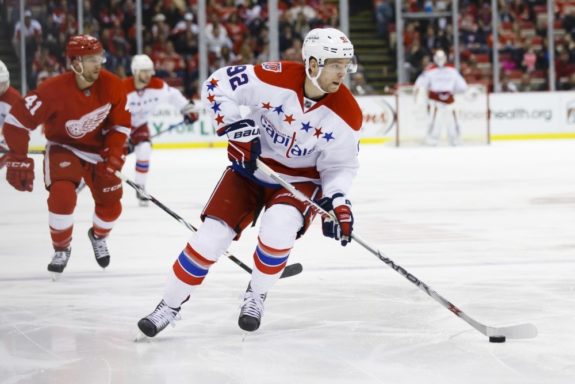 Throw the loss of Marcus Johansson into the mix, along with the undeniable fact that Alex Ovechkin simply isn't the same player he once was, and the Capitals have absolutely taken a step back from where they were a few months ago. They still have enough veteran talent to be a playoff team, but they will not win the Presidents' Trophy again, and they will not be among the favorites to win the Stanley Cup.
Can the Penguins Three-Peat?
Key Players Bid Farewell
It's not often you get to return virtually the exact same team the season following a Stanley Cup championship. That's precisely the kind of luck that befell the Penguins after their 2016 run, however, as Ben Lovejoy was the only significant loss heading into 2016-17.
This offseason has not been as friendly. The Penguins have already lost five crucial parts of their back-to-back Cups in Marc-Andre Fleury, Chris Kunitz, Trevor Daley, Nick Bonino, and now-former assistant coach Rick Tocchet. It also remains to be seen what Matt Cullen decides, but after two prolonged and grueling seasons, it would be understandable if the 40-year-old chose to ride off into the sunset.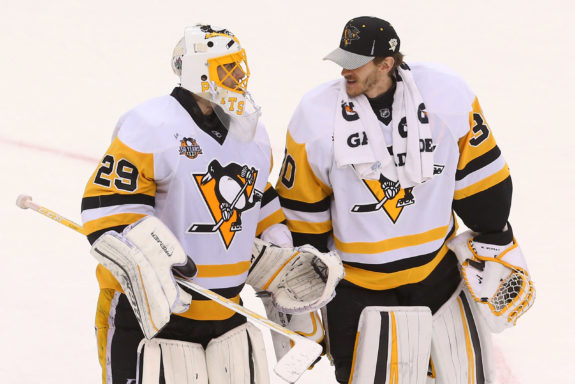 Of course, the two-time defending champions will not garner any sympathy from the rest of the league. Among the team's returning stars are Sidney Crosby, Evgeni Malkin, Kris Letang, Phil Kessel and Matt Murray. Youngsters Jake Guentzel and Bryan Rust will also be back, along with the never-say-die Patric Hornqvist.
Pittsburgh's most high-profile offseason move thus far was signing the once left-for-dead Justin Schultz to a three-year deal worth $16.5 million. Schultz has blossomed into a productive and reliable top-four defenseman for the Penguins, and the injury to Letang last season forced him into the number-one role. The Penguins now have two puck-moving, right-handed defenders locked up for the foreseeable future.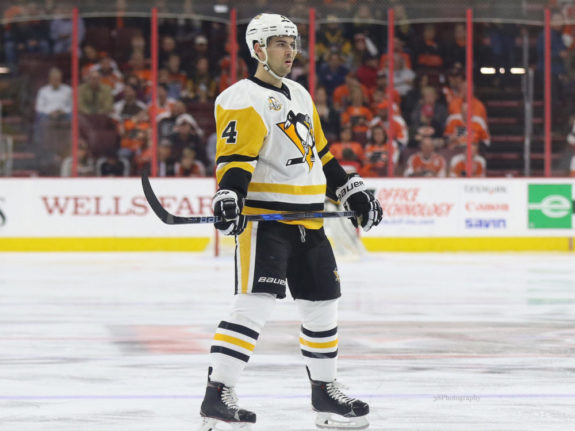 Rutherford's To-Do List
The prominent question marks surrounding Pittsburgh's 2017-18 season are the fates of Brian Dumoulin and Conor Sheary, and the need for a third-line center to replace Bonino. Dumoulin and Sheary both have entered the arbitration process as restricted free agents. It's nearly unfathomable that either one of these budding young players aren't back in the black and gold next season, but we will have to wait to see how it all plays out nonetheless.
As far as replacing Bonino is concerned, general manager Jim Rutherford is not pushing the panic button. Should Matt Cullen return for "one more year," the Penguins could elect to fill their final slot down the middle with a young player. Jake Guentzel's name has been brought up, although it would be disappointing to see him leave Crosby's wing on the first line. If Cullen retires, however, we will likely see the Penguins make a move, as they would not necessarily want their bottom six to be anchored by two developing players.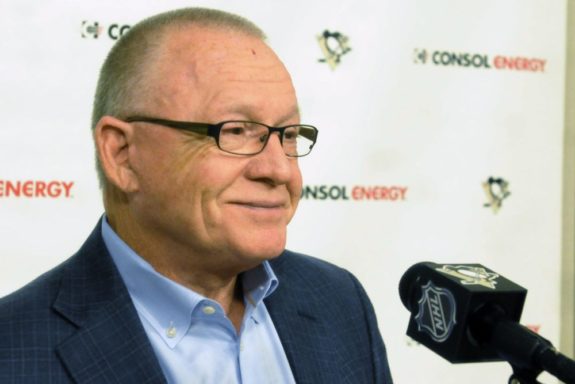 Either way, the Penguins know they do not need to force anything. Winning back-to-back Stanley Cups affords a front office the luxury of taking their time and making sure the right deals get done. If Rutherford elects not to make a splash between now and October, perhaps that just opens the door for youngsters like Daniel Sprong and Zach Aston-Reese to come up and make an impact. After all, if you've watched the Penguins over the last two seasons, you know that has worked out before.
Pittsburgh's road to a third consecutive Stanley Cup will be riddled with roadblocks like the Lightning and Blue Jackets, but the Penguins have erased any doubt about their ability to overcome adversity. For those expecting them to drop off in 2017-18, you may not want to hold your breath. One way or another, the Penguins will reload, and they will be back in the hunt for a championship next season.
Blue Jackets Take Next Step
Panarin Joins an Elite Group of Returning Stars
One of the many pleasant surprises of the 2016-17 season, the Blue Jackets saw an upstart campaign fall short in a first-round series loss to the Penguins. Columbus was no flash in the pan, and their 108-point season was no accident. Driven by an incredibly talented core of young stars, the Blue Jackets could be poised to have their best season in franchise history in 2017-18.
One of the biggest offseason moves in the entire NHL this summer was the trade that sent Artemi Panarin to Columbus and Brandon Saad back to Chicago. While it's unfortunate that the Blue Jackets had to part with a young player like Saad, Panarin has averaged nearly a point per game in his first two seasons in the NHL. He and the speedy Cam Atkinson are going to give opponents fits on a nightly basis this upcoming season.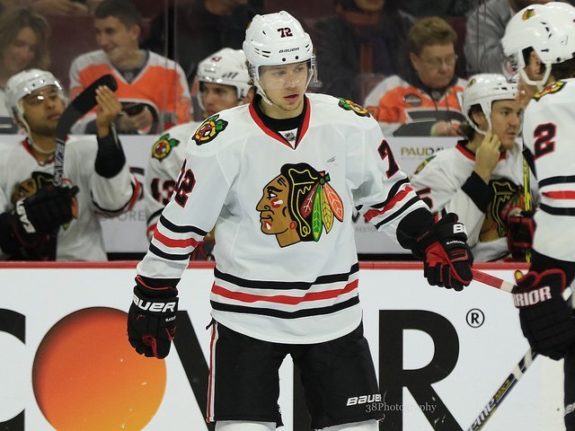 Outside of the Panarin acquisition, the Blue Jackets have not had to make much noise this summer. They are returning elite defensemen Seth Jones and Zach Werenski. Jack Johnson and Ryan Murray will also be back on the blue line, giving Columbus arguably the most talented back end in the division.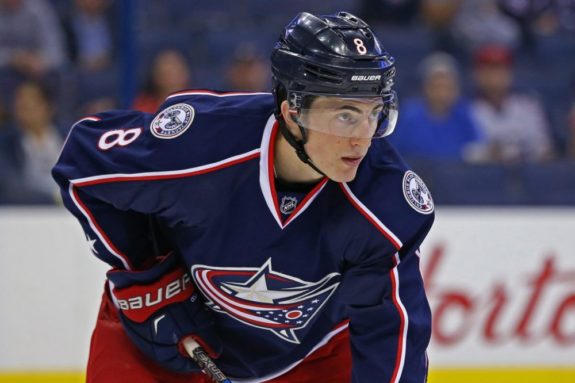 The team extended offers to RFAs Alexander Wennberg and Josh Anderson, yet are still waiting on a response. It'd be shocking to see either player, especially Wennberg, in a different uniform next season. With Brandon Dubinsky, Nick Foligno and Oliver Bjorkstrand among the Blue Jackets' key returning forwards, Columbus is getting back virtually every consistent contributor from last season.
Trade Rumors Run Rampant
The Blue Jackets have also been the subject of a considerable amount of trade speculation regarding Colorado Avalanche star Matt Duchene. Talks seem to have subsided of late, which is a strong indication that the Avalanche are demanding a king's ransom in return for Duchene.
As our Mark Scheig has written, Columbus is absolutely in the driver's seat of these negotiations should they continue. The Avalanche have dug themselves a hole throughout the process of floating Duchene's name, and nobody is going to sell the farm to acquire him in July.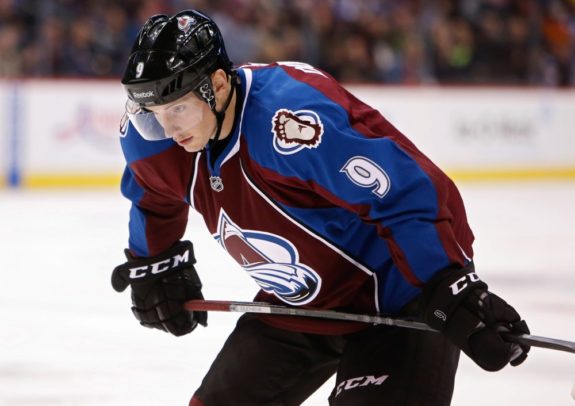 The Blue Jackets are bringing back a Vezina-winning goaltender in Sergei Bobrovsky along with a staggering number of young, blossoming stars. They just won 50 games. Perhaps Duchene is not the piece that puts them over the top in 2017-18, but rather another year of experience.
The Capitals have taken a step back, and Pittsburgh couldn't care less about winning a regular season title. Home ice advantage for the 2018 playoffs in the East could belong to the Columbus Blue Jackets if they pick up where they left off.
Tavares' Uncertain Future with Islanders
John Tavares remains the face of the Islanders' franchise for the time being, but his future beyond next season is shrouded in mystery. Tavares holds all the bargaining chips, as the Islanders would likely descend into anonymity for several years if he were to leave. Still, both sides seem content to see how it plays out, as no deal has yet been agreed upon.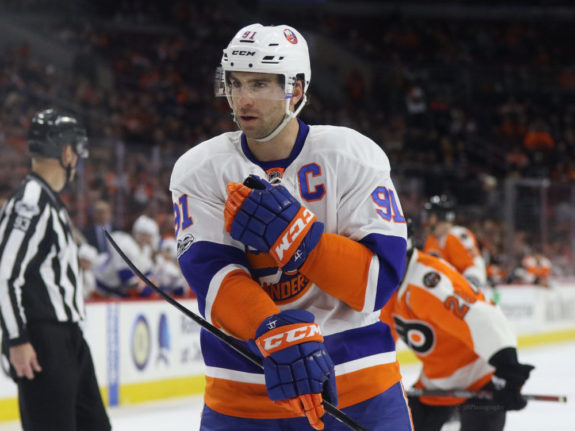 If Tavares hasn't signed a long-term deal by the time October rolls around, then it's reasonable to assume that his ultimate decision will be based largely on the team's 2017-18 performance. The Islanders could come out guns blazing, perhaps make a savvy move at the trade deadline, and battle their way into the postseason. Or they could sputter, find themselves in familiar fighting-for-their-playoff-lives territory, and leave their captain disappointed once again.
In the event of the latter, Tavares could choose to hold it against general manager Garth Snow for failing to build a better team around him. If Jordan Eberle is the only noteworthy acquisition the Islanders make this summer, how much longer should Tavares have to wait around?
Regardless of the outcome, there isn't much need for in-depth analysis on this one. John Tavares is the New York Islanders. If they can't lock him up now, they'd better win in 2017-18 and give him a reason to stay.
Rangers Somewhere in the Middle
When you analyze the DNA of a championship team, the Rangers check two of the most important boxes. For one thing, they are a four-line team that doesn't rely solely on their top six for offense. That's precisely how they managed to net 253 goals last season–with contributions from everyone on the ice. New York also boasts one of the better defenses in the East, led by Ryan McDonagh, and bolstered by the signing of Kevin Shattenkirk.
So what, if anything, could hold the Rangers back in 2017-18?
The first answer lies in the departure of Derek Stepan to the Arizona Coyotes. Last season, Stepan led all Rangers forwards in time on ice, led the entire team in shots on goal, and was third in total points. Again, the Rangers have been a deep team for years now, and somebody always seems to step right in, but that's a sizable void to fill.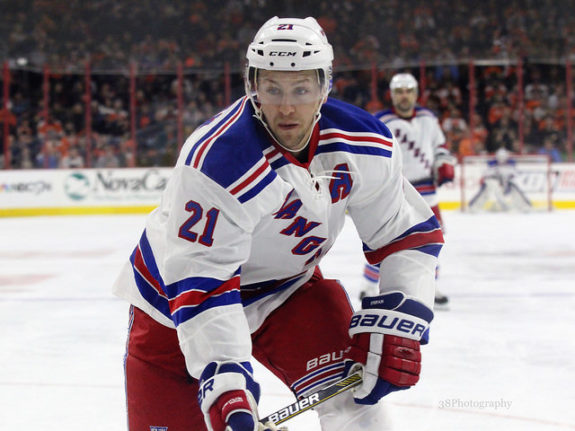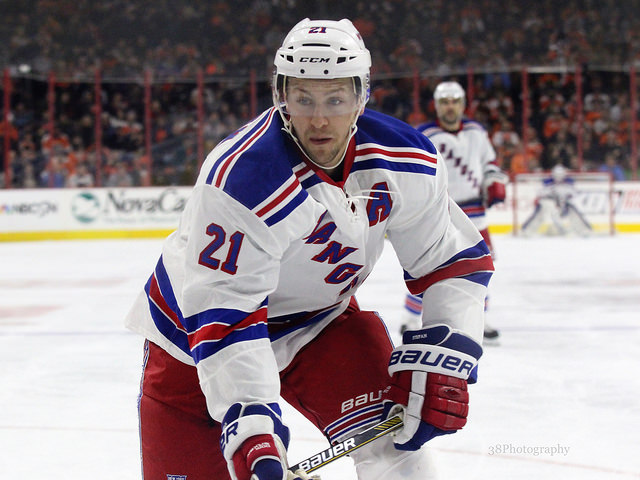 The second answer lies in whether or not Henrik Lundqvist can return to form. Lundqvist posted a career-worst 2.74 goals against average in 2016-17, and his save percentage was also the lowest it's ever been. At 35, it's understandable that he would eventually enter the decline of his career. But as elite as he's been in the past, are you really ready to bet against him after one relatively down year?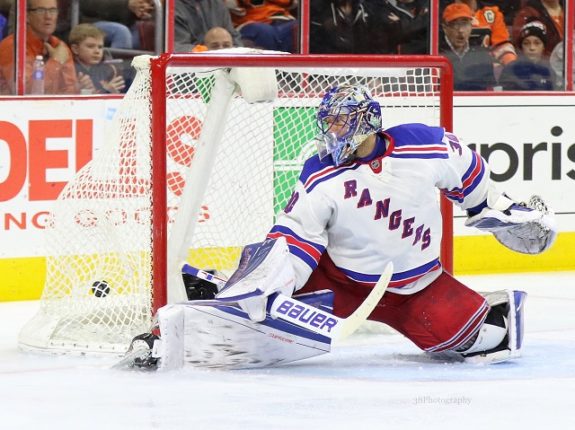 The Rangers have proven for the last several years that they can put up elite scoring numbers despite not having a traditional offensive superstar anywhere in their collection of forwards. But in the last two offseasons, New York has parted with two of the players that have made that possible in Stepan this summer and Derick Brassard last year.
In 2017-18, the Rangers will look to players like Kevin Hayes, J.T. Miller and restricted free agent Mika Zibanejad to keep their winning formula going. If Lundqvist bounces back and the youngsters rise to the challenge left in Stepan's wake, New York will remain a viable threat in the East. If not, they could find themselves in the dust left behind by Columbus and Pittsburgh.
Flyers' Prospects Poised to Make the Leap
The Philadelphia Flyers have one of the most raved-about prospect pools in the NHL, and there's a good chance we are going to get to see several of those developing players in the Wells Fargo Center this year. General manager Ron Hextall has shut down any rumors of interest in aged veterans like Jaromir Jagr or Andrei Markov, which is a resounding and not-at-all subtle declaration: the kids are getting the keys.
Hextall has been hoarding prospects for a few years now, and the Flyers believe the time has come to see if they are ready for the best hockey league in the world. Philly fans will have to wait through the summer to see which ones break camp with the NHL squad, but the following players are good bets: forwards Nolan Patrick, Mike Vecchione and Oskar Lindblom, along with some combination of Robert Hagg, Sam Morin, Travis Sanheim and Philippe Myers on the blue line.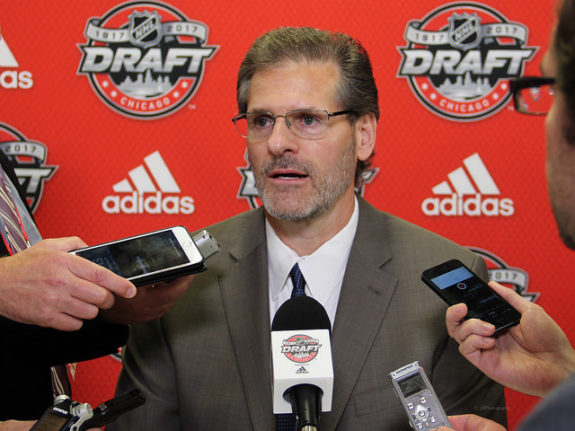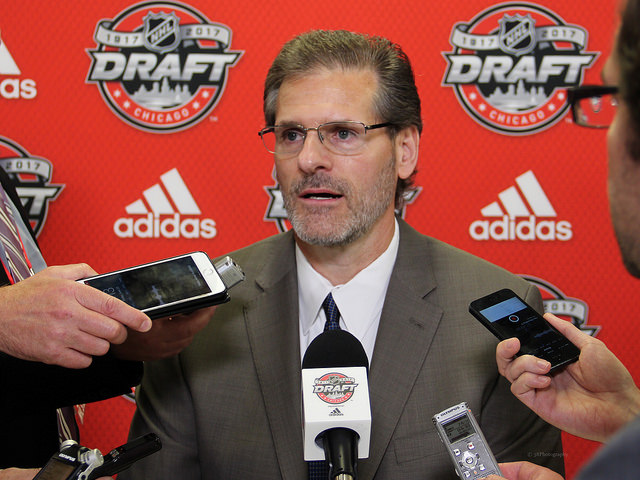 Of course, the Flyers aren't going to ice a lineup comprised primarily of 19-year-olds on opening night. They'd also probably like to avoid having four rookies on the blue line on any night. But as the season goes on, you are going to see more and more of these young players work their way up, end even the ones who don't crack the major league club in 2017-18 are going to continue to get invaluable experience in the team's development system.
Whether the aforementioned Patrick makes the team out of training camp or not (he absolutely should, barring any setbacks from a sports hernia injury), he will make his debut this season. Upon his arrival, he will join defenseman Ivan Provorov as the team's cornerstone players. From there, the team will be constructed around those two, with goalie Carter Hart presumably joining the party before long.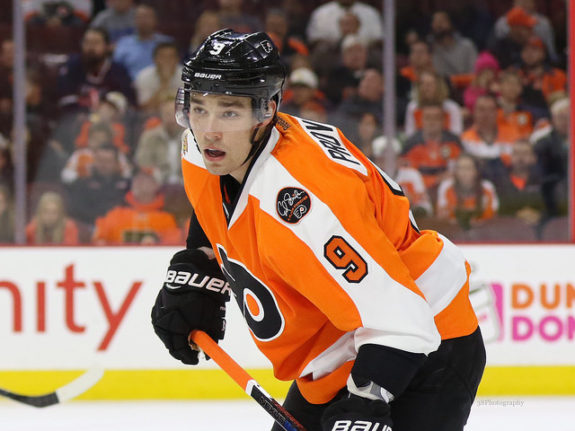 Can the Flyers contend for a playoff spot in 2017-18? For sure. They have the veteran talent, and the last two years have shown us that young kids have the ability to take a team to the next level when given the opportunity. But even if Philadelphia finds itself looking up at its division rivals once again, Flyers fans should take solace in the knowledge that the Metro's status quo won't hold for long. The time has come for the top teams in the East to begin looking over their shoulders for the orange and black.
Hurricanes a Sleeper?
A Darling in Net
Despite finishing seventh in the division last year, the Carolina Hurricanes posted a respectable 87-point campaign thanks to the emergence of some budding stars. If not for some untimely losing streaks, Carolina may have been able to sneak into the postseason picture.
The Hurricanes' first step toward improvement in 2017-18 came in the form of acquiring goalie Scott Darling from Chicago. Carolina then signed Darling through 2021, giving the team one of the sneaky-good goaltending situations in the Metropolitan Division for the next few years. With the trade and subsequent signing, Carolina addressed a need that incumbent net-minder Cam Ward has been struggling to fill of late.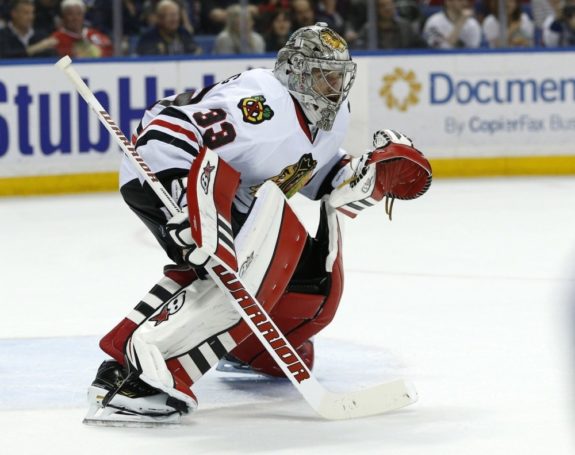 Don't underestimate the impact Darling stands to make with his new team. He was more than reliable as the Blackhawks' backup, especially when Corey Crawford was forced to miss most of December 2016 due to surgery. Now that he will have a chance to earn number-one goalie honors, Carolina could be significantly better than they were last season.
Mr. Game 7 Returns
Carolina's other high-profile offseason acquisition was Justin Williams, who returns to his former team after spending the last nine seasons in Los Angeles and Washington. It's a bit of a curious decision on Williams' part, as you might expect a 35-year-old to sign with a team a little closer to the promised land than Carolina is. But Williams is clearly buying into what the Hurricanes have going on, and the rest of us need to start believing as well.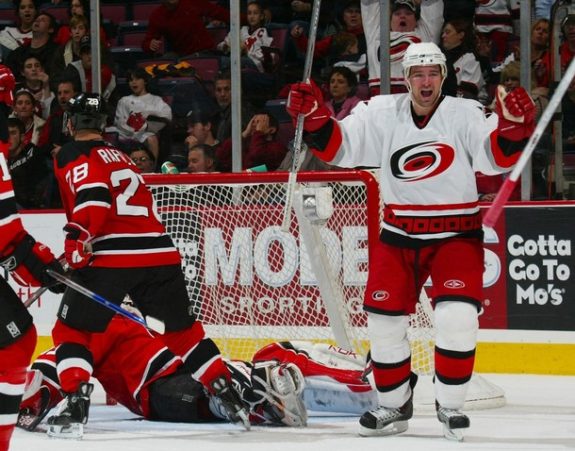 In Williams, the Hurricanes will get that frequently sought-after "locker room presence." Williams' reputation as a Stanley Cup champion and clutch playoff performer precedes him, and there's no doubt that he can shed some of that hard-earned experience on Carolina's youth.
What does Williams get out of the deal? A chance to play with a pretty talented cast of young players that are eager to prove themselves and want to win. After two monumentally disappointing playoff exits with the Capitals, who knows? Maybe Williams will be revitalized by playing with kids like Sebastian Aho, Jeff Skinner, Teuvo Teravainen and Noah Hanifin.
Do Darling and Williams launch the Hurricanes into the upper echelon of the league all by themselves? No. But the Metropolitan Division could be wide open outside of Columbus and Pittsburgh, and these two key additions make Carolina a better team than they were last season. If nothing else, the Hurricanes now have a solid goaltender and a valuable veteran presence to help lay the groundwork for where the franchise is headed.
Can the Devils Climb out of the Cellar?
Comparing a Pair of Rivals
As we dive into the analysis of our eighth and final Metropolitan Division team, the New Jersey Devils, let's take a minute to recognize some similarities they share with the Philadelphia Flyers. I think it's fair to say that the following statements are true about both New Jersey and Philadelphia:
They both have serviceable stables of forwards.
They both have (at best) below-average defenses, outside of the Flyers' Ivan Provorov.
They both have promising prospect pipelines that stand to improve their rosters at all skater positions in the very near future.
You can belittle me in the comments section if you disagree with any of those statements, but for now let's just pretend that they are somehow irrefutable. I spoke pretty highly of the Flyers' chances to make some noise in 2017-18, so do I think based on these comparisons that New Jersey has an equally good chance of making a run? In short, no.
The Devils' defense is probably the worst in the division, and as of this writing they've done nothing to address it in the offseason. Moreover, Marcus Johansson doesn't transform the third-worst goal-scoring team in the NHL into an offensive powerhouse overnight. When you play in the Metropolitan Division, you'd better be able to score at will or shut your opponents down, and the Devils will struggle to accomplish either of those on a consistent basis.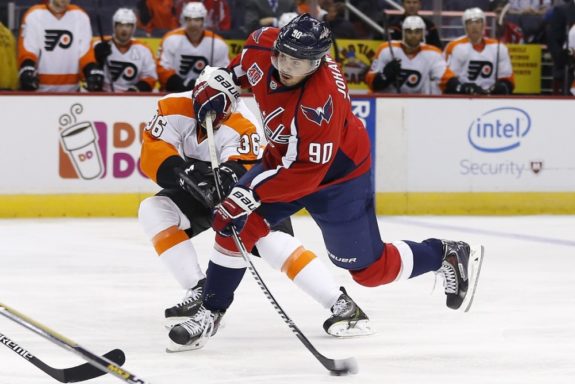 Schneider Must Shoulder the Load
In the past, goaltender Cory Schneider was able to help in the shut-them-down department, but he struggled last year as well. Among the 13 goalies who played in 60 games last season, Schneider ranked last in GAA at 2.78, and finished only ahead of Cam Ward in save percentage.
It may seem arbitrary to evaluate Schneider on a 60-game benchmark, but if you look at the other 12 goalies on the list, almost all of them have one thing in common: their teams didn't have another viable option. That's the reality facing Schneider, however unfair it may be to him. With a porous defense and a low-scoring offense, the Devils need him to be their best player more often than not.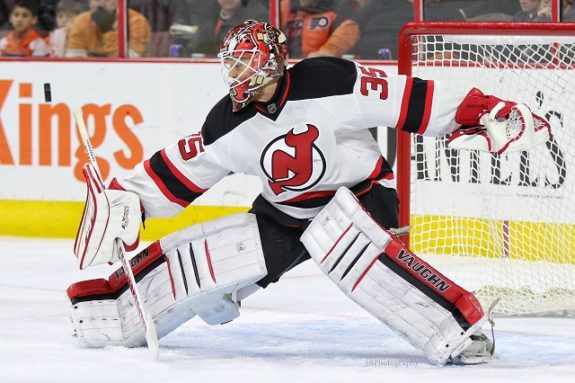 Having said all of this, a 2018 playoff appearance isn't the trajectory the Devils are on anyway, and their fans shouldn't necessarily be disappointed. New Jersey just had the number-one overall pick in the entry draft, and unlike the Flyers it was not the result of good luck at the draft lottery.
What the Devils should be focused on, and what their fans should be hoping for, is improvement. Score more than 180 goals in 82 games. Play hard in front of Cory Schneider and help him have a bounce-back season. Develop the young players that are eventually going to turn this franchise around. If the Devils' leadership can sit down at this time next year and say they made these and other organizational improvements, then they'll have done their job.
After all, back-to-back Stanley Cup champions aren't built in a day.
The two things I enjoy most in this world are writing and sports. To combine them has always been a dream of mine. I'm thankful for the chance to do that here at THW.