With just a day to go until the expansion draft, the Washington Capitals find themselves in a tight bind. Even after using the 7-3-1 protection plan, Washington will lose a big name. Players like Jay Beagle, Brett Connolly, Nate Schmidt and Philipp Grubauer are up for the taking, and no matter who they lose, it will hurt their depth.
Perhaps the most enticing name for Vegas is Schmidt. An up-and-coming defenseman, Schmidt has posted outstanding numbers and has made a huge impact when it comes to strengthening Washington's defensive corps. Not to mention, at just 25 years old, Schmidt is showing signs that he will definitely develop into a top-four defender.
With the expansion draft looming, many teams are making a deal with the Golden Knights to hang onto some of their assets that they couldn't protect. In fact, Vegas general manager George McPhee is even letting the rest of the league that he isn't opposed to negotiating in regards to who the Golden Knights will select.
McPhee to colleagues: "You can negotiate your way out of this if you wish. Every team in this league has a chance to protect their roster."

— Stephen Whyno (@SWhyno) June 18, 2017
With that being said, and considering the Capitals will already lose a critical piece, should they at least try to negotiate a deal to protect one of their most promising defensive prospects?
Schmidt at a Glance
After competing with Steven Oleksy for a full-time spot with the Capitals, Schmidt proved his worth in the AHL and carried that over to the big club. In two full years with the Capitals, Schmidt has failed to disappoint. He had an impressive rookie campaign in 2015-16, posting 16 points, 69 hits, 111 shot blocks and a plus-12 rating in 72 games. However, this past season, Schmidt truly came out of his shell.
Combining his defensive style of play with puck-moving acumen, Schmidt had a career year, and even though he lost some of his playing time to Kevin Shattenkirk, he showed his worth to the organization. Through 60 games, Schmidt posted three goals and 22 points and was a remarkable plus-22. He was also a physical presence for the team and took good care of the puck. Analytically, he had a career year, posting a 3.0 relative Corsi.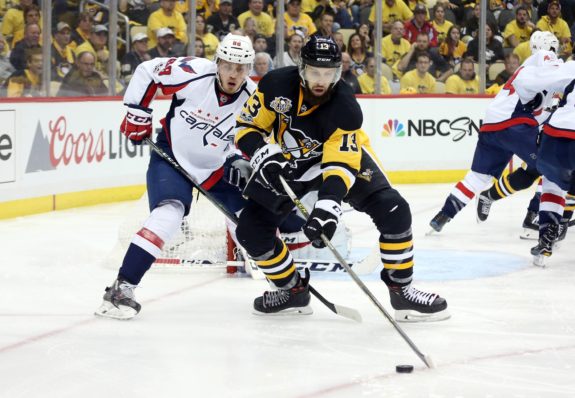 As the season went on, Schmidt showed more speed and push in his game. Not only did he prove that he could log more minutes, but Schmidt made outstanding defensive plays and protected the puck well. In addition, through improving his skating and passing ability, the Minnesota native stepped up offensively and got involved in the rush.
He does, however, need to become more of a physical presence — the 6-foot-1, 194-pound blueliner isn't the largest defender, and this can be a problem when he is matching up against bigger teams. Still, it has not stopped him as he continues to excel in other areas.
Top-Four Potential
When Karl Alzner fell victim to injury late in the season, Schmidt stepped up and subbed in as John Carlson's defensive partner. Playing on the top-four with Carlson, Schmidt was outstanding, getting even more involved offensively and filling the void Alzner left.
Given more ice time and trusted with more responsibility, Schmidt showed that he could handle the extra workload. Not only did he pull his weight defensively, but playing alongside Carlson, Schmidt was able to shine and exerted more confidence. He took more shots, got more involved in the rush and played a faster, more accomplished game.
Not only did Schmidt add more edge to his game, but he showed that he can be reliable and called upon to help the Capitals in any way. As the go-to-guy for Washington, Schmidt knows his role and is ready to adapt to any style of play the team needs. This was evident not only in the regular season and in the face of injuries, but in the playoffs as well, where Washington struggled greatly and needed someone like Schmidt to help them out.
Overall, Schmidt has shown that is a versatile, all-around defenseman who comes in clutch and plays a consistent, reliable game. And for the Capitals moving forward, that is something they might want to hang onto.
Deal or No Deal?
It looks like the Capitals may end up losing Karl Alzner and Kevin Shattenkirk to free agency, and that will take away two key members of their defence. If the Capitals are bound to lose these two players, they cannot lose Schmidt, too.
While Dmitry Orlov can fill that void on the top-four, the Capitals will have to rely on Brooks Orpik to fill out the rest of the lineup. And though he didn't have a terrible past year with the team, he is showing signs of slowing down, and at 36 years old, one can only wonder how much gas he has left in the tank. Therefore, keeping Schmidt ensures that they still have depth and quality defense on the left side.
On the other hand, making a deal may not be so easy. The Capitals are missing out on 2017 draft picks from the first three rounds, so they do not have much to offer this year. They could offer 2018 draft picks, but of course, that would put them in a similar hole that they are in this year. In the long run, this will hurt Washington, as the team will miss out on prospects over the course of two years. While Washington cannot afford to lose Schmidt, they may not be able to afford to keep him, either.
In addition, the Capitals have a lot of up-and-coming defenders in Hershey who could also come into play and show just as much promise as Schmidt with time. Madison Bowey has been great with the Bears and seems ready to compete for a full-time roster spot in Washington. If Schmidt is gone, players like Bowey will be able to step up and get their opportunity to crack the lineup.
Still, the Capitals must do everything they can to keep Schmidt in Washington. He is going to be a top-four defender in no time and proved his worth to the organization. With puck-moving potential, effective skating and a great attitude and mentality, Schmidt shows a lot of promise and will be a staple in the lineup for years to come. And with the team already at risk of losing big names and critical members of the defensive corps, Schmidt needs to remain a Capital, no matter the cost.