Only in Buffalo could there be so much love for a five-goal scorer.
When the Sabres' list of protected and available players came out Sunday, some were surprised, even astonished to see Will Carrier is available. Others were up in arms, especially with struggling Tyler Ennis and his $4.6 million contract being protected.
In 41 games with the Sabres last season, Carrier tallied five goals and three assists. Projected over an 82-game season, he'd have ten goals and six assists for a measly 16 points. The only Sabre forward to score fewer goals than Carrier was Nicolas Deslauriers, who failed to pot one in 42 games.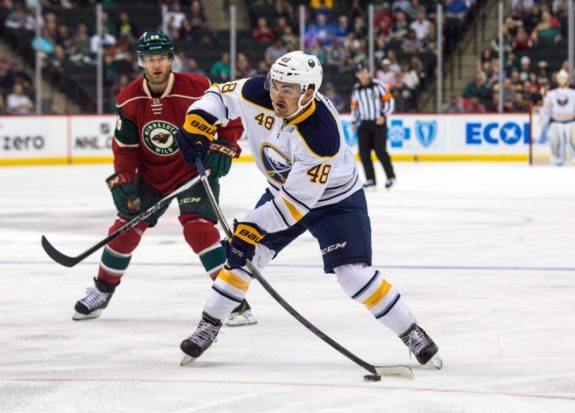 The 22-year-old brings a tenacious, physical game and uses his body well, but based on his historical stats, he probably maxes out as a third-liner. He plays hard every shift and is willing to take the punishment that goes with playing in front of the net and in the corners. He has decent hands and a hard, heavy shot. He has one year left on his entry-level contract ($689,167) before becoming a restricted free agent.
Buffalo's List of Available Players
Golden Knights general manager George McPhee will turn in the list of players he's plucked from every NHL team on Wednesday morning. One Sabre will officially be a Vegas Golden Knight.
Realistically speaking, there are only a few on the list of available players that are plausible options. Most of them are UFAs or unproven-at-best AHLers.
The Sabres list of available players include: Will Carrier, Matt Moulson, Zach Bogosian, Josh Gorges, Justin Falk, Taylor Fedun, Nicolas Deslauriers, Brian Gionta, Derek Grant, Justin Kea, Cal O'Reilly, Cole Schneider, Brady Austin, Matt Bodie, Cody Franson, Dmitry Kulikov, Anders Nilsson, and Linus Ullmark.
Odds are Carrier is going to Vegas
With the Sabres leaving Carrier available, it's likely a deal is in place with McPhee to stay away from backup goalie Linus Ullmark.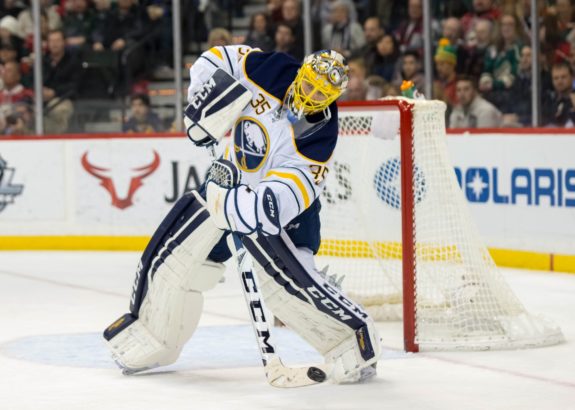 Jason Botterill, the Sabres' general manager, would love to shed a bloated contract for Moulson, Bogosian or Gorges, but it's not likely going to happen. Multiple sources say McPhee has his eyes set on Ullmark, a 23-year-old prospect with a legitimate chance to become an NHL starter in the next few years.
Botterill, however, really wants to keep the big Swede. The Sabres are thin in net, with Cal Petersen, a 2013 fifth-round draft pick likely bypassing the team for unrestricted free agency.
McPhee is a powerful man right now, holding every ounce of negotiating power. He could command a sweetener to abide by Botterill's wishes.
Carrier's 2016-17 Season
Some fans may claim the young winger didn't get enough ice time to show what he can really do. There's some credence to that considering he averaged nine minutes of ice time per game, though he often played on a top line.
According to leftwinglock.com, Carrier's most frequent linemates were:
24.7% of the time with Ryan O'Reilly and Kyle Okposo
9.9% of the time with Zemgus Girgensons and Matt Moulson
8.5% of the time with Sam Reinhart and Ryan OReilly
Earlier in his Career
The Pierrefonds, Quebec native played In 127 AHL games, netting 23 goals and 33 assists for 56 points. Lauded as a first round prospect, Carrier was selected by the St. Louis Blues in the second round (57th overall) of the 2013 NHL Entry Draft. He signed his three-year entry-level contract with the Blues in August 2013.
On February 28, 2014, the Sabres traded Ryan Miller and captain Steve Ott to the Blues for Carrier, along with Chris Stewart, Jaroslav Halak and first & third round draft picks for the 2014 NHL Entry Draft.
Hardly the Final Factor
The Sabres have left wingers Vaclav Karabacek, Cole Schneider (UFA), and Jean Dupuy (RFA) in the pipeline. Versatile 2016 first-round draft pick Alex Nylander can play either wing.
Losing Will Carrier to Vegas won't prevent the Sabres from making the playoffs. Somehow, just somehow, I think the Sabres will be able to find his five goals somewhere else in the lineup. The future of the Sabres is not predicated on having Will Carrier in the lineup. The Sabres will survive.