If you don't yet know the name Carter Hart, you will soon. The 19-year-old goaltending prospect was drafted by the Philadelphia Flyers in the second-round of the 2016 NHL Draft and he's made it his mission to get better with each and every season.
In his first year in the WHL, Hart posted a respectable 2.29 goals-against average and .915 save percentage en route to an 18-5-5 record in 30 games. In his draft year, Hart turned it up a notch by playing in 63 games, compiling a 2.14 goals against average and a .914 save percentage in the process while finishing the season with a 35-23-4 record. He was named CHL Goalie of the Year for his efforts, earning him his spot as a top draft-eligible goaltender.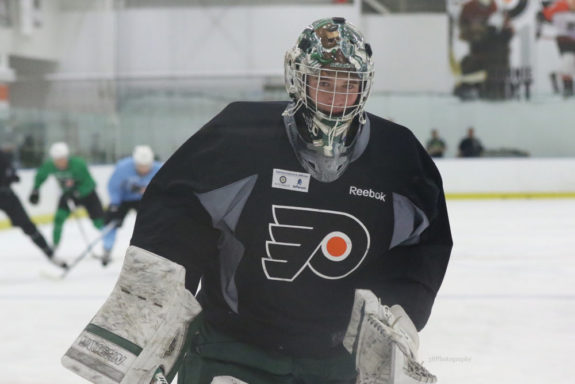 The Alberta-native returned to Everett again the following season and was lights out through 54 games. His 32-11-2 record, 1.99 goals-against average and .927 save percentage were as good a stat-line as a goalie could hope for at any level, let alone a competitive WHL league that continuously produce some of the top hockey talent in each draft on a yearly basis. That's why Hart's 2017-18 season with Everett has been one that every fan of professional hockey should take note of as he continues to develop.
The 2017-18 Season Belongs to Carter Hart
Hart's season so far has been nothing short of amazing. Sitting atop the WHLs leaderboard for goals against average (1.34) and save percentage (.960), Hart has been unbeatable all season long. He's compiled a 12-3-1 record along the way with five shutouts, but his most recent 11 games are the really telling ones to this point in the year.
Let's check in on @C_Hart70 of @WHLsilvertips He leads @TheWHL with a 1.34 GAA & .960 SV % & is 12-3-1 with 5 Shutouts. It gets better. In his past 11 GP: 10-1 5 Shutouts, .82 GAA & .976 SV% @NHLFlyers @HC_Men @iihf_wjc #Unbeatable 🏒🥅 #Blanks

— Craig Button (@CraigJButton) December 9, 2017
Posting a 10-1 record in that span with all five of his shutouts on the year coming in those 11 games, Hart has allowed only 0.82 goals against r game in that span and has posted a sterling .976 save percentage in the process. His most recent performance resulted in a 3-0 shutout victory against the Spokane Chiefs. Despite Spokane nearly doubling up Everett in shots (39 to 20 in favor of the Chiefs), Hart stood tall as he's done so many times already this season.
With 16 games in the books for Hart, it's hard to imagine anybody else in the WHL becoming a bigger story than the Silvertips 19-year-old netminder. In a major-junior landscape where top talents are often traded to help accelerate rebuilds, Hart could remain a Silvertip for the entirety of his CHL career given how dominant he's been and how well positioned the Silvertips are in the WHL standings. What's been clear this season, though, is that as Hart goes, the Silvertips go.
Hart Backstopping Everett to the Top
With a 17-12-2 record this season, the Silvertips currently sit in second-place in the U.S. Division of the WHL, five points behind the Portland Winterhawks and three points ahead of the Tri-City Americans. Fortunately for Everett, the team has gone on a 7-0-0 run with an 8-2 record in their last 10 games overall. Portland, on the other hand, has dropped four straight decisions, going 5-4-1 over their last 10. Things haven't been much better for Tri-City either as they've gone 4-5-1 in their last 10 contests.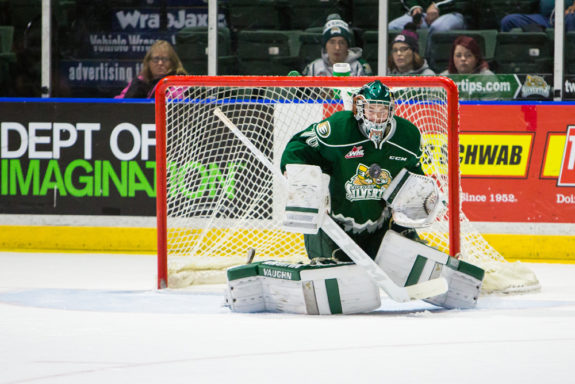 With Hart in net, the Silvertips are 12-3-1. When he hasn't started a game, however, they've only gone 5-9-1 and have struggled to find consistency. As Hart has proven in the past, he can legitimately play upward of 60 games and make an impact in each – a fortunate fact for the Silvertips as they'll need their No. 1 goalie if they plan on taking down some of the top teams in the league to capture the league title.
This, however, could be a concern for Everett when Hart leaves to join Team Canada for the World Junior Championships.
Hart Primed to Start for Canada
The World Junior Championships have been increasingly enjoyable to watch due to the increase in talent across various hockey countries around the world. For many Canadians, the World Junior Championships can be seen as the most wonderful time of the year. It's a time when fans can take the time to let go of their NHL allegiances for a little while and enjoy the best young talent the world and specifically their country has to offer.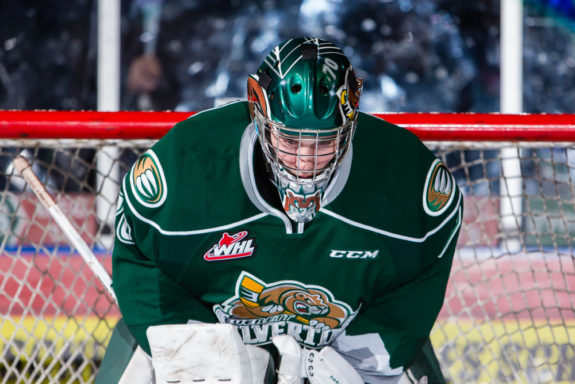 When the  World Junior Championships kick off this season, Canada should have tremendous strength in between the pipes. Joining Hart will be 2017 third-round draft pick Michael DiPietro and Colgate University netminder Colton Point. The talent level there is undeniable. Despite this, however, it seems unthinkable that Hart won't start and finish the tournament as Canada's main goalie as he looks to bring Canada back to the promise land – something they fell just short of last year despite Hart's 31-save performance.
Ready to take the reigns once again, Hart has the chance to bring Canada a gold medal – something they've only done once since 2009. Given Hart's resume, there's likely no better person for the job.