For the first time in 21 years, the Philadelphia Flyers have swept their way through Western Canada defeating the Calgary Flames, Edmonton Oilers, and Vancouver Canucks all in regulation. They did so in convincing fashion from a goals perspective, winning 5-2, 4-2, and 4-1. They scored on the power play in each of those games, and, while they weren't always pretty, they were effective. When a team comes off of their longest losing streak of the decade, effectiveness is all that matters.
Key Changes Could Salvage Flyers Season
So what happened that caused the Flyers to go from blowing leads to completing a three-game sweep in Western Canada? There were two changes that occurred that really stirred the pot and changed the pace for the Flyers. One was an attitude adjustment. Captain Claude Giroux was interviewed after the win against Vancouver and he talked about the team changing a couple things with how they want to play as well as their identity as a team.
Giroux is a captain that leads by example with his play on the ice, but here he is showing his leadership ability inside the locker room. It is easy to get behind Giroux. He is a skilled player that is fun to watch. He plays with passion and wants to see success from the Flyers. The recent winning streak has been a lot of fun for the team, and it has been a refreshing change of pace for the City of Brotherly Love.
"…it's good for our confidence…we change a couple things, how we want to play, and our identity as a team and everyone's bought into it so it makes it a lot more fun."  -Claude Giroux
Flyers Seeking More Offensive Production
The other big change that occurred prior to the three-game winning streak was a change in the top line. One of the biggest Flyers concerns has been depth scoring – they have not been getting great contributions from anywhere except their top line. As Brandon Murphy points out in his article about the Flyers 10 game losing streak, the top line of Giroux-Couturier-Voracek is one of the best lines in hockey. The trio has contributed to 40% of the team's total goals. Wayne Simmonds, who scored 31 goals a season ago, has not gotten on track yet this season. Players like Travis Konecny and Nolan Patrick have tons of upside, but they have not been able to produce offensively this season.
Recognizing a lack of production from other lines, and in an attempt to get the Wayne Train rolling, Dave Hakstol moved Simmonds to the top line and bumped Voracek to the second line.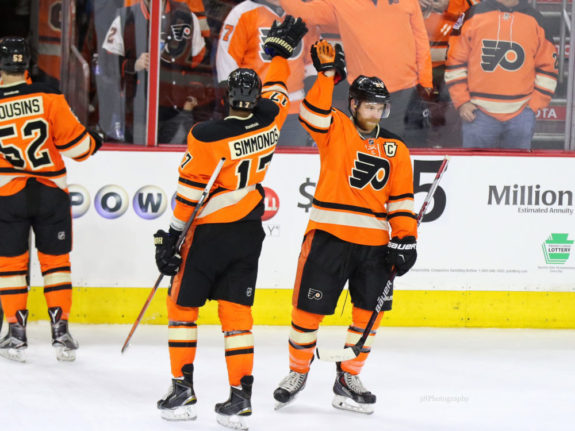 This move makes sense and has already paid dividends for Simmonds and the Flyers. Voracek is having the best season of his career averaging over an assist per game and leading the league with 30 this season. His passing has been exceptional, and he has found himself in the right place at the right time making the right decision all season long. Moving him to the second line will open up opportunities for him and his teammates. He can be more aggressive trying to score against second-line opponents. His passing will open up opportunities for Raffl, Filppula, and the young defensemen.
Moving Simmonds to the top line will reignite his confidence. It will give that first line that big bodied forward in front of the net they were missing. Causing problems for goaltenders will open up opportunities for rebound shots in front. Simmonds scored in every game in Canada, so clearly the line change is working.
Moving With Momentum
Whoever is on the ice with Voracek will have a chance to score. Voracek is a top line player that will get a chance to improve the play of others with his passing ability. Suddenly, the second and third lines become a far bigger threat to score. The first line will have no problems because Giroux has proven time and time again that he is a very capable passer, and Couturier is ready to fire on the net at a moment's notice. Simmonds' forechecking and ability to redirect shots at the net will keep the top line one of the best in the league.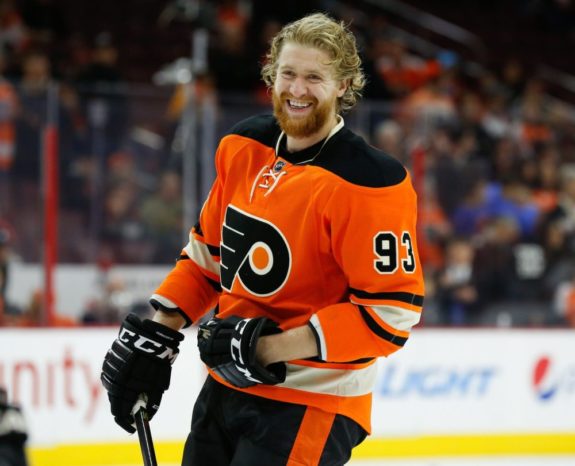 This is a strong start for the Flyers after suffering through that 10-game losing streak. The team still needs more help on offense, but things are starting to turn around thanks to this new identity and shuffling of the lines. The power play has scored in three straight games. The Flyers have not scored a home power play goal in four straight games. The team has a few days of rest before starting up a five-game homestand on Tuesday against the Toronto Maple Leafs.
With a winning streak to back them up, the Wells Fargo Center crowd should be rocking in support of the Orange and Black. The team will have five straight games in front of the Philly crowd to show that they are back and ready to dig themselves out of the hole the losing streak made. Have they figured themselves out, or are the Flyers just giving fans another false sense of optimism for this season?