Since his debut in the 2015-16 season with the Chicago Blackhawks, Artemi Panarin has caught the eye of many on and off the ice. Often compared to teammate Patrick Kane, there is a lot about the Russian-born star that most of the public doesn't know. Here are five quick things to know about Artemi Panarin.
1. Raised by Grandparents
Most hockey players have their parents to thank for their sacrifices to make their dreams come true. This is not the case for Panarin, whose parents split when he was young and was raised by his grandparents in Korkino, Russia.
According to Mark Lazerus of the Chicago Sun-Times, "It was his grandfather who woke up at 5 a.m. every day to drive him an hour to hockey practice as a 5-year-old. It was his grandfather who instilled in him the love of the sport."
Panarin's grandparents sent him to boarding school when he was ten to further his training. They watch his games regularly to cheer him on.
2. Successful KHL Career
Prior to his NHL debut, Panarin had a successful career with SKA St. Petersburg of the Kontinental Hockey League (KHL) in Russia. In his three seasons in St. Petersburg, Panarin tallied 46 goals and 56 assists. He also helped St. Petersburg win the Gagarin Cup in 2015. His success in the KHL caught onto NHL recruiters. According to ESPN, "Panarin got looks from more than half the league and received strong interest from six teams." He ultimately signed with the Hawks, and the rest is history.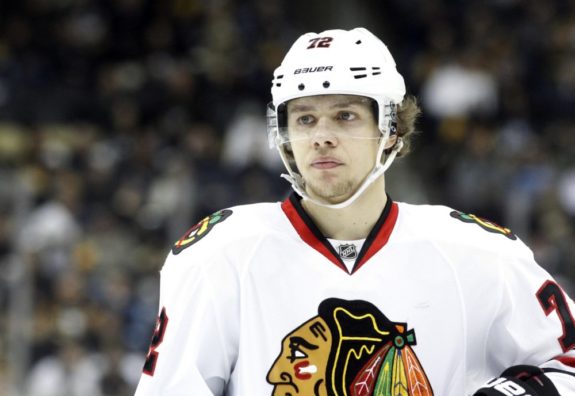 3. A Tough Transition
Panarin arrived in Chicago in August 2015 without knowing a lick of English. The language barrier made the transition from life in St. Petersburg to Chicago tough, but he made new friends that made it much easier. Before his departure, he befriended Russian-born Chicagoan Andrew Aksyonov and his wife Yulia, who picked him up from the airport. The couple helped him settle in Chicago and translated for him. Panarin continues his English lessons and has improved immensely since his arrival to the United States.
According to Chris Hine of the Chicago Tribune, Panarin and Aksyonov have developed a close bond:
Like a teenager, Panarin occasionally will come over and raid Aksyonov's refrigerator to see what Russian food he might have while they watch SKA St. Petersburg games. They would watch games in the car or even while Panarin was waiting in line at the doctor's office while treating an injury during training camp.
4. In Good Company
Panarin's rookie season made him the first Hawk to win the Calder Trophy since Patrick Kane in the 2007-08 season. He also scored his first goal on his first shot in his first game, the first Hawk to do so since Jonathan Toews in 2007. Panarin has landed a spot as one of the top five goal scorers in both of his seasons with the Hawks and is one of the most dominant forwards in the NHL. He has all of the makings of being the next big star on the Hawks and is making the most of it.
5. Contract Extension
Unlike many of his peers such as Andrew Shaw and Scott Darling, Panarin has not fallen victim to the Hawks' salary cap. Panarin's contract with the Hawks extended to the 2018-19 season for $6 million a season.
Chris Hine of the Chicago Tribune reported, "In a bit of give-and-take, Panarin, 25, did not push for a long-term deal for more money, which another team could have given him on the open market, but agreed to a bridge deal that should keep him in Chicago for a while." His future with the Hawks after 2019 is unknown but if he keeps up his current play they will most likely want to keep him around for awhile.
Panarin is without a doubt a star in the making. His contract extension is proof that he is in it for the long haul. Hawks fans have a lot to look forward to from Panarin in the future.