It was a very busy day.
I had to take the daughter to the urgent care as she wasn't feeling well. I had to finish the grocery shopping. Everyone insisted this was the day to decorate the Christmas tree. An item needed to be run across town sooner rather than later. I was out and about so much, I didn't even have time to sufficiently charge my phone.
But there was light at the end of the tunnel, a saving grace. Tonight was the annual girlfriends' trek to a Chicago Blackhawks game. The Hawks were taking on the Arizona Coyotes, a team they should beat, and there was a Brandon Saad bobblehead to be handed out to the first 10,000 fans.
Blackhawks Game-Day Tradition
We got a late start, but we made it! We stood out in the wind and cold, but were rewarded with our bobblehead. Per tradition, we watched warm-ups from right behind where the players come out before heading up to our seats. The pre-game presentation was updated and provided quite the show. I texted the hubby to let him know how jealous he should be – he loves that stuff. Listening to Jim Cornelison belt out the national anthem, and the crowd respond, NEVER gets old.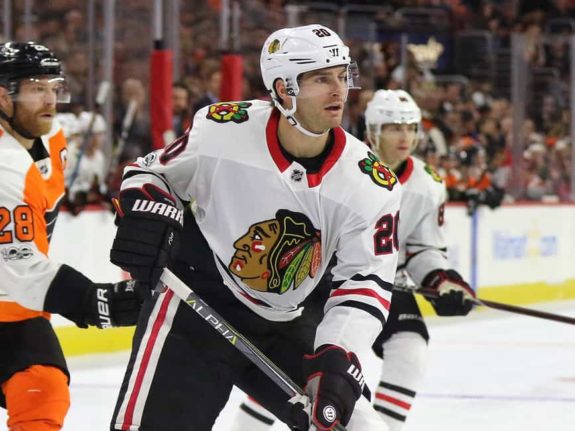 The Blackhawks have been on a bit of a skid lately, losing five of their last six games. They managed a win last Friday against the lowly Buffalo Sabres, but even that was a 3-2 overtime nail-biter. The team has recently had trouble scoring, putting up only 13 goals in said six games. That's an average of just over two goals per game. With all the offensive firepower the Hawks are supposed to have, that's just not going to cut it.
The Arizona game followed the same trend. There was no scoring in the first period, despite a Blackhawks power play. But that's no surprise; the Hawks have only scored two times in their last 25 power play tries leading up to this game. The second period went scoreless as well, even though both teams swapped power-play chances. By the time the third period rolled around, the girls and I decided we were done squinting at the ice from our perch in the upper 300-level. Those seats were all we could justify. If you weren't aware, it's not cheap to buy Blackhawks' tickets at the United Center.
Related – Blackhawks Weekly: Coming up Short
The Road to Victory
The plan was to find a comfy spot at a bar on the 100-level to watch the rest of the game on TV, and be that much closer to our car when the game let out. Well, wouldn't you know it? While we were in transit, fourth-liner Tommy Wingels scored for the Hawks. It was his second goal in as many games, made possible by a sweet pass from linemate John Hayden, who's been awfully quiet on the offensive end lately. The secondary assist was awarded to defenseman Jordan Oesterle, who was filling in for an injured Cody Franson. Oesterle hasn't played since Nov. 12, and has only suited up for five games this season.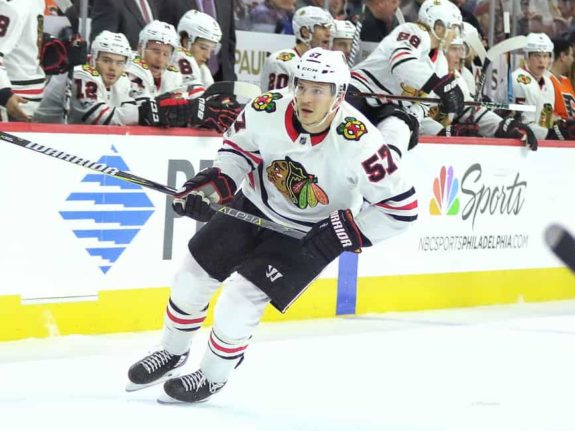 "Hooray for the little guys!" I thought. Now, of course, I knew all this by watching the replay on TV. I could have done that from home. That's when I knew I couldn't watch the rest of the game in the bar. "Girls," I said, "I'm gonna see if I can get a seat down here."
So I stood with everyone else during a stoppage in play, and when the gate attendant let everyone in, he didn't bother to check for tickets. After all, it was the end of a boring game on a Sunday night. Lots of people had already called it quits.
I found myself directly parallel to the Arizona Coyotes goaltender, Scott Wedgewood, at the top of the first tier of the 100-level seating. What a splendid view! "I should get a picture of this," I thought. "I can share it with the handful of people who follow me on Twitter!" So I sat with my phone all set to take a picture as soon as the play came to my side of the ice.
I waited, and waited. And waited. The Coyotes were making an offensive stand on the other end of the ice. Then two things happened simultaneously. Anthony Duclair scored a goal for the 'Yotes, and my phone died. Fudge! Well, at least I had a front row seat for the outcome of a close game. I found myself in a very unique position. I couldn't get a hold of my girlfriends. I wouldn't be able to check in with the family until we were on our way home and I could recharge my phone. It was impossible to maintain my usual routine of following the beat-writers on Twitter as the game went along.
I was virtually alone among a sea of people, and my only choice was to relax and fully focus on the game as it unfolded around me. No distractions whatsoever. It was a beautiful thing.
Shortly thereafter, the play finally came back to my side of the ice. Now it was the Hawks turn to make a stand. While Nick Schmaltz charged the net as a distraction, Patrick Kane placed a perfect pass to Artem Anisimov, and he struck home to make it 2-1 Hawks. Cue the Chelsea Dagger goal song, and bright lights, and a big celebration! The goal broke a four-game scoreless streak for both Anisimov and Kane. It also put Kane in fifth place all-time on the Blackhawks scoring list (781 points by the end of the game), and it moved Arty back up to the leader in goals for the Hawks this season (13). "I should share this on Twitter," I thought. "Oh wait, I can't do that. Shut up and enjoy the game, Gail!"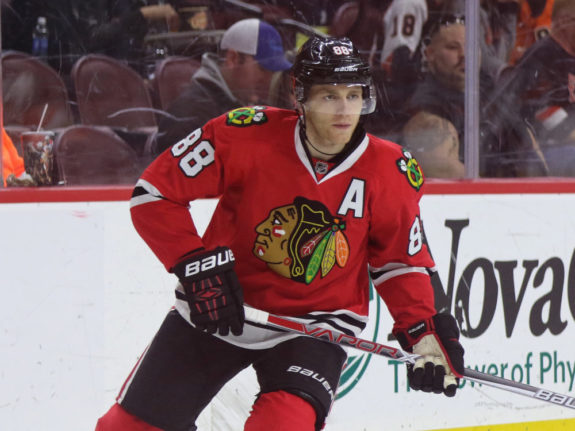 That silly business with my phone was a blessing in disguise, because if I was busy tweeting, I probably would have missed the next goal. Kane was at it again. He stripped the puck, which caused a two-on-one for the Hawks. This time he fed Schmaltz for the one-timer. And guess what? Schmaltz didn't pass like he's been so guilty of doing lately. He shot the puck! Two goals in less than two minutes. More Chelsea. More lights. Hawks win 3-1!
For the Love of the Game
What a wonderful way to spend a Sunday night. Yes, I had a lovely time with my two best friends. But I also got to witness a victory in a way I never had before, up close and personal, and all alone. Some people might say this is kind of sad, but I didn't mind. If you're not a complete hockey nerd like me, you might not understand. But if you're taking the time to read this piece, I think you might. It was hockey at it's finest. It was a team putting it all together at just the right time. It was fast and precise, yet almost seemed like it was in slow motion. And it happened right before my eyes, with no outside distractions.
Alas, the game is over. The Hawks aren't out of the woods yet. They've won two in a row, and seem to have found their groove. But they're still only 14-11-5, with 33 points. They find themselves outside of a wild-card spot in the Western Conference. They have a long road ahead of them as they fight and claw for a playoff spot.
For me, it's back to reality. I have a tedious drive home, with household duties and a full week of work ahead. But for one frozen moment in time, I was a part of the beauty of this game we all love. Such is a day in the life of a hockey fan.
Gail Kauchak has covered the Chicago Blackhawks as a content writer since 2014. She previously wrote for Fansided's Blackhawk Up, and has been part of The Hockey Writer's team since 2017. It's not always easy to balance life's responsibility's with one's passion, but Gail's doing her best to make it happen. Quote to live by, "Follow your dreams, and good things will happen." Wait, maybe it's "Good things happen when you shoot the puck!" You get the idea.
Follow Gail for her unique commentary about this storied franchise. And be sure to catch her and the rest of the Blackhawks' crew on their weekly Blackhawks Banter show, as well as follow her on Twitter.