Five hockey games in seven days is a brutal stretch, but that's exactly what the NHL schedule handed the Chicago Blackhawks this past week. Besides a 7-3 victory over the depleted Anaheim Ducks, the Hawks came up short in the next four games. The irony is that three of those games were only lost by one goal.
The final contest against the L.A. Kings was especially tough. Both teams went goalless for most of the game, before the Kings tallied late in the third. An empty-netter by the Kings brought the score to 2-0, but Jonathan Toews answered back to make it 2-1. Alas, the Kings scored another empty-netter, and the Hawks fell, 3-1.
The long and the short of it remains that the Hawks are now 1-2-2 in their last five games, three of which were against division rivals in the Nashville Predators (3-2 loss) and the Dallas Stars (4-3 OT loss and a 3-2 shootout loss). They only earned four of a possible 10 points in this stretch. Let's dive into the pros and cons of the past week.
Related – Blackhawks Weekly: Success in the Sunshine State
Blackhawks' Big News: Crawford on Injured Reserve
Goaltender Corey Crawford, arguably one of the most important players for the Hawks, was placed on injured reserve this past Friday. According to Christopher Hine of the Chicago Tribune, Coach Quenneville had this to say about Crawford:
"We don't expect him to be out long-term. It's a lower-body injury that has been kind of annoying for a recent stretch and we want to get it right."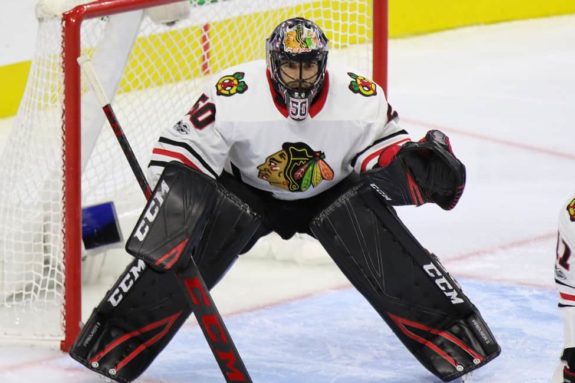 Needless to say, the loss of Crow is a big blow for the Hawks. He's one of their most consistent and reliable players. As the last line of defense, Crawford is more often than not making the big save and giving the Hawks a chance to win.
Backup Anton Forsberg played against Nashville last Tuesday, as well as suiting up this past Saturday and Sunday. He's filled in admirably, posting a .903, .943, and .955 save percentage, respectively, in his last three games. Hopefully he can keep up the good work until Crow is ready to return.
Winner of the Week: Gustav Forsling
It's hard to pick a consistent winner out of five games, but defenseman Gustav Forsling is trending in the right direction. As the coaching staff experiments with the right combinations on the blue line, Forsling and partner Jan Rutta find themselves playing the shutdown role for the team.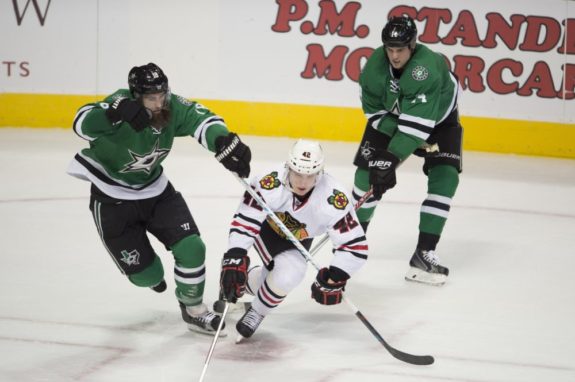 Forsling, especially, is being utilized generously in all situations. He's playing heavy minutes, actually beating out top defenseman Duncan Keith for playing time in three of the last five games. He's seeing time on the penalty kill as well as the power play. In these last five tilts, he's averaging 2.6 shots per game. Against Dallas this past Thursday, Forsling earned a primary assist from a shot where Patrick Kane capitalized on the rebound.
While Forsling and Rutta are eating up minutes against the opponents' top lines, Keith and his partner are freed up to contribute more offensively. It's a win-win situation. If Forsling can continue his stellar play, he will be a very positive attribute for the team going forward.
Loser of the Week: Richard Panik
Panik has now gone 18 straight games without a goal. Looking at these past five games, he's losing more and more confidence as he goes along. Against the Ducks this past Monday, he had a chance on a 3-on-1 rush where he decided to take the puck wide instead of aggressively charging the net. He managed an assist in the game but has only recorded one shot on goal in the last five games.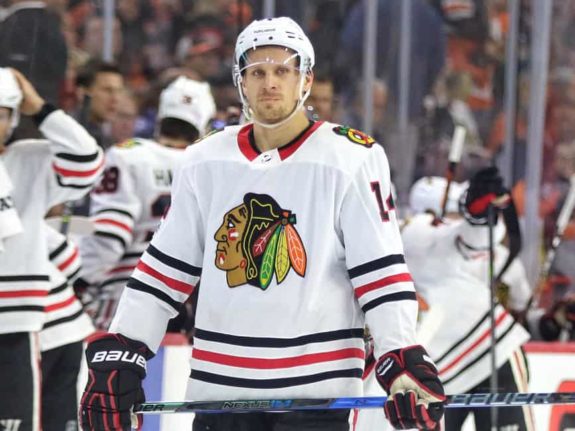 It's gotten to the point where his lack of offensive production is negatively affecting the top line. Against the Kings on Sunday, Panik was moved off this line and slotted onto the fourth line instead. John Hayden took his place alongside Toews and Brandon Saad. While Hayden provided some energy to that line, Panik didn't see much of a change on his end. He's definitely in a rut.
What Went Right for the Blackhawks: The Penalty Kill & Lone Players
It's hard to find a lot of positives right now for the Blackhawks. But things could be even worse if it wasn't for their excellent penalty kill. In the last five games, the Hawks have only allowed three power-play goals in 15 tries, for 80 percent.  On the season, their penalty kill is fourth in the league at 84.4 percent. It's one small part of the big picture, but it's something.
There are a few more things going their way. Some individual players have stood out lately. Alex DeBrincat added four goals and two assists in the last five games. Patrick Kane tallied a goal and four assists, and Artem Anisimov contributed two goals.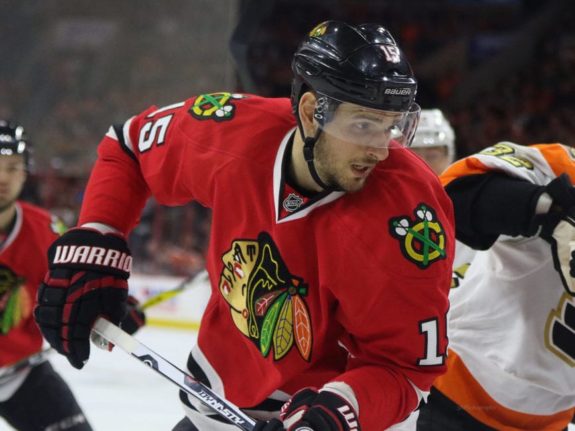 Now if some of the other players start to contribute, perhaps the Hawks could get rolling. After all, just one or two more goals in most of these games could be the difference between a win and a loss.
What Went Wrong for the Blackhawks: The Power Play
While the Hawks' penalty kill is standing out in a good way, the power play is going in the opposite direction. The Hawks managed two power-play goals against the Ducks last Monday, but have since gone 1-for-17 on the man advantage in the last four games. That's only converting three of 20 tries, for a measly 15 percent. On the season, the Hawks are 28th in the league at 16.1 percent. As mentioned above, if the Hawks would score just a few more goals, they could be winning these close games. Scoring on the power play seems like the way to get that started.
By the way, who was it that scored those three power-play goals? I'm glad you asked! Anisimov held the honor twice, and DeBrincat scored the other one. Hopefully these two can keep their hot hands going.
Final Observations
I'm usually the first person to defend Toews. Unlike Kane, who's pretty much given free reign to be creative and produce offensively, Toews is tasked with the concerns of centering the first line, as well as playing a responsible two-way game.
But he used to score a lot too. And now he's getting paid a whole lot of money. At some point, you just want to see more out of Toews.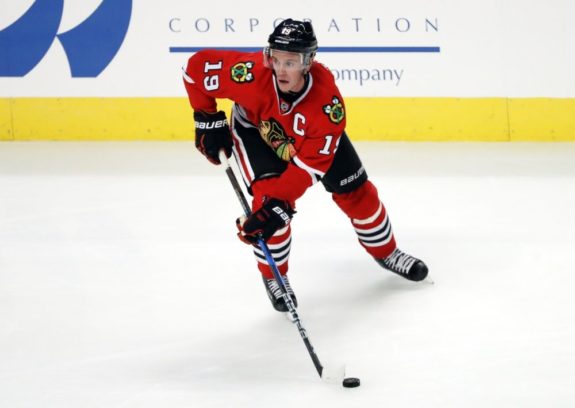 While we're speaking of the Blackhawks' superstars, Kane could benefit from keeping his temper in check. After Monday night, he was fined $5000 for his retaliation slash to the Ducks' Nick Richie. The next night in Nashville, Kane was charged with a cross-checking penalty to the Preds' Kevin Fiala. The Predators scored the game-winning goal on the ensuing power play. Kane should know better than to let his frustrations cost the team.
This weekly feature would be no fun without discussing line changes. Usually we're all complaining about Coach Q's line blender and constant alterations. But he's been so consistent lately, it almost makes one want to call for a few variations.
One change was made in the last game; Panik was moved from the first to the fourth line. Hayden played admirably in his place, but this doesn't seem like a long-term fit. In the meantime, DeBrincat could slot in seamlessly on the first or the second line and probably do some damage. But then you've hurt your third and fourth lines.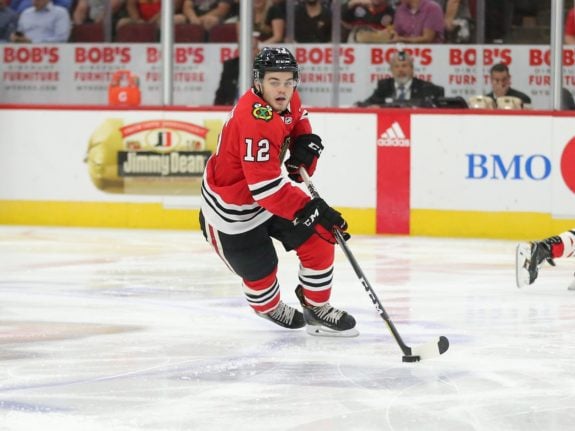 DeBrincat as a threat on the third line offers more balance. And what about Sharp, who seems like the Jordin Tootoo of the 2017-18 season; just a veteran taking up space? Should Vinnie Hinostroza be given a chance?
If the Hawks keep losing, I'm sure something will give. This team seems to be stuck in a rut right now, in need of a spark. After last week's marathon of games, the Hawks now fall to 12-10-5, with 29 points. They currently sit outside of a wild-card spot in the standings.
A little rest will be good for the Blackhawks after this rough week. They travel to Washington to take on the Capitals on Wednesday, before heading home to face the Buffalo Sabres Friday, and the Arizona Coyotes on Sunday. Here's hoping next week will be a better week.
Gail Kauchak has covered the Chicago Blackhawks as a content writer since 2014. She previously wrote for Fansided's Blackhawk Up, and has been part of The Hockey Writer's team since 2017. It's not always easy to balance life's responsibility's with one's passion, but Gail's doing her best to make it happen. Let's put it this way; she's probably reading and writing about hockey instead of cooking and cleaning. Shh, don't tell her husband!
Follow Gail for her unique commentary about this storied franchise. And be sure to catch her and the rest of the Blackhawks' crew on their weekly Blackhawks Banter show, as well as follow her on Twitter.