Remember when it was the hockey preseason, and everyone was wondering who would make the team for the Chicago Blackhawks? Prospect Alex DeBrincat was on that list. Picked 39th overall in the 2016 NHL Draft by the Hawks, many questioned whether he had what it takes to make it in the NHL. But 24 games into the season, it appears he belongs.
DeBrincat's Path to the NHL
DeBrincat had a very successful career with the Erie Otters of the Ontario Hockey League, which was capped off by 65 goals and 62 assists in his 2016-17 season. This earned him the Red Tilson Trophy, which is awarded to the most outstanding player in the OHL. But success in a junior league doesn't always translate into success in the best league in the world.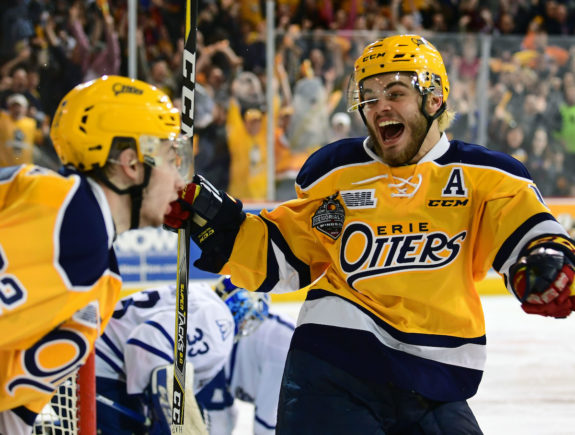 Many would argue that DeBrincat is too small in today's NHL, which features big players and stresses power and strength. He's only 5'7″ and weighs in at 165 lbs. But a number of smaller players are thriving as the game continues to evolve, including DeBrincat's teammate, Patrick Kane.
A Steady Progression
The Hawks took a chance on DeBrincat out of training camp. He made the opening night roster and has played in all 24 games so far this season. In his first 12 games, he tallied one goal and four assists, for five points. That's not bad for a 19-year-old rookie that's just starting out in the league. But what really stands out is his second 12 games. DeBrincat has combined for nine goals and four assists, for 13 points in that time frame. He's showing phenomenal improvement.
On Monday against the Anaheim Ducks, Brinksy recorded his first NHL hat trick and added an assist for good measure. The very next night in Nashville, he was credited was another assist. He now has 10 goals and eight assists, for 18 points.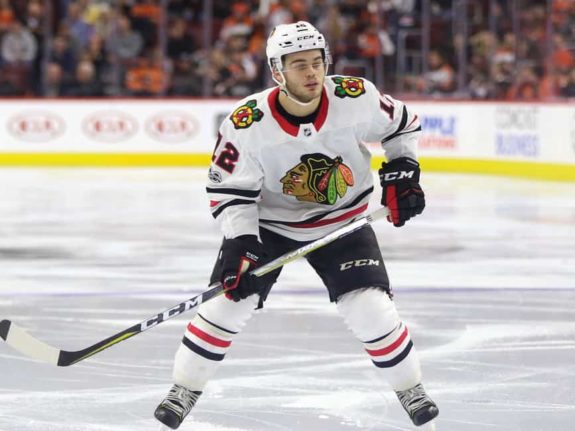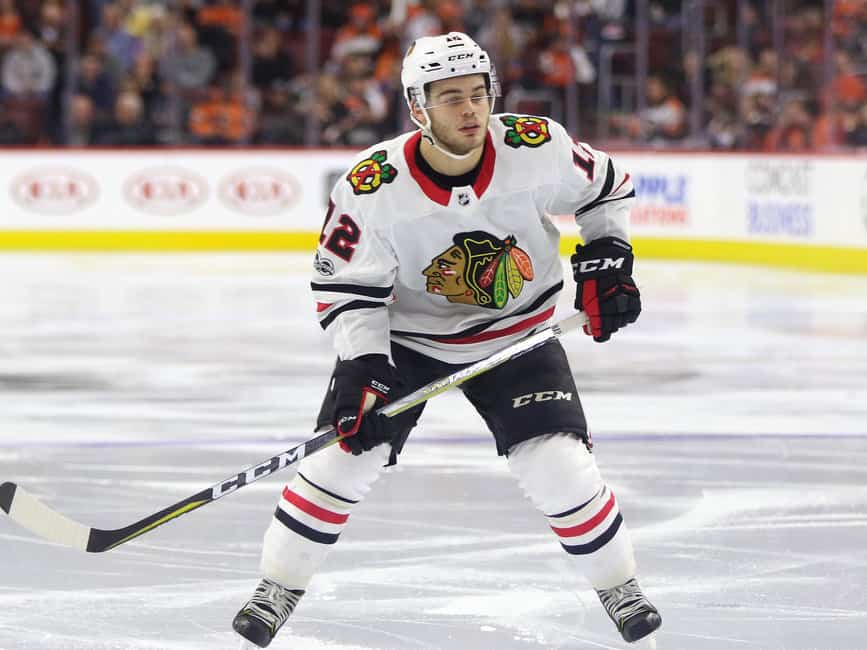 But it's not just the mere stats that matter; it's the way he's making them happen. He's gaining confidence, so he's more calm and poised with the puck. He's getting his timing down, and anticipating plays. He's very smart and seems to have a knack for getting to the right areas on the ice. In short, he's a natural playmaker.
Of Brinksy's 18 points, only seven of them have been when he was paired with other top six forwards. For most of the season, DeBrincat has been deployed on the third line. That makes his production all the more impressive. He's making things happen for himself and his teammates all on his own, without relying on a more skilled player to set up the play.
DeBrincat's recent assist on a Tommy Wingels goal in Nashville is a prime example of this. He negates an icing call with his hustle for the puck. Then he controls it along the boards. He has no support from any of his teammates, as they're all going for a change. But with five Predators around him, he has the presence of mind to feed Wingels, who has just come off the bench. It's simply a smart, heads-up play, and it got the Hawks back into the game.
Praise for DeBrincat
As a fellow third liner, Patrick Sharp has spent a lot of time alongside DeBrincat this season. He was recently asked about his teammate's progression. "He's playing like he's in junior hockey still. And that's a compliment because he's looking to make those plays. He's not intimidated at all by the speed or the pace of the game, and you can see the results."
"It's awesome to see, he's gaining confidence more and more every day."

Sharpy on his linemate Alex DeBrincat. #Blackhawks pic.twitter.com/VpaEhc3VPY

— Chicago Blackhawks (@NHLBlackhawks) November 28, 2017
Head coach Joel Quenneville knows he has someone special in DeBrincat. But he also realizes he's young and needs time to adjust. Quenneville's made the commitment to play him, instead of sending him down to the AHL. But he's also sheltering him a bit by keeping him mostly on the third line. When DeBrincat has seen time with top six forwards, he's made the most of his opportunities. He's already been assisted by Jonathan Toews twice and Kane twice in four of his goals. And he's getting more time on the power play unit.
DeBrincat has combined with Artem Anisimov for points a number of times as well. This was when Arty was slotted as the third line center. He's since been moved back up to the second line center, beside Kane. With the chemistry Anisimov and DeBrincat share, it would only make sense to give Brinksy some time on that line as well. With the recent production he's been seeing, he certainly deserves it.
DeBrincat appears to be on the brink of breaking out. He's finding his way, for himself and with his team. He's going to be an excellent player in this league. At this point, it's just a matter of how long it will take.