Chicago Blackhawks' fans saw just about everything from their team this past week. The Hawks showed no sense of urgency last Thursday in Philadelphia, losing 3-1. In Carolina on Saturday, they got off to another slow start, but managed to claw their way back and pull out a 4-3 overtime win. Finally, they had a great first period Sunday against the New Jersey Devils, only to blow their lead and lose 7-5. The consistency of their inconsistency is maddening. Here are some takeaways from Chicago's win and two losses in this sixth week of the season.
Winner of the Week: Alex DeBrincat
It looks like the rookie is finally starting to find his way. After scoring three goals in the first 16 games (two of them empty netters), DeBrincat has posted three goals and an assist in the last two games. He now stands at six goals and five assists, for 11 points overall.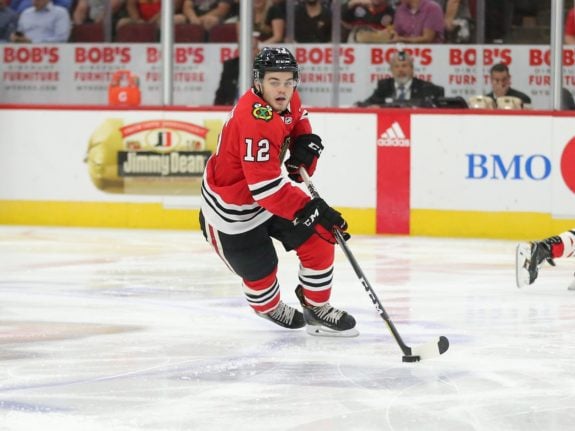 While he didn't get on the scoresheet against the Flyers, DeBrincat managed four shots on goal while playing on the third line with Nick Schmaltz and Ryan Hartman. Coach Q's lineblender didn't do him any favors, as Brinksy found himself on the ice mostly with Lance Bouma and Tanner Kero against the Hurricanes. Neither is known for their play-making abilities.
But the Cat made the most of his limited opportunities with more highly skilled players. He was put back on the power play unit, and capitalized on a pass from Jonathan Toews right after the power play expired for the first goal against the 'Canes. Then he found himself on a shift with Patrick Kane, where the latter fed him for his second tally of the night. Finally, the Kitty assisted Brandon Saad on his game-winning goal in overtime. It's not exactly a pass, it's simply a perfect little drop.
But he wasn't done yet. On Sunday against the New Jersey Devils, Top Cat notched another goal, made possible by an incredible pass from Schmaltz. He finished the night with five shots on goal.
In case you haven't noticed, the jury is still out when it comes to a nickname for DeBrincat. Brinksy, the Cat, Kitty, Top Cat. Which do you prefer?
Loser of the Week: Coach Joel Quenneville
No, I do NOT think Quenneville should be fired. But he needs to be held accountable for some of the craziness we've seen from the Hawks of late. The line-blending is at an all-time high, giving the players very little chance to find any kind of cohesiveness.
Against the Flyers, Coach Q went all-out retro, putting none other than Patrick Sharp, Toews, and Kane on his top line. Having Toews and Kane together usually spells desperation, as Q prefers to keep them separate so opposing teams have more of a challenge with matchups. I guess he thought the veteran Sharp might be able to help spark some of the magic from the old, Cup-winning days. Well, it didn't work out, and Q had them all separated by the second period, after the team found themselves down by three goals.
Coach Q is also experimenting with whether he wants Artem Anisimov or Schmaltz for his second line center, as he keeps switching them between the second and third lines. Oh, but wait! After the Philly game, he's been playing Schmaltz as a winger instead.
In the meantime, Hartman and John Hayden never really know what their fate may be on any given night, whether it be third line, fourth line, or healthy scratch. This is especially true now that Kero drew back into the lineup last Saturday after eight straight games as a scratch. And then Sunday against New Jersey, Q decided at the last minute to sit both Hartman and Tommy Wingels. That's right, he went with 11 forwards instead of the usual 12.
Are you having trouble keeping up? Yeah, me too. And we haven't even talked about the defense yet (more to follow)! It's understandable to mix things up a bit so players get used to different linemates, but why is there the need to change after every single loss? Even after a win?! Let the boys have some sort of consistency. Perhaps it will help their timing, their confidence, their mojo. Perhaps this can get them over the hump, and they will win more games.
Related – Hawks Turned Hurricanes: How Are They Doing?
What Went Right for the Blackhawks: Scoring
After a recent spell of having trouble finding the back of the net, the Hawks are finally scoring. They managed only one goal in Philadelphia, but then four goals in Carolina, and five goals against New Jersey. Over the past six games, they've averaged 37 shots on goal per game. In Sunday's tilt against the Devils, they recorded 44 shots on net.
And it's not just the usual suspects doing the scoring either. Yes, Saad tallied the game-winner in overtime against the 'Canes, Anisimov was credited with a goal against the Devils, and Kane reached into his bag of magic tricks for a power play tally against New Jersey as well. But, as noted above, DeBrincat has three goals in the last two games. Kero tallied his first goal of the season on Sunday. Defensemen Connor Murphy, Gustav Forsling, and Jan Rutta have all contributed goals this past week.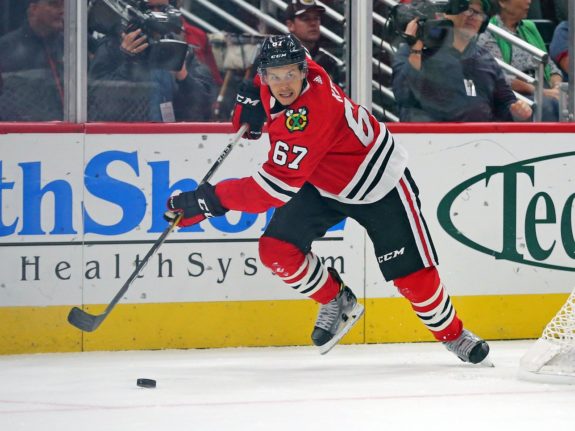 It's good to see this kind of depth, with a lot of different players getting on the board. Hopefully, this trend will continue. After all, you can't win if you don't score.   
What Went Wrong for the Blackhawks: The Defense
In last week's review, I discussed the defense as a positive. This just further proves how inconsistent this team is right now. This week, whatever headway they might have previously made can be thrown out the window. Once again, Coach Q needs to take some of the heat for this.
I can't stress enough the deficiencies of the defense. It's going to make or break this team. Duncan Keith is the only elite defender the Hawks have, and he's not getting any younger, or better. In the meantime, Cody Franson has recently done a decent job of lining up next to Keith on the top pairing. But the coaching staff doesn't seem to like this combination. It's Jan Rutta who's held that spot in the last two games. Ok, he's jumped in offensively, but his defensive play leaves a lot to be desired. Satchel Price of The Athletic sums it up perfectly with this tweet.
Another goal with Keith-Rutta on the ice. This time on a penalty kill. But sure, hey, let's definitely bench Cody Franson over Jordan Oesterle.

— Satchel Price (@SatchelPrice) November 13, 2017
To add to everyone's struggles, both Rutta and Murphy have been tasked with playing on their off side. Franson and Michal Kempny keep getting scratched, making it difficult for them to find their groove. Forsling is still finding his way. Seabrook is so slow – he's mostly good for laying out on the ice after he's been beaten or caught out of position. And, for some reason, Jordan Oesterle keeps getting sprinkled into the lineup every now and then, just for good measure.
Nobody ever seems to play with the same partner for an extended amount of time. How the heck are they supposed to get better? Coach Q doesn't seem to trust any of his defensemen, so he's grasping at straws in hopes that something might click. It all boils down to this; if the Hawks can't find a seasoned defenseman by the trade deadline to somehow fit into this disjointed system, they can kiss their playoff hopes goodbye.
Food for Thought
Here are a few more interesting tidbits as we try to make some sense of the current funk the Blackhawks find themselves in.
The Hawks continued their annoying habit of getting off to a slow start both in Philadelphia and Carolina. Then things were looking up, as they hit the ground running with a 4-1 lead in the first period against New Jersey. But they let their foot off the gas and ended up losing 7-5. Will the Hawks ever put together a solid 60-minute effort?
With DeBrincat's recent success, it will be interesting to see if he will be placed among the top-six forwards.
Schmaltz has actually looked quite good playing on the wing instead of at center. He seems comfortable and confident there, where his speed is more of an asset.
Both Hartman and Hayden have more potential than what they are currently showing, but can they figure out how to utilize their talent?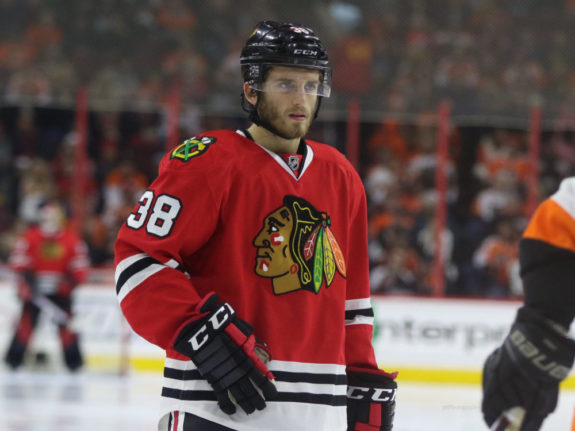 Face-off success continues to be a problem. The Hawks were awful in Philly, winning only 33% of their draws. In Carolina, they were 35%, and against New Jersey 46%. It makes things much harder when they lose in the face-off circle and have to chase the puck.
Regarding defense, will Franson and Kempny ever establish themselves as regular members of the lineup? Somebody has to, right? Could Seabrook ever be a healthy scratch?
Wrapping up the Week for the Hawks
It hasn't been pretty. There's been a lot of ups and downs. The Hawks now fall to 8-8-2, which gives them 18 points through the same number of games. They currently sit outside of a Wild Card spot in the Western Conference.
Only two matchups are on tap this upcoming week for the Hawks. Both will be against Eastern Conference teams, as they take on the New York Rangers Wednesday, and the Pittsburgh Penguins Saturday. We shall see if the Hawks can muster their way out of this current slump.
Gail Kauchak has covered the Chicago Blackhawks as a content writer since 2014. She previously wrote for Fansided's Blackhawk Up, and has been part of The Hockey Writer's team since 2017. It's not always easy to balance life's responsibility's with one's passion, but Gail's doing her best to make it happen. Quote to live by, "Follow your dreams, and good things will happen." Wait, maybe it's "Good things happen when you shoot the puck!" You get the idea.
Follow Gail for her unique commentary about this storied franchise. And be sure to catch her and the rest of the Blackhawks' crew on their weekly Blackhawks Banter show, as well as follow her on Twitter.