It's a little over a month into the season and time to check in on the Edmonton Oilers' prospect base. The team made seven picks in the 2017 NHL Draft, and a few selections are showing strong early investments. We all know about Kailer Yamamoto and how he was re-assigned to the WHL's Spokane Chiefs recently. Quietly a pair of mid-round picks from the 2017 crop has been quite impressive.
Ostap Safin (Saint John Sea Dogs) and Kirill Maksimov (Niagara Ice Dogs) were selected 115th and 146th overall respectively. Safin has been playing at a point-per-game pace and Maksimov has been a scoring machine thus far. Here's a quick look at the investments made in June and how those picks are doing a month and a bit into the 2017-18 season.
https://www.youtube.com/watch?v=McUJgJ_upUs
Edmonton Oilers 2017 Draft Picks

Pick
Player
Current Team
GP

GP

G

W

A

GAA

PTS

SV%

22nd (1st)

Kailer Yamamoto (RW)

Spokane (WHL)

2
1
3
4

78th (3rd)

Stuart Skinner (G)

Lethbridge (WHL)

16

 7

3.49

.898

84th (3rd)

Dmitri Samorukov (D)

Guelph (OHL)

19

2

4

6

115th (4th)

Ostap Safin (RW)

Saint John (QMJHL)

22

7

16

23

146th (5th)

Kirill Maksimov (RW)

Niagara (OHL)

16

8

9

17

177th (6th)

Skyler Brind'Amour (C)

Chilliwack (BCHL)

25

8

7

15

208th (7th)

Philip Kemp (D)

Yale (NCAA)

6

1

2
3
Kailer Yamamoto (RW)
Pick: 22nd Overall (1st Round)
Junior Team: Spokane Chiefs (WHL)
Fans got to see Yamamoto make his season debut with the Spokane Chiefs during a two-game road trip this weekend. Spokane entered the weekend in fourth place in the WHL's US Division. Getting an addition like Yamamoto has already bolstered that lineup. The Chiefs went 2-0 this weekend with Yamamoto picking up a goal and four points. Spokane now sits third in the US Division and could be a real playoff threat this spring.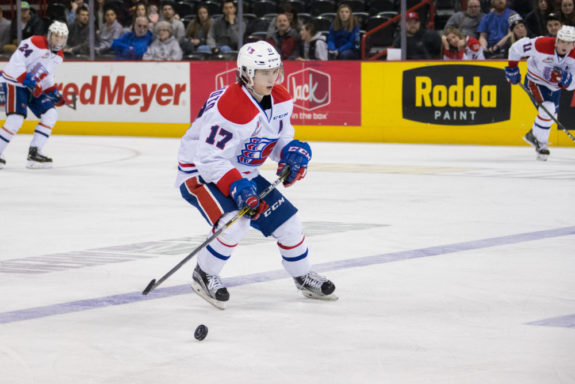 There are already several stars on the roster like Ty Smith (potential Top 10 pick, 2018),  Jaret Anderson-Dolan (41st in 2017, Los Angeles) and Hudson Elyniuk (74th in 2016, Carolina). Yamamoto will likely be a star at the upcoming World Junior Championships (WJC) for Team USA. During the Summer Showcase, he played with Logan Brown (11th in 2016, Ottawa) and Casey Mittelstadt (8th in 2017, Buffalo). The trio could dominate the upcoming tournament.
Related: Oilers Continue Shuffling the Deck Chairs on Titanic
Stuart Skinner (G)
Pick: 78th Overall (3rd Round)
Junior Team: Lethbridge Hurricanes (WHL)
The Oilers were intrigued with the big goaltender out of Lethbridge enough that they moved up at the draft to select him. If you're a fan of trade trees, one of the picks packaged to land the future Skinner pick was the third-rounder Edmonton got in the Nail Yakupov trade. Skinner suited up for Team WHL during the Canada/Russia series. He allowed four goals on 33 shots and didn't exactly have a great showing. He's also battling with Carter Hart for a spot on Canada's WJC team.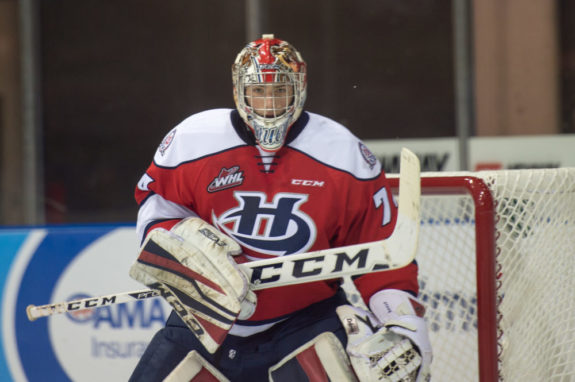 Michael DiPietro is another Team Canada hopeful and his numbers have been superior to Skinner's while Dylan Wells (2016 fifth-round pick) has been worse. Unless there's an injury, it's unlikely Skinner ends up making Team Canada.
The 19-year-old is also backstopping a struggling team in Lethbridge that is one of the worst in the WHL's Eastern Conference. Skinner currently has an underwhelming 3.49 goals-against average (GAA), and a .898 save percentage (SV%) through 16 games.
Dmitri Samorukov (D)
Pick: 84th Overall (3rd Round)
Junior Team: Guelph Storm (OHL)
Samorukov is essentially the number three defenseman on the OHL's Guelph Storm. He's playing behind a potential Top 10 pick in Ryan Merkley and Guelph's undrafted captain Garrett McFadden. Not to be outdone, Samorukov participated in the Canada/Russia series. This season he's tallied six points in 19 games on the OHL's most offensively challenged team. Samorukov hasn't put up dominating numbers, but his offensive game is growing.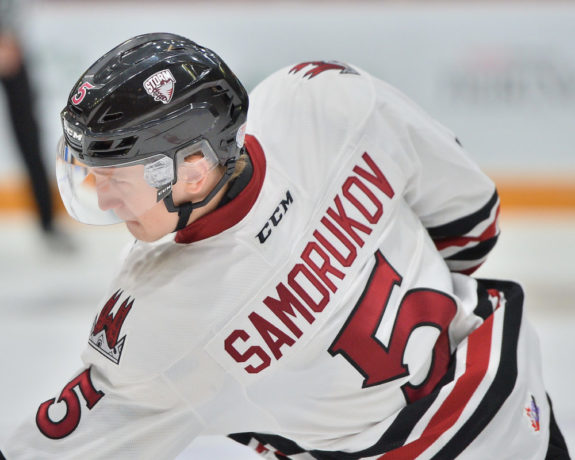 He scored against the OHL Team in the Canada/Russia series and looked good during the exhibition series. Now he'll have to turn his eyes towards the WJC where he'll make his debut for Team Russia. Samorukov's played well in previous U-18 tournament's and stood his ground last year on a terrible Guelph team. He's on pace with his projections for this year and could one day be a fourth or fifth defenseman for the Oilers.
Ostap Safin (RW)
Pick: 115th Overall (4th Round)
Junior Team: Saint John Sea Dogs (QMJHL)
The Oilers are getting some solid early returns on fourth-round pick Ostap Safin. This summer his CHL rights were acquired by the QMJHL's Saint John Sea Dogs, and he's quickly acclimatized himself to North America. He's been a stud on an otherwise weak team and already collected seven goals and 23 points in 22 games. He is a lock for the Czech Republic at the WJC.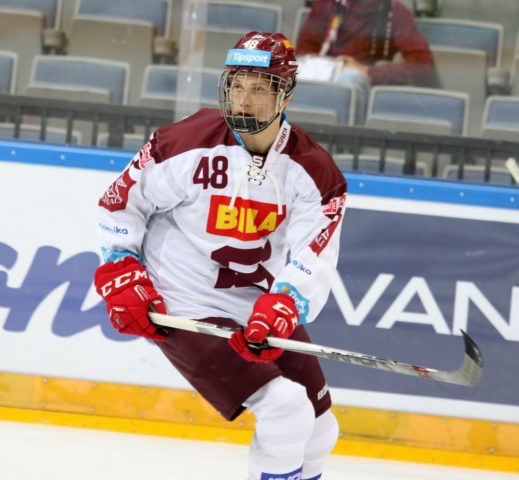 There's a little bit of Patrick Maroon in his game. He's big, physical, tough to control down low and has excellent hands. David Staples of the Edmonton Journal believes that Anton Slepyshev is a fair comparison. In all fairness, Safin might have a higher upside. He's a goal-scoring power forward that would fit well in the Oilers' top nine. Safin leads Saint John in scoring and is tied for 14th in QMJHL scoring, not bad for a fourth-round pick.
Kirill Maksimov (RW)
Pick: 146th Overall (5th Round)
Junior Team: Niagara IceDogs (OHL)
Maksimov is another pick that's turned out well for Edmonton so far. He's been affectionately nicknamed "Kirill The Thrill" by Niagara IceDogs fans. Last season, he scored 21 goals and 38 points in 66 games. This season Maksimov already has six goals and 17 points in 16 games. He's third in team scoring behind Ben Jones (189th in 2017, Vegas Golden Knights) and potential first-round pick, Akil Thomas.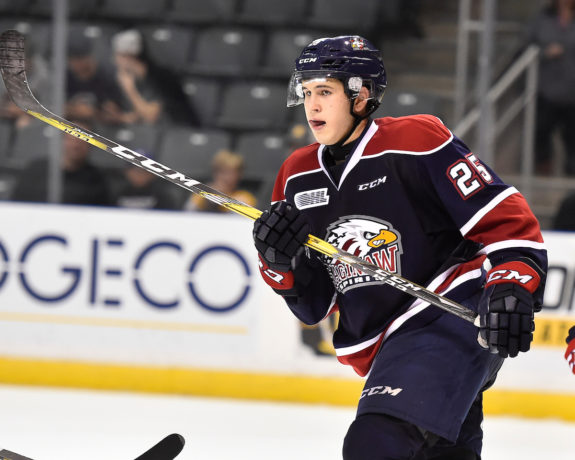 He's another player that's comparable to Anton Slepyshev in the sense that both have good shots, quick releases, and are excellent skaters. Maksimov is slowly getting better at playing a complete 200-foot game and has been better on the forecheck this season.
He'll also likely get a look from Russia for the 2018 WJC. Maksimov has already represented Russia at two U-18 tournaments and has three goals in 11 games internationally. All in all, he's a great pick for the Oilers who could end up being a decent top-nine forward.
Skyler Brind'Amour (C)
Pick: 177th Overall (6th Round)
Junior Team: Chilliwack Chiefs (BCHL)
Brind'Amour left the US National Development program this summer and joined the BCHL's Chilliwack Chiefs. He's also committed to Michigan State University for 2019-20, and it could be a few years before he turns pro. He's a natural two-way center, similar to his father Rod, and is currently playing in Chilliwack's top six. Brind'Amour has 15 points in 25 games this season. It's highly unlikely he joins Yamamoto on Team USA for the WJC.
The question now is where Brind'Amour ends up once his junior and college days are over. His ceiling might be as a fourth-line center, but more likely he's an AHLer. There's a lot of similarities in style between him and former Oiler Will Acton. There's not a lot of scoring potential in Brind'Amour, but he's a responsible player nonetheless.
Related: Are the Oilers & Rangers Good Trade Partners?
Philip Kemp (D)
Pick: 208th Overall (7th Round)
Junior Team: Yale Bulldogs (NCAA)
Unlike Brind'Amour, Philip Kemp was named to Team USA's Summer Showcase roster. He was one of the fifteen defensemen invited to camp and is on the radar for an outside shot at this year's WJC. He's got three points in six games in his first season with Yale University. Kemp is a top-pairing defenseman this year and has represented the United States twice in international competition.
https://www.youtube.com/watch?v=0V62CWGwRlc
Kemp is a big 6'3″, 200-pound right shot defender and one that former NHLer Brian Lawton says is comparable to Ben Lovejoy. Kemp has good vision from the blue line, he jumps up into the play and has an underrated offensive ability. A fair style comparison might be a lesser skilled version of Tom Poti. This is another wait and see pick where the Oilers took a flyer on a guy who could teeter between the NHL and AHL.