Edmonton Oilers rookie Kailer Yamamoto is approaching the dreaded ninth game of his first NHL season. The 19-year-old was the Oilers' 22nd overall pick in the 2017 NHL Draft in June. With a tantalizing skill set, he was one of the most offensively gifted forwards available in his draft class. Believe it or not, Yamamoto's points-per-game (1.52) last year in the WHL were on par with first overall pick Nico Hischier's in the QMJHL (1.51).
He came in with a lot of hype and forced the coach's hand with strong play through the preseason. He recorded seven points in six games and had nine shots. Yamamoto looked like a lock to start the year in the Oilers top-six. It hasn't gone according to plan for the 19-year-old. In fact, a lot of things have gone wrong in the first month or so of the season for Edmonton.
Yamamoto has struggled and has been a healthy scratch on three occasions in 11 games. The youngster has three assists in eight games so far. As we approach the much talked about the ninth game, it looks like the writing might already be on the wall.
Oilers Have More Questions Than Answers
Yamamoto is still searching for his first goal of the season. For every good game he's had, he's had an equal number of stinkers. Goals, however, have been a systemic problem for the Oilers. Before exploding for six goals in their last game against the New Jersey Devils, Edmonton had the worst offense in the league. Their 31 goals now sit 30th in the league. It's been a problem of chemistry, expectations and (most importantly) an error in judgment by general manager Peter Chiarelli.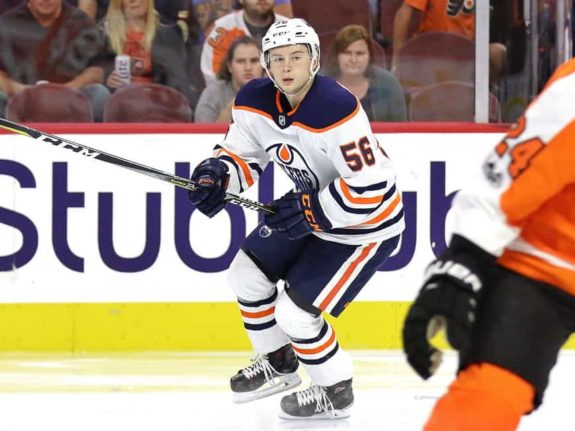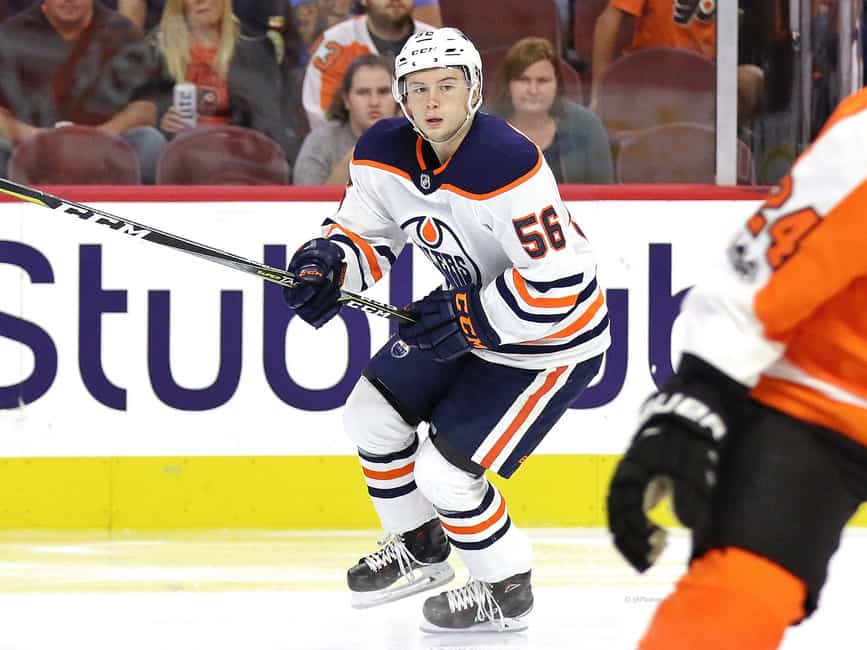 So with Edmonton struggling and a 3-7-1 record heading into Friday night's game, they were looking for a spark. Head coach Todd McLellan had thrown his lines into a blender in hopes of getting the offense going. But with Edmonton looking to reignite their forward lines, why didn't McLellan turn to the young 19-year-old? The answer is simple, trust.
Examining Yamamoto Through Eight Games
Outside of a four-game stint where McLellan gave Yamamoto plenty of ice-time (TOI), north of 17:53, the kid's barely played. If McLellan's not going to play Yamamoto, he might as well not be here. Even when he has played, it's been a mixed bag of results. He just hasn't got into a rhythm.
KAILER YAMAMOTO'S FIRST 8 GAMES WITH OILERS

Date
Team
G
A
P
+/-
PIM
PPG
PPP
S
TOI
Shifts

Nov 1

vs PIT

0

0

0

0

0

0

0

0

10:57

15

Oct 24

@ PIT

0

0

0

-1

0

0

0

1

14:16

17

Oct 21

@ PHI

0

0

0

1

0

0

0

0

20:26

21

Oct 19

@ CHI

0

1

1

1

0

0

0

8

17:53

20

Oct 17

vs CAR

0

1

1

-1

0

0

1

2

22:20

23

Oct 14

vs OTT

0

1

1

-1

0

0

0

6

18:38

22

Oct 9

vs WPG

0

0

0

-1

2

0

0

4

11:53

20

Oct 4

vs CGY

0

0

0

0

0

0

0

0

06:33

10
All in all, if we're grading Yamamoto's play through the first eight games, he's had two good ones. Those were against the Ottawa Senators and Chicago Blackhawks. When it comes to power play ice time, somewhere Yamamoto should be helpful to Edmonton; he's averaged 1:33 TOI. That's good enough for ninth among Oiler forwards. Wouldn't you want him, a rookie with a high offensive awareness, helping the 23rd best power play (15.4%)?
It seems there's either some reluctance from the coach or he feels some of the other Oiler forwards can help the team more than the youngster.
Should Yamamoto Be Sent Back to Junior?
For every argument there is about sending Yamamoto back to junior, there's a valid argument to keep him. Edmonton's struggling to score goals right now, and Yamamoto can help generate that offense. He just needs to play, and play a meaningful role. If he's going to stay, he needs to solidify himself on the second line's rotating right wing door. Everyone with a pulse has been tried this season. Ryan Strome, Drake Caggiula, Anton Slepyshev and Zack Kassian's inability to grasp the spot has to be Yamamoto's opportunity.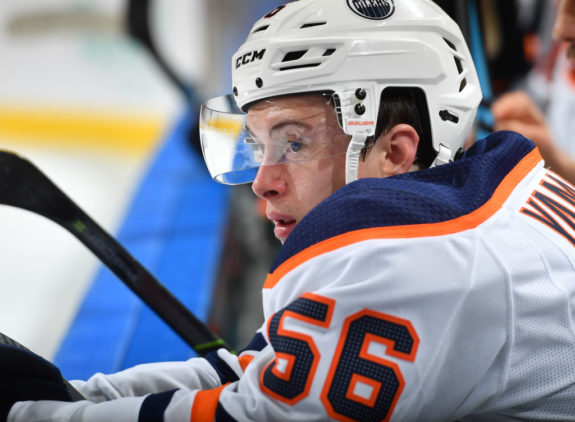 But if Yamamoto's going to toil in the press box what's the point in keeping him? It's clear there's something in Yamamoto's game that makes McLellan reluctant. Maybe it's all the losses and that someone has to be the odd man out while the coach tries different combinations. Perhaps it's his play away from the puck. Could it be the Oilers have more questions than answers regarding their lineup?
Burn the ELC or a Year Towards Free Agency?
The situation is muddy right now. The real question is what's more important to the Oilers. Are they worried about burning the first year of his entry-level contract (ELC), or a year of eligibility towards unrestricted free agency (UFA)? It takes ten games to burn the first year of the ELC, while it takes 40 games to burn a year towards UFA. If history is any indicator, maybe Edmonton doesn't care as much about the ELC as they do free agency.
2017 NHL DRAFT PICKS THAT PLAYED IN 2017-18

Pick
Team
Player
Junior Team
GP
G
A
Pts
1
New Jersey
Nico Hischier (C)
Halifax (QMJHL)
12
2
6
8
2
Philadelphia
Nolan Patrick
Brandon (WHL)
9
1
2
3
10
Florida
Owen Tippett (F)
Mississauga (OHL)
7
1
0
1
12
Carolina
Martin Necas (C)
Kometa (CZE)
1
0
0
0
21
NY Rangers
Filip Chytil (C)
Zlin (CZE)
2
0
0
0
22
Edmonton
Kailer Yamamoto (RW)
Spokane (WHL)
8
0
3
3
47
Ottawa
Alex Formenton (LW)
London (OHL)
1
0
0
0
The Oilers burned the first year of Leon Draisaitl (played 37 games) and Jesse Puljujarvi's (played 28 games) deals during their rookie season. Are they looking to do the same with Yamamoto? As much as we expect an announcement that Edmonton is assigning him to the WHL's Spokane Chiefs, we could be waiting until mid-January. If I were a betting man, I'd say we hear an answer in the next week or so.
With Edmonton's cap situation, getting an extra year of ELC production from Yamamoto will be beneficial in the long-term. It's a win-win because Yamamoto can get plenty of minutes and be the top guy for Spokane. He'll also be heavily counted on by Team USA at the upcoming World Junior Championships. Next season the Oilers can start over and get a more dynamic player. More importantly a player that can help their lineup. Right now Yamamoto isn't that player.
But he will be one day, and there's still plenty to be excited about regarding his future in orange and blue.
Edmonton Oilers regular contributor providing insight on all things Oilers including club history, prospect profiles, trade breakdowns, and everything else in between. Check back regularly for new and exciting content. Follow on Twitter @SanderTHW.