Saying the 2017-18 season isn't going according to plan for the Edmonton Oilers might be the biggest understatement of the year so far. Edmonton's offense has completely disappeared, and the special teams have been disastrous. Even head coach Todd McLellan has busted out Craig MacTavish's old line blender to no avail. The Oilers dropped another tightly contested game against the Pittsburgh Penguins on Wednesday night.
Edmonton blew a 2-1 lead late in the second, and the special teams once again let this team down. The Oilers are now 3-7-1 through the first 11 games of the season. Not only that, but the team is currently 30th in the league's standings. They're also dead last in goals scored with 22 (2.18 goals/game). The power play has fallen to 13.2% (29th), and the penalty kill has dipped to 68.3% (30th).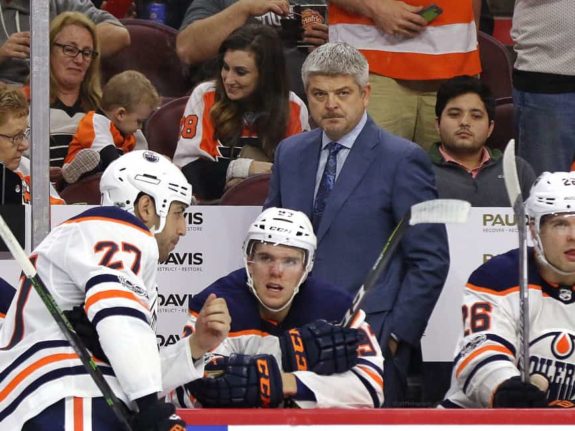 At the 11th game mark last year, Edmonton was tied for fourth in the NHL with a 7-3-1 record. The power play was mildly better at 15.2% (21st), and the penalty kill was amongst the NHL's best at 90.9% (2nd). Most importantly, the Oilers were scoring goals (34 goals, 5th in NHL), something that's been hard to come by this year. There's rightfully a lot of frustration. The question now is if this slow start ends up shooting Edmonton in the foot.
Historically How Have Similar NHL Teams Finished?
Historically, teams with similar records to the Oilers haven't fared well. Over the past three seasons, only two of the 15 teams with similar starts qualified for the playoffs. Those two teams were the 2016-17 Nashville Predators and the 2015-16 Anaheim Ducks. Both teams stumbled out of the gate but played near or over a .600 winning percentage (W%) through the final 71 games of the season.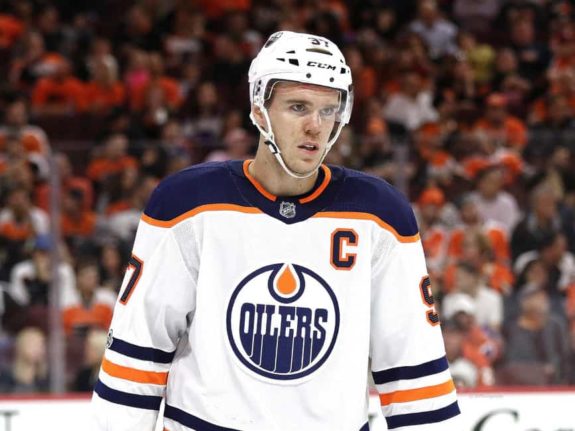 The rest of the teams averaged a .453 W% through their final 71 games and picked up around 64 points. If you factor this year's Oilers into that same equation, you're looking at Edmonton finishing the year with 71 points.
TEAMS WITH SIMILAR RECORDS LAST 3 SEASONS

After 11 Games

End of Season

Season
Team
W-L-OT
PTS
W%
W-L-T
PTS
W% Final 71
Finish

2016-17

Arizona

4-7-0

8

.364

30-42-10

70

.437

27th

2016-17

Nashville

3-5-3

9

.409

41-29-12

94

.599

16th

2016-17

Vancouver

4-6-1

9

.409

30-43-9

69

.423

29th

2015-16

Edmonton

4-7-0

8

.364

31-43-8

70

.437

29th

2015-16

Buffalo

4-7-0

8

.364

35-36-11

81

.514

23rd

2015-16

Colorado

3-7-1

7

.318

39-39-4

82

.528

21st

2015-16

Anaheim

2-7-2

6

.273

46-25-11

103

.683

6th

2015-16

Toronto

2-7-2

6

.273

29-42-11

69

.444

30th

2015-16

Calgary

2-8-1

5

.227

35-40-7

77

.507

26th

2015-16

Columbus

2-9-0

4

.182

34-40-8

76

.535

27th

2014-15

Edmonton

4-6-1

9

.409

24-44-14

62

.373

28th

2014-15

Arizona

4-6-1

9

.409

24-50-8

56

.331

29th

2014-15

Columbus

4-7-0

8

.364

42-35-5

89

.570

23rd

2014-15

Carolina

3-6-2

8

.364

30-41-11

71

.444

26th

2014-15

Buffalo

2-8-1

5

.227

23-51-8

54

.345

30th
Outside of last year's 7-3-1 start, Edmonton is otherwise on pace with the starts they've had over the past three seasons. In 2015-16, Edmonton went 4-7-0 in their first 11 games and finished 29th overall. In 2014-15, the Oilers started 4-6-1 for nine points and ultimately finished 28th overall. Based off that is it reasonable to say that the 2016-17 Oilers overachieved? Was it a mirage? Is Edmonton actually still a bad team?
Optimism & The American Thanksgiving Theory
Even then let's consider the Oilers are just off to a terrible start and are better than they appear. Maybe this slow start is a mirage after all, and this team belongs in the same conversation as those Predators and Ducks teams that bucked the trend. Let's pretend Edmonton regains their form and finishes the final 71 games with last years .628 W%.
That means this team could still pick up an optimistic 89 points the rest of the way. That would give these Oilers 96 points overall, enough to qualify for a wild-card spot based off last year's standings. If you crunch the numbers on this year's projected standings, it looks like it'll take around 90 points to qualify for the playoffs. So, it's not exactly panic time for Edmonton because there's still time to right the ship.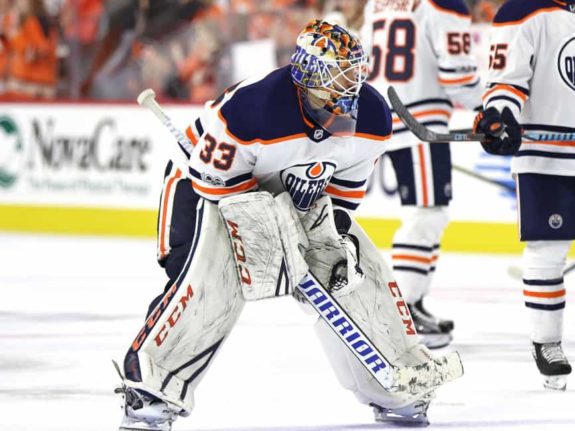 Unfortunately, there isn't a whole lot of time left. There's a thought that if a team is well outside the playoff picture after US Thanksgiving, they likely won't make it. American Thanksgiving fell on November 24th last season, more or less the 20 game mark for a lot of teams. Here's what the NHL standings looked like. Teams in red were outside the playoff picture at American Thanksgiving.
LAST YEAR'S NHL STANDINGS AT AMERICAN THANKSGIVING

Atlantic
Metropolitian
Central
Pacific
Team
PTS
Team
PTS
Team
PTS
Team
PTS

Montreal

30

NY Rangers

29

Chicago

28

Edmonton

25

Tampa Bay

27

Pittsburgh

27

St. Louis

25

San Jose

23

Ottawa

23

Washington

26

Minnesota

22

Los Angeles

23

Boston

22

Columbus

23

Nashville

21

Anaheim

22

Florida

21

New Jersey

23

Dallas

21

Calgary

19

Toronto

20

Philadelphia

21

Winnipeg

20

Vancouver

18

Detroit

19

Carolina

20

Colorado

18

Arizona

14

Buffalo

19

NY Islanders

16
Of those 14 teams that were outside the playoffs at American Thanksgiving, only three teams successfully turned things around to make the playoffs eventually. The three teams (listed in green) were the Boston Bruins, Calgary Flames, and Toronto Maple Leafs. Ironically, all three would be bounced in the first round. So if history is any indicator, the Oilers are in tough. If they continue to play poorly by the 20-game mark, the likelihood of Edmonton qualifying for the playoffs becomes a very steep mountain to climb.
LAST YEAR'S FINAL NHL STANDINGS

Atlantic
Metropolitian
Central
Pacific
Team
PTS
Team
PTS
Team
PTS
Team
PTS

Montreal

103

Washington

118

Chicago

109

Anaheim

105

Ottawa

98

Pittsburgh

111

Minnesota

106

Edmonton

103

Boston

95

Columbus

108

St. Louis

99

San Jose

99

Toronto

95

NY Rangers

102

Nashville

94

Calgary

94

Tampa Bay

94

NY Islanders

94

Winnipeg

87

Los Angeles

86

Florida

81

Philadelphia

88

Dallas

79

Arizona

70

Detroit

79

Carolina

87

Colorado

48

Vancouver

69

Buffalo

78

New Jersey

70
What Does It All Mean?
The current 10-game stretch the Oilers are on is pivotal and could have dire implications for their season. History is not on Edmonton's side, and the hill is slowly becoming a mountain. As Thursday night's games were unfolding, the Oilers were seven points out of a playoff spot. If they continue playing with a .318 W%, they could be more than 12 points out of the playoffs by the 20-game mark.
As each passing game goes by, things become that much more strenuous, especially if you're not picking up points. Edmonton's gone 1-3-1 in their last five and picked up just three of ten points in that span. Points in October do matter. There's time, not an abundance of time, but you don't need to be hitting the panic button just yet. Everyone should, however, be slowly inching towards it and start opening the glass case around the panic button though.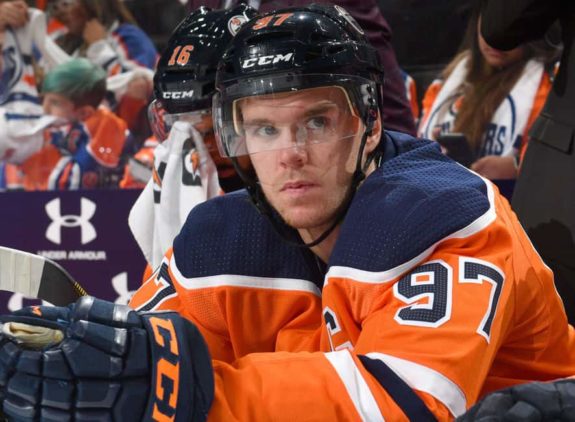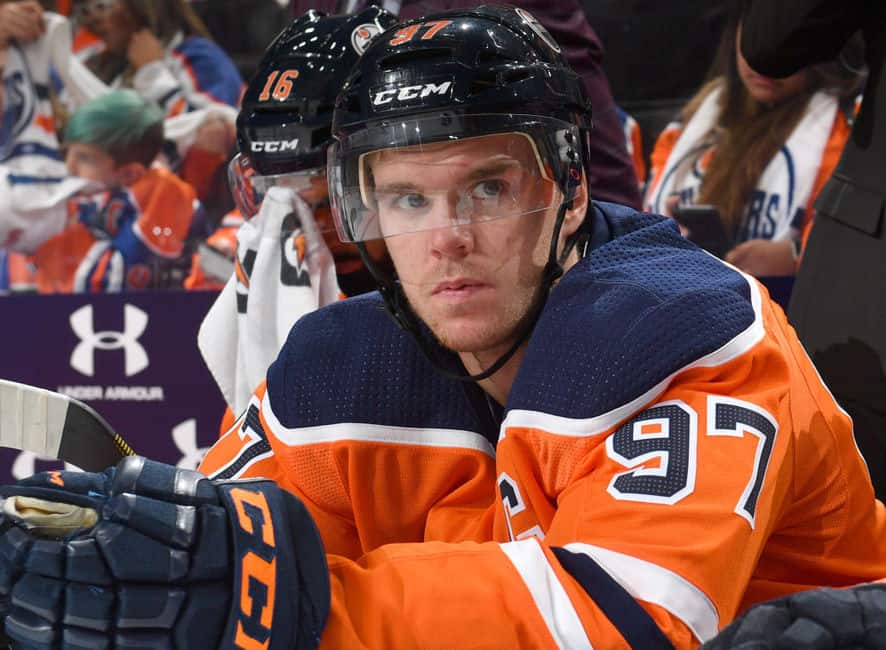 The league's worst special teams have to improve. This team needs to find a way to start scoring goals. If they went two-for-five on the power play against the Penguins and maybe killed three-of-five on the penalty kill, they would've won. Todd McLellan is banging his head against a wall right now, but the players have yet to respond. You can't win in today's NHL without having balanced scoring and half-functioning special teams.
In the end, there are nine-games left until the 20-game mark. If Edmonton picks up 13 of 18 available points (6-2-1), they'll suddenly be right back in the playoff race. Admittedly a .722 W% over this span might be wishful thinking, but it just goes to show how dire the Oilers season is quickly becoming.
Connor McDavid might be one of the game's best players, but the rest of the team needs to be better and not rely on McDavid to bail them out every night. The depth of this roster needs to start producing because the fact of the matter is no one wants any of the Oilers' struggling players. If they do, Edmonton general manager Peter Chiarelli won't be dealing from a position of strength.
Do you think the Oilers can turn this around by the 20-game mark? Let me know in the comments below!
---
Check out my latest podcast appearance, this time on the Oilers YYC podcast discussing Edmonton's slow start. Is it time to panic yet Oilers fans?
Edmonton Oilers regular contributor providing insight on all things Oilers including club history, prospect profiles, trade breakdowns, and everything else in between. Check back regularly for new and exciting content. Follow on Twitter @SanderTHW.