This season, The Hockey Writers will have a recurring "Three Takeaways" feature after every Columbus Blue Jackets matchup, meant to serve as postgame quick hits.
1) Power Play Payoff
It was the moment the Blue Jackets have been waiting for — two power play goals in one night (and one almost credited to power play specialist Artemi Panarin to boot).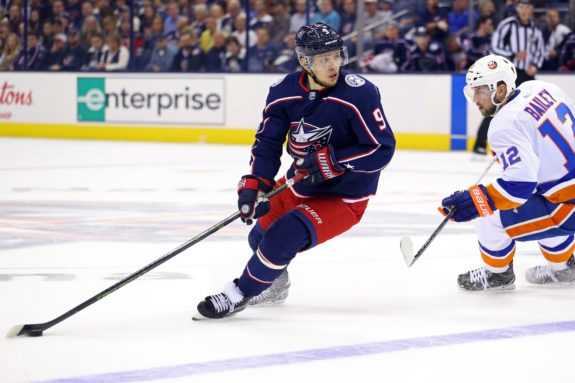 Thursday's "messy" game took a positive turn after goaltender Sergei Bobrovsky allowed an easy shorthanded goal, lighting a fire under the power play units.
It was only the second time since late January that the Blue Jackets have scored multiple power play goals in a single game, which shows that their woes date back to after their 16-game win streak came to an end on Jan. 5.
What paid off was taking quick shots instead of holding onto pucks until shooting lanes close, letting less-expected players dictate play, and being more mobile instead of stationary. Hopefully, those aspects will stick with the team as they move forward because it is what paid off for them in the past.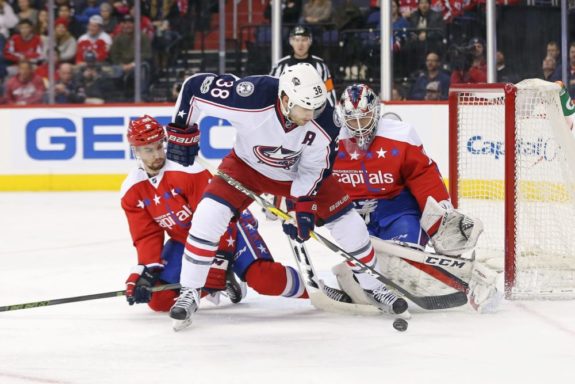 But let's not kid ourselves here — the power play still has a lot to figure out. However, it is a step in the right direction and the Blue Jackets were able to break out of their predictable power play tendencies that teams can read from a mile away.
2) Who's the Fourth Line?
One of the main missing components of the Blue Jackets' identity continues to be the team's fourth line. It has been a rotating cast of characters, and that was no exception Thursday in Florida.
Forwards Sonny Milano, Pierre-Luc Dubois, and Markus Hannikainen made up the trio, with decent results.
https://twitter.com/307x/status/926272706416390144
Last season, the fourth line and the Blue Jackets' extensive forward depth was crucial to the team's overall success. Having guys like Scott Hartnell, Sam Gagner and William Karlsson filling out the bottom of the lineup paid off big time. This season, it's an entirely different story as the young guys try to find their way in the NHL.
The way Blue Jackets head coach John Tortorella has handled Milano is particularly curious, considering he benefitted from being in the team's top six to start the season, potting four goals in three games. Ever since, he has seen limited ice time and was even a healthy scratch. Sure, he has to earn the trust of the head honcho in Tortorella, but the occasional mistake and trying to teach the 21-year-old a lesson this early could be detrimental to Milano and the team.
Related – Blue Jackets Need Gameday Alarm 
3) Dubinsky Drama Continues
Blue Jackets center Brandon Dubinsky left Thursday's game at the end of the second period when the team was leading 5-3. His departure followed a scuffle, where Dubinsky was seen pointing at his eye after taking a few shots to the head.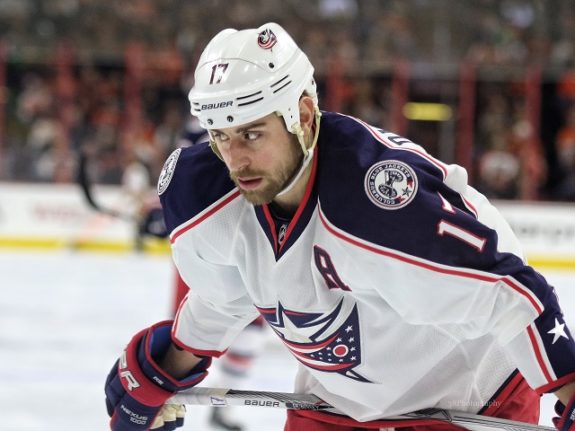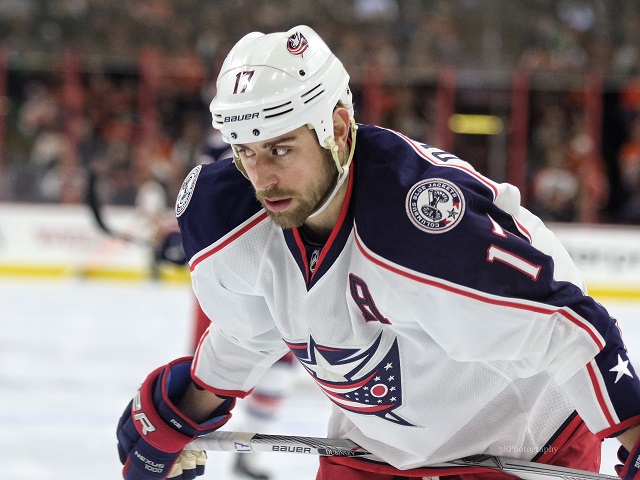 However, after the game, Tortorella told the media that Dubinsky "is fine."
Though Dubinsky has not been a scoring machine to open the season, his presence is felt in the physical aspect of the game. But, it is undeniable that his offensive production has struggled since returning from offseason wrist surgery. Losing his alternate captain role was also a pain point with the forward a few games ago.
So far, the Blue Jackets have found ways to win without scoring support from Dubinsky, Panarin and Alexander Wennberg. That trio has combined for two goals total in 13 games. You have to wonder when that starts catching up with the team's win-loss record, and how it may be weighing on the locker room atmosphere.