The Edmonton Oilers aren't scoring this season — and, consequently, aren't winning.
Only three wins through 11 games, averaging fewer than three goals per game — way fewer, as in closer to two than three, at 2.18.
That has got to change sooner than later — as in ASAP — for the Oilers to start bagging some points and climbing the standings. Edmonton is seven points out of a playoff spot heading into Friday's home game against Taylor Hall and the New Jersey Devils, needing to leapfrog at least six teams to make the cut down the road.
In the Pacific Division, Edmonton is sitting seventh out of eight teams and six points behind sixth-place Anaheim, though the Oilers have one or two games in hand on every team ahead of them — with three to five teams from the Pacific advancing to the postseason in April.
Only Los Angeles is really off to the races, running its record to 10-2-1-0 with Thursday's 5-3 victory over visiting Toronto. Vegas has lost three in a row to fall back to the pack, while the other four teams — San Jose, Vancouver, Calgary and Anaheim — are all hovering around .500, with Edmonton (3-7-1-0) struggling so far and Arizona (1-12-1-0) already forgotten.
The Oilers are facing a fairly big hole, but it doesn't seem insurmountable — not with 71 games remaining in Edmonton's regular season.
Early as it may be, the Oilers are going nowhere fast unless they start scoring — more specifically, unless their bottom-six forwards start scoring and producing in some capacity.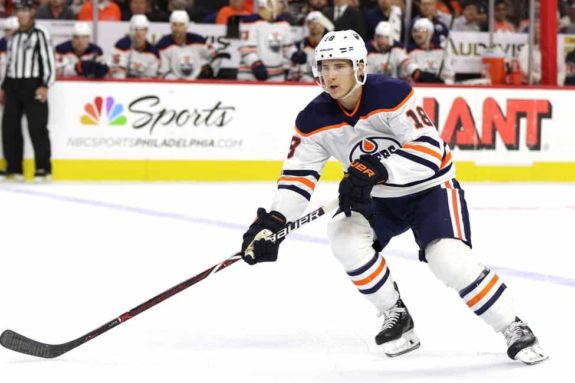 Numbers Not Pretty
Believe it or not, Edmonton's bottom-eight forwards have yet to score an even-strength goal this season. None. Zero. Zilch. Nada.
Those eight players have suited up for a combined 70 games and have scored a combined ZERO goals at even strength.
Here are their respective stat-lines (Games Played-Goals-Assists-Points):
Ryan Strome = 11-1-3-4, with lone goal scored on the power play
Mark Letestu = 11-2-0-2, with both goals scored on the power play
Zack Kassian = 11-0-1-1
Jussi Jokinen = 9-0-1-1, with lone point a power-play assist
Anton Slepyshev = 8-0-0-0
Drake Caggiula = 6-0-0-0
Iiro Pakarinen = 8-0-0-0
Jujhar Khaira = 6-0-0-0
That's right, four of those eight — half of them — don't even have a point, let alone a goal this season.
Eight players with a whopping eight total points between them. Four of those eight points — half of them — coming on power plays, including all three goals.
That's awful. And it somehow gets worse.
Only two of those eight players have reached the scoresheet at even strength — Strome and Kassian — and, upon further review, neither of them recorded their points in bottom-six roles.
Strome's three even-strength assists were tallied while getting top-six minutes, two of them coming with Ryan Nugent-Hopkins and Milan Lucic as linemates and the other helper coming as he stepped out of the penalty box against Dallas, combining with Leon Draisaitl to set up a Connor McDavid goal.
Kassian's lone point came in the second game of the season, way back on October 7 against Vancouver, when he was flanking Nugent-Hopkins with Lucic.
So, here we are, a month into the season and Edmonton doesn't have a measly point from anybody in a bottom-six role.
Not even a token assist on a goal scored by a defenceman while one of those bottom-two lines happened to be on the ice.
That group of eight has done literally nothing at even strength through 10 games in the month of October, nor in Wednesday's 3-2 loss to Pittsburgh to start November.
Lucic shouldn't get a free pass either. He's only scored one goal, with a total of five points, and has yet to record a single power-play point this season despite playing on Edmonton's top unit for all of October before Todd McLellan finally changed up that personnel.
That's not nearly enough production from the $6-million-dollar man who was signed to be a top-six left wing replacement for Hall, who is leading New Jersey with 15 points in 11 games — albeit with just three goals, but Hall has been an offensive catalyst for the Devils. Lucic, by contrast, has failed in a lot of ways as an Oiler, with Patrick Maroon stepping up to play his projected role alongside McDavid — mainly because Lucic lacked the speed to keep up and also the finishing ability to bury tap-ins.
We, the media, can be more forgiving with Kailer Yamamoto. Reality is, he wasn't supposed to be on Edmonton's roster beyond training camp and should be on the next plane back to Spokane following his ninth regular-season game, which could come tonight against New Jersey.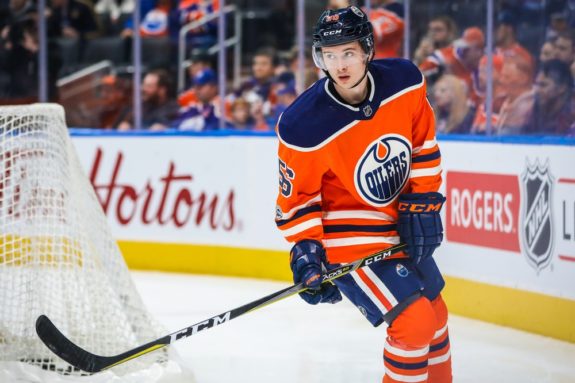 The 19-year-old got an extended look as McDavid's wingman while Draisaitl was hurt, but Yamamoto has yet to score and has only managed three assists, with one coming on the power play. Minus that helper, he's produced just two even-strength points through eight games.
That shouldn't be enough to stick around and, being so undersized, Yamamoto would benefit from another season in junior — with the WHL's Spokane Chiefs — and also by playing a key role for the United States at the upcoming world-junior tournament in Buffalo.
Worth noting, Spokane is coached by Dan Lambert, who previously coached Kelowna when the Oilers sent Draisaitl back to junior and he led the Rockets to a WHL championship in 2015. That familiarity between some of the Oilers' brass and Lambert should pave the way for Yamamoto's return to the Chiefs in the coming days. Expect that to happen by Monday, before Edmonton departs on a four-game Eastern Conference road trip next week.
Unless, of course, Yamamoto scores a hat trick tonight against the Devils. An offensive outburst of any nature could potentially prolong Yamamoto's time in the NHL — especially for a goal-starved team like Edmonton — but don't bank on that.
Time to Shuffle the Deck
At this point, changes are necessary. The status quo clearly isn't working.
Again, we're talking zero even-strength goals from the bottom two lines and zero even-strength points from anybody while playing a bottom-six role.
McLellan has fired up the blender multiple times through 11 games and there's still nothing doing among those eight forwards.
They have had their chance — a combined 70 games, with absolutely no production to speak of. That's absolutely atrocious.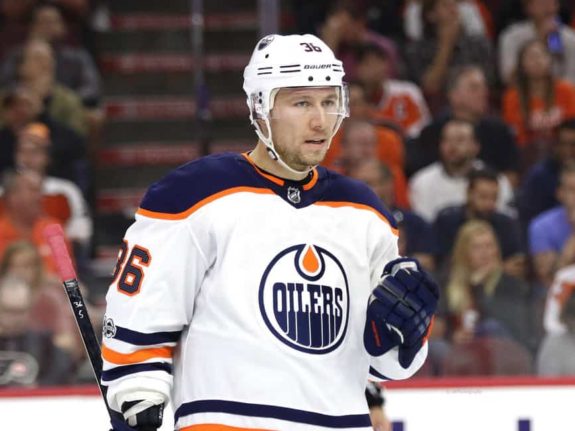 Peter Chiarelli is no doubt working the phones — he's apparently shopping Jokinen and listening on the likes of Strome and Slepyshev — but rival general managers will be doing their due diligence by at least looking up those stat-lines or referencing this article, which will surely scare off any possible suitors.
Chiarelli has also spent time in Bakersfield, scouting the farm team. The Condors are scoring more than the Oilers lately and there could be a few options for AHL call-ups.
Ty Rattie scored a hat trick in last night's come-from-behind win and now has a team-leading five goals and eight points.
Easy as one … two … three for @TyRattie8. 🎩🎩🎩

All the highlights >> https://t.co/CcrUPKX6oj pic.twitter.com/vzGdyg9yws

— Bakersfield Condors (@Condors) November 3, 2017
Jesse Puljujarvi netted the game-winner on Wednesday, albeit his first and only goal of the season through nine games for Bakersfield. He's up to five points down there, but it's been a bit of a disappointing start for the fourth overall pick from 2016 who was expected to stick with the Oilers out of camp over Yamamoto.
Jokinen was signed as something of a mentor for Puljujarvi — both hailing from Finland, with some history together back home — but that mentoring was supposed to happen in Edmonton, not Bakersfield. Jokinen isn't far from a demotion and Puljujarvi might not be ready for a promotion just yet.
Perfect time for the first one of the year @JPuljujarvi! #Condors20 pic.twitter.com/6imgWdEQlL

— Bakersfield Condors (@Condors) November 2, 2017
Joey LaLeggia, the converted forward with a second-best three goals and six points, could be on Chiarelli's radar as well. He got a brief look on a line with Nugent-Hopkins and Lucic during the preseason. LaLeggia and Nugent-Hopkins are close friends and were minor hockey teammates growing up in the Lower Mainland of British Columbia.
Beyond those three, it's pretty bleak in Bakersfield too in terms of offensive-minded players who could spark Edmonton's bottom six.
No offence to Brad Malone, but he doesn't fit that bill. He's a hard-worker, but a grinder — ditto for Chris Kelly, who is still practising with Edmonton — and the Oilers don't need more of those types. They need scorers.
Rattie, LaLeggia and Puljujarvi are worth a recall — deserving of an opportunity. They can't do any worse than the aforementioned eight, especially if they are allotted the same sample size and leeway.
The problem, some will say, is that those three aren't defensively responsible and can't kill penalties. That may be true, but they might be able to score some goals and that's what Edmonton needs most right now.
Four Scoring Lines
Look around the league and you'll see a lot of the successful teams are rolling four scoring lines without those so-called role players at the bottom of their depth charts. The game is changing, it's getting faster, and the best teams are built on the basis that every skater is capable of contributing offensively.
The Oilers have yet to buy into that concept — and it's showing, with the dearth of offence and lack of creativity among the current bottom six — but they could catch on to the trend without making any trades.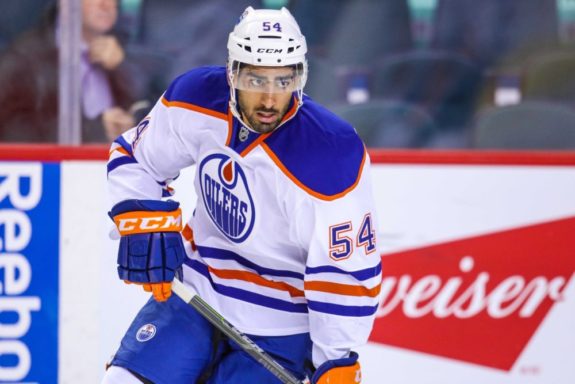 Khaira and Pakarinen can be waived. Let's be honest, nobody is claiming them, and they haven't done enough to even warrant spots in the press box. As healthy scratches and warm bodies, they have proven useless. Bottom line, they aren't NHL players.
If Puljujarvi is coming up, Jokinen can hang around to help show him the ropes. Maybe, just maybe they could still work out as linemates. That seems like wishful thinking.
Kelly shouldn't be signed, simply because Edmonton is too close to the 50-contract limit — already at 49 for as long as Yamamoto is around. That shouldn't be too much longer either, in terms of the big picture and what's best for his development, but Yamamoto does offer upside if the Oilers decide to try their hand at four scoring lines.
A couple games with both Yamamoto and Puljujarvi in the lineup could have been interesting, but we won't likely get to see that now that Yamamoto's nine-game deadline is on the horizon.
Introducing New-Look Oilers
It's time to shake things up in Edmonton, ideally ahead of Sunday's home game against Detroit.
McLellan will still have last change for that contest and could experiment before heading out on the road. It would be nice to take some new faces on that trip, to bring along some new blood — and new energy — to face the two New York teams (Islanders and Rangers), plus a return date with the Devils in New Jersey and a second chance at the Washington Capitals, who pulled away for a 5-2 win in Edmonton this past Saturday.
Yes, that was a serious comment about waiving Khaira and Pakarinen. No big loss there, either way. Get it done.
Recall Rattie and LaLeggia in their place.
Then do the right thing and ship Yamamoto to Spokane, recalling Puljujarvi in the process.
Three up and three down. A meaningful shakeup.
That would give McLellan all kinds of options for line combinations, including some of the following possibilities:
Maroon-McDavid-Strome
Lucic-Draisaitl-Slepyshev
LaLeggia-Nugent-Hopkins-Puljujarvi
Caggiula-Letestu-Kassian
Jokinen/Rattie
---
Maroon-McDavid-Caggiula
Lucic-Draisaitl-Nugent-Hopkins
Jokinen-Strome-Puljujarvi
Slepyshev-Letestu-Kassian
LaLeggia/Rattie
---
Maroon-McDavid-Puljujarvi
Lucic-Draisaitl-Caggiula
Slepyshev-Nugent-Hopkins-Strome
Jokinen-Letestu-Kassian
LaLeggia/Rattie
---
Maroon-McDavid-Rattie
Lucic-Draisaitl-Letestu
LaLeggia-Nugent-Hopkins-Puljujarvi
Caggiula-Strome-Slepyshev
Kassian/Jokinen
---
Maroon-McDavid-Letestu
Lucic-Nugent-Hopkins-Puljujarvi
Caggiula-Draisaitl-Rattie
Jokinen-Strome-Kassian
LaLeggia/Slepyshev
---
Maroon-McDavid-Draisaitl
Lucic-Strome-Puljujarvi
LaLeggia-Nugent-Hopkins-Rattie
Caggiula-Letestu-Slepyshev
Kassian/Jokinen
---
The list goes on and on. There are options here. Chiarelli can make some moves from within.
So can McLellan, and while it's unlikely at the moment, the coach could also opt to break up Maroon and McDavid — perhaps giving Lucic a second spin on McDavid's left side.
Nugent-Hopkins and Letestu could get a look on McDavid's right side too, though the McDavid-Draisaitl combination is tough to go away from when it's the only sure thing in the present.
A win over New Jersey — with four or more goals for Edmonton — probably kills a lot of this conversation. Especially if the Oilers follow it up with another impressive victory over Detroit to close out this homestand. Food for thought, nevertheless, and there is plenty to think about in Alberta's capital right now. Your thoughts?
Larry Fisher is a senior writer and head scout for The Hockey Writers, having been an at-large contributor for THW since August 2014. Fisher covers both the NHL and the WHL, specializing in prospects and NHL draft content, including his annual mock drafts that date back to 2012. Fisher has also been a beat writer for the WHL's Kelowna Rockets since 2008, formerly working as a sports reporter/editor for The Daily Courier in Kelowna, British Columbia, Canada from 2008-2019. Follow him on Twitter: @LarryFisher_KDC.