Since taking over the position of general manager with the Edmonton Oilers, Peter Chiarelli has done what every man in his position is brought in to do. In his two plus years on the job, the 53-year old has molded this roster into one he believed could help bring this once storied franchise back to relevance.  Unfortunately, it appears as though his tinkering has robbed this club of its scoring depth and they are paying for it in the standings.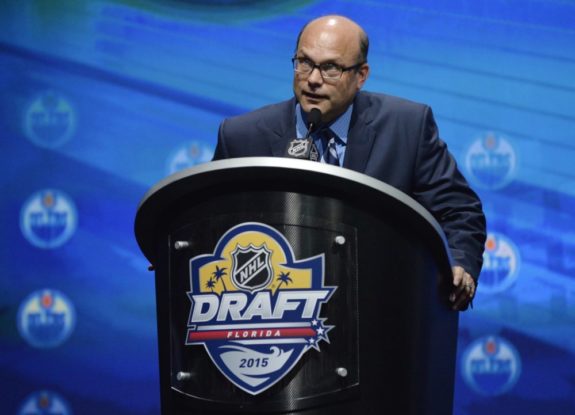 Upon his arrival, there was no question the Oilers needed to badly upgrade their goaltending, defence, and add some much-needed size to their lineup. To his credit, he managed to accomplish all three but seemingly ignored two equally important factors. Whether the club or large chunks of this fan base want to admit it, the lack of speed and goal-scoring acumen on this roster is downright startling.
Oilers Lack Proven Goal Scorers
Though the former was an issue prior to his arrival and yet to be fully addressed, it is the latter in which Chiarelli has created an unnecessary hole. While the notion that a pylon should be able to score goals playing next to Connor McDavid is all well and good, that isn't how it works in reality. In fact, if we take a closer look at the roster, there are only a handful of names that could be considered "goal scorers" and it's causing major issues.
Those players would be Leon Draisaitl, Mark Letestu, Milan Lucic, Patrick Maroon, Ryan Nugent-Hopkins and the kid who wears No. 97 on his back. And when we take into consideration Letestu is a fourth line player who can only score on the power play and Lucic is on the fringes of falling entirely off said list, the Oilers struggles to score goals to start the current campaign should surprise no one.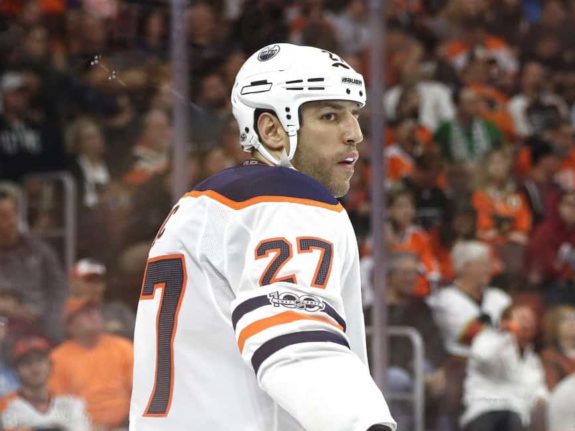 As currently constructed, this team has four players who have shown they can score at even strength and three of them tend to play on the same line. Though Nugent-Hopkins has bounced back nicely following a rough 2016-17, it would be rather beneficial if someone could help him out from time to time. Lucic once had the ability to be that guy but his body of work in Edmonton suggests that may not be the case any longer.
Lucic No Longer Top Six Forward
We continually hear criticism from fans and media alike about how this team needs more scoring from its bottom six forwards but my rebuttal to this has always been rather simple…how? Outside of the names already mentioned, where are these goals supposed to magically come from? Suggesting player "Y" can score "X" many goals is great but it becomes a problem when it's based on nothing whatsoever.
Again, look at the roster. There is no history of goal-scoring at this level from those being used on the third or fourth lines. Youngsters like Drake Caggiula and Anton Slepyshev don't have the pedigree nor track record to suggest they will be those guys and yet the cries for more scoring continue. Simply put, as constructed, this roster doesn't have the horses and that is a direct failure on the part of the GM.
https://twitter.com/dellowhockey/status/925925269537423360
Like it or not folks but the trading away of proven NHL scorers in Taylor Hall and Jordan Eberle for pennies on the dollar has already come back to bite them. I get it, that isn't what the masses want to hear but that matters little. Despite the Oilers success last season, this was always going to be a problem…if a genuine effort wasn't made to bring in offensive-minded replacements and that effort has not been made.
Hall Trade Makes Things Difficult
In his defence, Chiarelli had no choice but to give up something in order to improve his backend but it was the return for the asset and subsequent move that followed which was and still remains the problem. With that said, we have gone on ad nauseam about the Hall trade in this market and there is no point in rehashing what is done. We all have our opinions on the deal and mine has never shifted…and it never will.
However, where this organization goes from here is the question that now has to be answered. Edmonton has already shown an unwillingness to address what was an obvious shortcoming on the backend this season with the Andrej Sekera injury, and it has cost them multiple points in the standings. Add that to the aforementioned mess they now have upfront and the question becomes all the more obvious.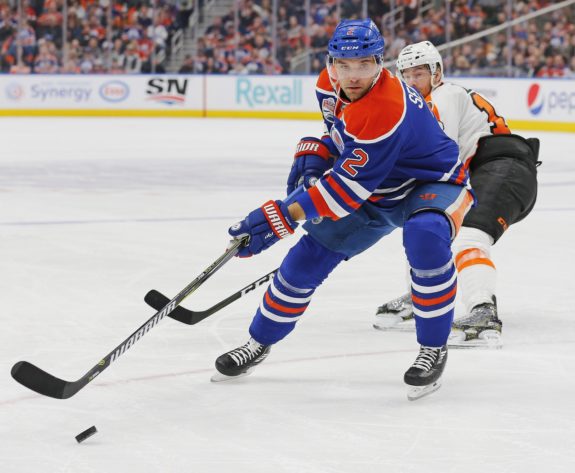 The Oilers would certainly be better off with a lineup that featured McDavid, Draisaitl and Nugent-Hopkins centering their own lines but contrary to popular belief, Todd McLellan is no dummy and is well aware of this. The problem is, he is also aware of the fact that if two of those three aren't playing with one another, this group won't create enough for the team to have a shot at winning games. It really is that simple.
Until it is addressed, scoring goals will remain a concern. Though the players and coaches will continue to toe the company line and suggest the necessary pieces are in-house to turn this thing around, nothing could be further from the truth. Unless their young captain can somehow find a way to carry them out of this, it will be up to Peter Chiarelli to stand up and fix the mess that he created.
Also available from Rob Soria: