It was a move we could all see happening but hoped would not come to fruition. Outside of the new shiny generational toy that is Connor McDavid, the best player to have pulled on an Edmonton Oilers jersey since the Dynasty Years was none other than Taylor Hall. The first of what turned out to be a quartet of first-overall selections for the Oilers over a six-year span was shipped out-of-town in exchange for former New Jersey Devils defenceman Adam Larsson on Tuesday afternoon in what was a crazy day across the NHL.
Would you trade Taylor Hall and P.K. Subban for Adam Larsson and Shea Weber? Me neither.

— Bruce Arthur (@bruce_arthur) June 29, 2016
[Related Article: Oilers Playing Dangerous Game with Hall and Lucic]
It is no secret Edmonton was in dire need of an upgrade to their backend after missing the playoffs for a tenth consecutive year in 2015-16 so the fact a deal was made should have surprised absolutely no one. However, when an organization moves one of the most productive players in the league and the return did not include a proven commodity, there were understandably more than a few eyebrows raised across the hockey world. Also, the notion this deal could turn into Milan Lucic and Larsson for Hall if the pending UFA decides to sign a pact with the Oilers in the coming day is not only laughable but flat-out not true. Make no mistake, this was a one-for-one swap…not matter how you slice it.
Larsson is A Nice Addition
Despite what much of Oilers Nation might think, Larsson is already a good defenceman who is just starting to find his way at this level. With five years and 274 games of NHL experience under his belt and still just 23-years of age, the talented Swede is right on schedule to become an impact player during the prime years of his career. While he has never shown the ability to be a consistent point producer in New Jersey, those numbers should climb on a team with as much skill as the Oilers. That said, we are likely talking about a 30-35 point ceiling for the 6' 3', 205-pound rearguard.
[Related Article: Did the Edmonton Oilers Steal Tyler Benson?]
If we are being completely truthful, Larsson is probably a No. 3 defenceman who has started to show flashes of becoming a No. 2 and a solid shutdown guy. Not exactly chopped liver by any stretch but confusing what the fourth overall selection of the 2011 NHL Entry Draft might become, with what Peter Chiarelli was able to secure in a deal for the guy who trails only Sidney Crosby and Jamie Benn in 5v5 scoring over the past four seasons would be a mistake. In case you haven't been paying attention, Hall really is that good of a player and hence the frustration amongst Oilers fans with the return Edmonton was able to pry loose from Ray Shero and the Devils.
Just in case it wasn't clear who Hall's peers are https://t.co/VJgJtmTC9P pic.twitter.com/6hQRcKuOzN

— Paddy Holds (@pfholden) June 30, 2016
Again , there is no question Edmonton needed to make a change within the Oilers perceived core. It wasn't a matter of if one of the so-called "$6 million men" were getting traded but rather which one it would be and what kind of return would they bring. That is where the Hall for Larsson swap falls well short of expectation. Yes, it is true everyone knew Edmonton was in desperate need on a right-handed shooting defenceman but the Devils were in a similar boat when it comes to scoring goals. Let's not forget this is a team that finished in 3oth, 28th, 27th, and 28th over the last four seasons in goals scored.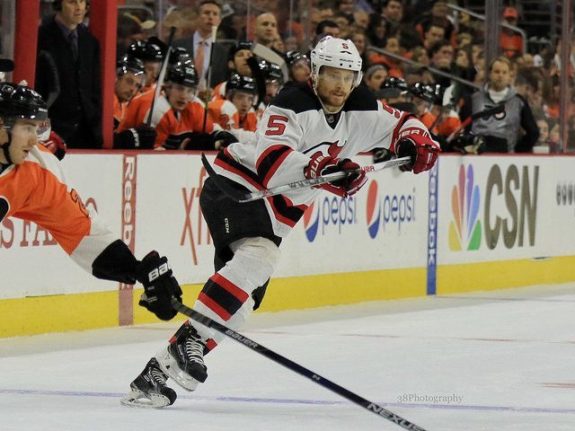 Desperation Cost Chiarelli
Sorry but there is no good reason for Chiarelli to have been the one who caved to acquire a guy he clearly coveted. Believe me, my guess is New Jersey wanted Hall every bit as much as the former Boston Bruins frontman wanted Larsson and yet they were the side that won this deal in a landslide. Simply take a look at the top of the list of 5v5 scoring leaders above and find me a name one of those organizations would move in a trade for a maybe. Hopefully, you have some time on your hands because you will be looking for ages…as he does not exist.
Believe it or not, I believe Oil would have made this deal regardless of Lucic optomism or not. They are that desperate on blue-line.

— Ryan Rishaug (@TSNRyanRishaug) June 30, 2016
With that being the case, the question is obvious. Why make the trade at all? Is Adam Larsson the only right-handed  blueliner Chiarelli could find on the market? The answer to that question is a resounding no but this is the player the GM targeted and was unwilling to miss a chance at acquiring his guy…regardless if the return wasn't good enough. Problem being, the notion of throwing up your hands and simply being ok with losing a trade of this magnitude looks awful on the organization and in my world, that is called poor asset management and something the Oilers have specialized in for far too long.
[Related Article: Would Chiarelli, Oilers Trade Eberle and Hall?]
Back in late February, a piece appeared in this very spot in which I asked the question as whether or not the Edmonton Oilers would consider moving Jordan Eberle and Taylor Hall. This is not a new idea nor something that was immediately dismissed. If the deal made sense, Peter Chiarelli would have little choice but to seriously consider making the move. While not an ideal situation, if the potential return addresses the glaring hole on the backend perhaps you pull the trigger. Unfortunately, Adam Larsson is not that kind of player and that alone should have been enough to keep this deal from taking place.
Rob Soria is the Author of Connor McDavid: Hockey's Next Great One. He has chronicled the Orange and Blue since creating his Oil Drop blog in 2011 and has also had his writings featured over at HometownHockey.ca and Vavel USA, where he has covered the NHL, MLB and ATP Tour. Rob was born, raised and still resides in Edmonton, Alberta and can be reached via twitter @Oil_Drop.