Yesterday was a very interesting day for fans of the Edmonton Oilers. From the moment TSN Insider Pierre LeBrun broke the news that pending unrestricted free agents Jason Demers and Milan Lucic were in town on Tuesday to talk shop with Peter Chiarelli and company, Oilers Nation was abuzz with excitement. If we are to believe the rumours that are already making the rounds, it would appear to be a forgone conclusion that both players have already agreed to sign on the dotted line to play in the Alberta capital.
UFA blue-liner Jason Demers and UFA winger Milan Lucic both scheduled to be in Edmonton today as Oilers sell them both on their market/team

— Pierre LeBrun (@PierreVLeBrun) June 28, 2016
[Related Article: Taylor Hall Trade Looming?]
While we are still a few days away from knowing if that were even a realistic possibility, the Oilers need to take a hard long look at what they are trying to accomplish…if moving Taylor Hall is part of the equation. There is no question that Edmonton will have to give up something in order to upgrade their backend but moving one of their primary pieces in a deal for No. 2/No.3 defenceman is simply not the way to go about it.
Taylor Hall = Driver
As good a player as Hall is, there is no team in the league that would move a top-flight blueliner in exchange for the 2010 first-overall pick. In today's NHL, trading a high impact winger for a stud defenceman just doesn't happen and nor should it. However, good general managers don't make questionable trades for the sake of doing so and they certainly don't move a 24-year-old kid entering the prime years of his career for anything less than full value.
IF Oilers were to land Lucic, would think a Hall deal becomes much more likely. Can't have 17.5m tied up in 4LW'ers.

— Ryan Rishaug (@TSNRyanRishaug) June 28, 2016
Edmonton would undoubtedly benefit from adding a player with Lucic's skill-set to their roster but if No. 4 is the one that has to go in order for that to happen, it makes zero sense from an organizational standpoint. Obviously, this team needs to make a marked improvement in the standings in 2016-17 but in case you haven't been paying attention…the Oilers are not in dire need of a left winger. Signing the former Boston Bruins standout to a six or seven-year deal and moving Hall would create an instant hole to be filled but sorry to tell you, that is not a lateral move in any way shape or form.
[Related Article: Oilers Get Their Man in Jesse Puljujarvi]
As of this moment, Edmonton has the two-time Memorial Cup MVP under contract for another four years at $6 million per. By the sounds of it, Lucic would likely command a six or seven-year pact in the neighbourhood of $6 million. If anyone believes for a second that swapping out Hall for a 28-year-old power-forward is a good idea, they are completely off their rocker. Especially when the veteran winger is all but guaranteed to not make it to the end of said contract as an impactful top-six guy and has already shown signs of not being the same player he once was.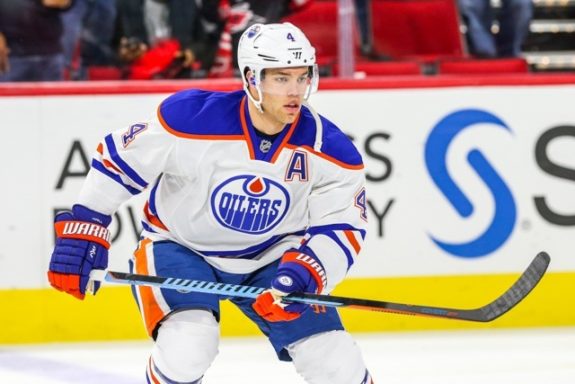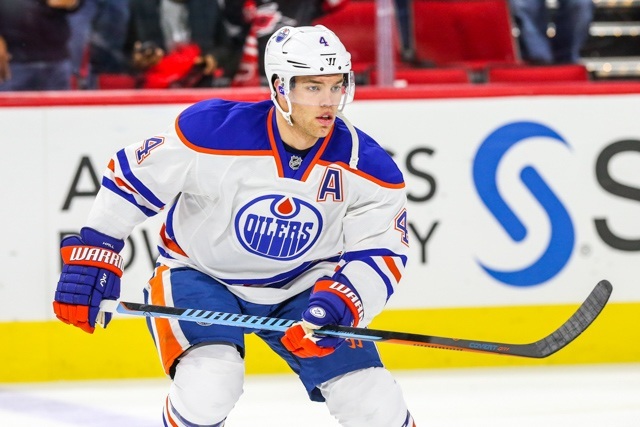 Signing Lucic Could Cause Cap Problems
Again, the return the Oilers get for trading the three-time 25-goal man isn't going to net them the sort of defenceman they are looking for so why bother even entertaining the notion? Hall would get Edmonton the best return from an asset standpoint in any trade but moving one of Ryan Nugent-Hopkins or Jordan Eberle probably scores them a pretty decent player. In a perfect world, keeping Nugent-Hopkins would be ideal but if one of the two former No. 1 picks has to be moved, it is not even a discussion.
If Milan Lucic is indeed going to Edmonton on July 1, then Taylor Hall will be on the move elsewhere for a D-man. Let the bidding begin!

— Joe Haggerty (@HackswithHaggs) June 28, 2016
Moving forward, the so-called core pieces up front should be Hall, Connor McDavid, Puljujarvi and at least one if not both of Leon Draisaitl and Nugent-Hopkins.  While it is all well and good that Chiarelli wants to build a "bigger" team, losing sight of the long-term goal would be a major blunder on his part. In two years' time when McDavid inks what will be a rather large and lengthy extension, Edmonton is going to need the flexibility to fit everything under the cap. Of all the players previously mentioned, only Lucic would handcuff the organization when it comes to making potential moves and that cannot be ignored.
[Related Article: Did the Edmonton Oilers Steal Tyler Benson?]
So again, how does such a move make this team better? On a three and possibly even a four-year deal, signing Milan Lucic would consider serious merit but not on a six or seven-year term. To make matters worse, it could cost the Edmonton Oilers and their fan base the chance of watching Taylor Hall continue to develop into one of the finest offensive players in the game today. Sorry folks but if bringing in one ends up costing this organization the other, Peter Chiarelli had better hope he guesses right because this has disaster written all over it.