When the first-round of the 2016 NHL Entry Draft came to its conclusion and Vancouver Giants winger Tyler Benson was still available, there was little doubt as to where he would end up being selected on Saturday morning. After the Toronto Maple Leafs kicked things off by grabbing Russian winger Yegor Korschkov, the Edmonton Oilers surprised absolutely no one by taking the local product at No. 32. If not for an injury-plagued campaign in 2015-16 many felt the kid was a slam-dunk to be a mid to late first-round pick.
Congrats to our own @TylerBenson_17 on being drafted by @EdmontonOilers at 32nd overall in the #NHLDraft! #BeAGiant

— Vancouver Giants (@WHLGiants) June 25, 2016
[Related Article: Tyler Benson – The Next Ones: 2016 NHL Draft Prospect Profile]
After having the good fortune of watching Jesse Puljujarvi fall to them at No. 4, Edmonton had to be thrilled with getting the chance to bring in another top-flight talent. While the masses continue to harp on the club's apparent need to add organizational depth to their backend, one could argue the greater need was actually upfront. At the NHL level, the roster is stacked with high-end skill at forward and the hulking Finn will only add to that group. However, in acquiring Benson the Oilers now have a legit prospect in waiting.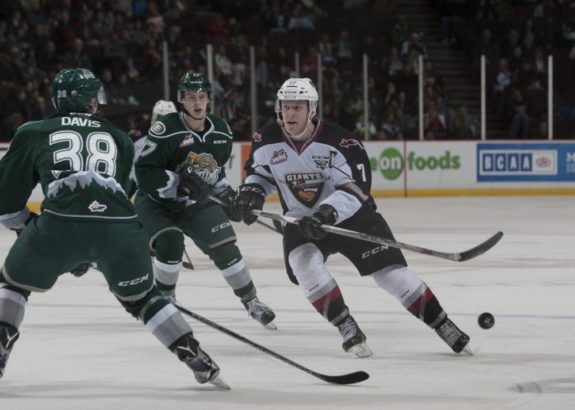 Oilers Can Be Patient With Benson
The chances of this kid playing for Todd McLellan within the next two years are minuscule at best but if everything were to go according to plan, he would most certainly be in the mix for a top nine role in 2018-19. With that being the case, can you even remember the last time this franchise developed a highly touted forward prospect at the AHL level that pushed for a key role on the NHL roster? Look around the league and you will find almost every successful franchise has those guys prior to moving them up the ranks but they simply do not exist in Edmonton.
[Realted Article: Oilers Get Their Man in Jesse Puljujarvi]
In their defence, they organization didn't really have the opportunity and/or need to go that route with the trio of first overall picks in Taylor Hall, Nail Yakupov, and Connor McDavid but as we all know, they have completely missed the boat when it comes to developing players taken in the second round or later. While much of that can be linked back to some iffy work at the draft table, that won't be the case this time around. If Benson can stay healthy, there is no reason why he can't fulfill the expectations most scouts had for him heading into 2015-16.
There are only a few of his 2016 draft-eligible peers (Auston Matthews in particular) who makes successful on-the-spot corrections once a chance to create offense in a specific area of the ice is no longer an option. Benson is very shifty with tremendous balance, meaning he can continue to move if he gets hit at the same time he decides to change direction. Possessing the kind of vision and IQ he owns makes it no surprise the CHL came close to giving him "exceptional" status to play a full season as a 15-year-old (cut short by a knee injury).
The above excerpt comes to us courtesy Steve Kournianos' scouting report over at The Draft Analyst from December 2016. If you take the time to go and read his entire profile report on Benson, it becomes rather obvious why so many believed this kid to be a lock as a first-round pick. That is until the injury bug hit. After suffering through a year which included surgery to remove a cyst near his tailbone and a groin injury that forced him to shut his season down in late February, the Edmonton native's draft stock took a major hit. Not an ideal situation by any means but those were the cards he was dealt.
Grinning from ear to ear, Tyler Benson: "I'm just really happy. I'm speechless… Seeing my name on this jersey is an awesome feeling."

— Chris Wescott (@TheChrisWescott) June 25, 2016
[Related Article: Nail Yakupov Trade Countdown]
While being a first-round pick would have been a nice feather in his cap, in the grand scheme of things it really doesn't mean much. If anything, my guess is Tyler Benson will use this as motivation to prove to the rest of the league that they made a mistake in allowing him to slip through their fingers. Add the excitement that comes with being drafted by the team you followed as a kid and the incentive to succeed becomes even greater. The goal is likely quite simple. Get healthy over the summer, have a strong showing at training camp with the Edmonton Oilers and knock it out the park with the Vancouver Giants in 2016-17.
Rob Soria is the Author of Connor McDavid: Hockey's Next Great One. He has chronicled the Orange and Blue since creating his Oil Drop blog in 2011 and has also had his writings featured over at HometownHockey.ca and Vavel USA, where he has covered the NHL, MLB and ATP Tour. Rob was born, raised and still resides in Edmonton, Alberta and can be reached via twitter @Oil_Drop.