There has arguably been no player in recent Edmonton Oilers history that has created as a much a divide among the fan base as Nail Yakupov. After being selected first overall in the 2012 NHL Entry Draft and putting together a fairly productive rookie campaign, the sky appeared to be the limit for the former Sarina Sting standout. Yet here we are, four years later and Edmonton is on the verge of moving the 22-year old in a trade that will likely net this organization a rather underwhelming return.
Is Yakupov gone yet? #Oilers

— Oilogosphere.com (@TheOilogosphere) June 20, 2016
While there are those who will point to Yakupov's lack of opportunity to play with other skilled forwards on a regular basis for his lack of production, others will focus on an unwillingness to make better use, when given the chance, of said linemates and the fact he continues to look completely lost when he doesn't have the puck on his stick. No matter how you look at it, the fan-favourite hasn't come close to living up to expectations.
Yakupov Has His Flaws But…
Problem being, there was a reason he was viewed as the consensus No. 1 pick leading up to the 2012 Draft. While he will never become the ever popular "200-foot" player, Yakupov has the ability to put the puck in the net and unless you have not been paying attention, scoring remains an issue across the league. With that being the case, you can bet there will be a handful of general managers who will be looking to pry him loose for pennies on the dollar and Peter Chiarelli will have no choice but to listen.
[Related Article: Oilers in Favourable Position Heading Into Draft]
Partially by their own hand and also that of the player, who did ask for a trade via agent Igor Larionov, the Oilers have now been backed into a corner. While the new regime had almost no choice but to give things another shot heading into 2015-16, following the disaster that was Dallas Eakins, it did not take long to see Yakupov was not the kind of player head coach Todd McLellan could trust and Edmonton's roster construction essentially tied his hands.
https://twitter.com/NicholsOnHockey/status/714514144033054721
Like it or not, both the coaching staff and management see Jordan Eberle as a better fit and it is easy to see why. While some seem to believe the talented Russian would be every bit as productive as the Regina native in the right situation, the fact of the matter is Eberle has a proven NHL track record as both a goal scorer and point producer. Five seasons of 24-goals or better and three seasons of 60+points tells us all we need to know. Yakupov has nothing of the sort on his resume and regardless as to why that is…it means nothing in the here and now.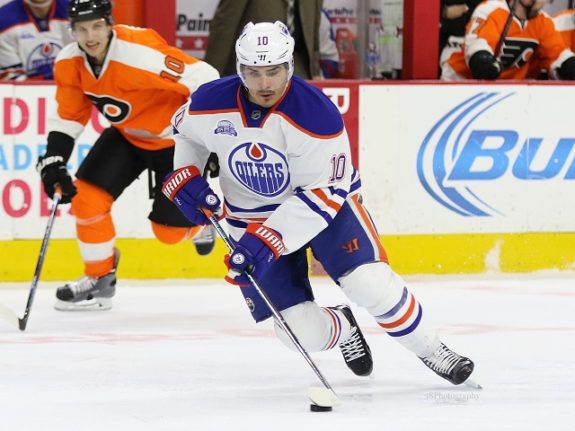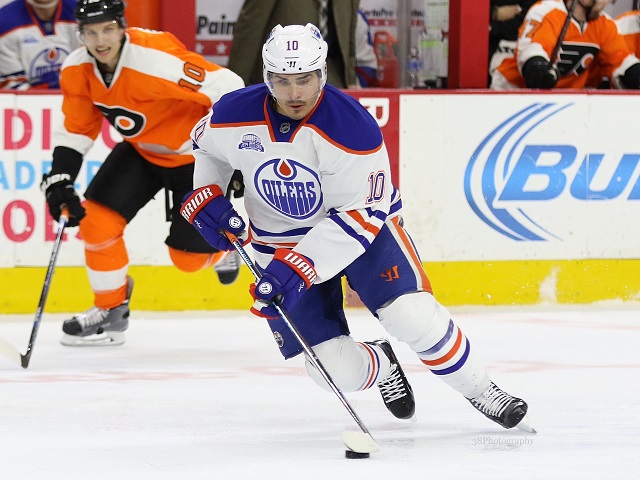 Yakupov Can Still Be An Effective Player
At this point, it is rather obvious the player wants a change of scenery and the club would be more than happy to oblige. However, that brings us back to what Edmonton could realistically get in return and it isn't pretty.  With one year left on his current deal at $2.5 Million, it is not as if the 2013 NHL Rookie scoring leader has a hefty price tag but his value on the open market has never been lower and teams are well aware of the situation. Call me crazy but my guess is no general manager will be looking to make life easy on Chiarelli and the Oilers.
[Related Article: Making Nail Yakupov a Priority]
So if the supposed rumour of the Oilers getting nothing more than a mid-round pick in return for Yakupov is to be believed, and there is no evidence to suggest it should not be, it would certainly be a hard pill for Oilers Nation to swallow. While the idea of bringing the player back and starting from scratch with a clean slate is all well and good, it is neither realistic nor something either side would seriously entertain.  It may not be what the masses want to hear but the time has come to turn the page.
You know what would be better for the Oilers than trading Yakupov for a 3rd?

Keeping Nail Yakupov on the team

— Arch (@Archaeologuy) June 23, 2016
This is a marriage that both sides want to end and there is no reason to prolong it any further. For the sake of the player, one can only hope Nail Yakupov finds his way with a different organization and goes on to have a successful NHL career. Should that be how things eventually play out, it certainly wouldn't look good on Peter Chiarelli and the Edmonton Oilers but they can't concern themselves with that.  At this stage, the focus shifts towards securing whatever they can for the asset, learning from their mistakes and ensure history does not repeat itself.