Following last night's 5-2 victory over John Tavares and the New York Islanders, the Edmonton Oilers have now taken home points from four consecutive games for the first time since mid-October. While they are still comfortably buried in the basement of the Western Conference standings, this team is finally starting to show some sign of life as we approach the midway point of the 2014-15 National Hockey League campaign.
In the grand scheme of things, earning six of a possible eight points over the course of a week is really not that big of a deal but when you are on the verge of missing the playoffs for a ninth consecutive season, one can hardly blame fans for getting excited over any sort of positive outcome.
With that said, arguably the most troubling part of how things have unfolded over the last couple of years in the Alberta capital, has to be the regression in the production of one Nail Yakupov. After yesterday's appearance against the Islanders, the former first overall pick has managed to score four goals and register all of nine points in forty games this season.
As if those numbers were not already bad enough, over the last year half, Yakupov has fifteen goals and eighteen assists in 103 games with a plus/minus rating of -52. To makes matters worse, the talented Russian has actually made improvements to his overall game but presently looks nothing like the player Edmonton was hoping they were getting when they used the first pick of the 2012 Entry Draft to bring him on board.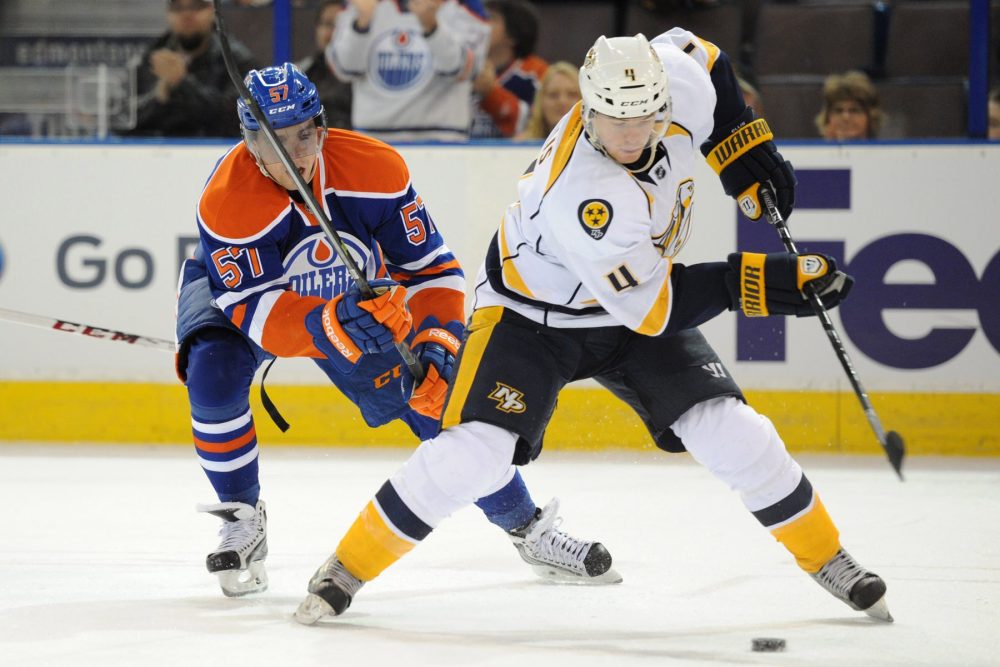 Perron's Departure = Opportunity
Clearly things have not gone well for the former Sarnia Sting standout after a fairly successful rookie campaign and while those struggles are not solely on the individual, the fan favourite has come nowhere close to living up to expectations. However, at this stage of the game, trying to put "x" amount of blame on the player, coaching staff and/or developmental system within the organization is a complete and utter waste of time.
Whatever has gone on in the past essentially has no bearing on where things go from here. With roughly three months of playing time left on Yakupov's entry level deal, the primary focus for the rest of this season should revolve around trying to get this kid going. After Craig MacTavish decided to trade David Perron to the Pittsburgh Penguins for a 2015 first round pick and Rob Klinkhammer, it appeared as though the organization was leaning towards going in that direction.
Yet if we are to take anything away from the Oilers last couple of games, early indications would suggest the complete opposite. Instead of giving the twenty-one-year-old top six minutes with some of the more talented players on this roster, the youngster has been skating on what is essentially Todd Nelson's fourth line with Anton Lander and newly acquired Matt Fraser.
After some good offensive games, Nail Yakupov's minutes continue to be in the 12 min range or lower now. Is he making any progress?#oilers.

— Jim Matheson (@NHLbyMatty) January 1, 2015
Yakupov saw all of 12:30 of ice-time against New York on Sunday evening, after playing just over fourteen minutes against the Colorado Avalanche on Friday night. One could easily make the argument that his level of play has not warranted him receiving extra time but in this case, the long-term objective has to be taken into consideration. If the plan is to move forward with him as part of the equation, then it is on the organization to ensure they put him in the best position possible to show what he can do.
If they cannot do something as simple as that, then what is the point of this entire endeavour? Does anyone honestly believe that playing him on a line with Fraser and Lander is what this kid needs? To make matter worse, he has essentially become an afterthought on the man advantage, after scoring six times on the power play in 2013 and on four other occasions in 2013-14, this despite the Oilers inexplicably sitting near the bottom of the league in power play efficiency.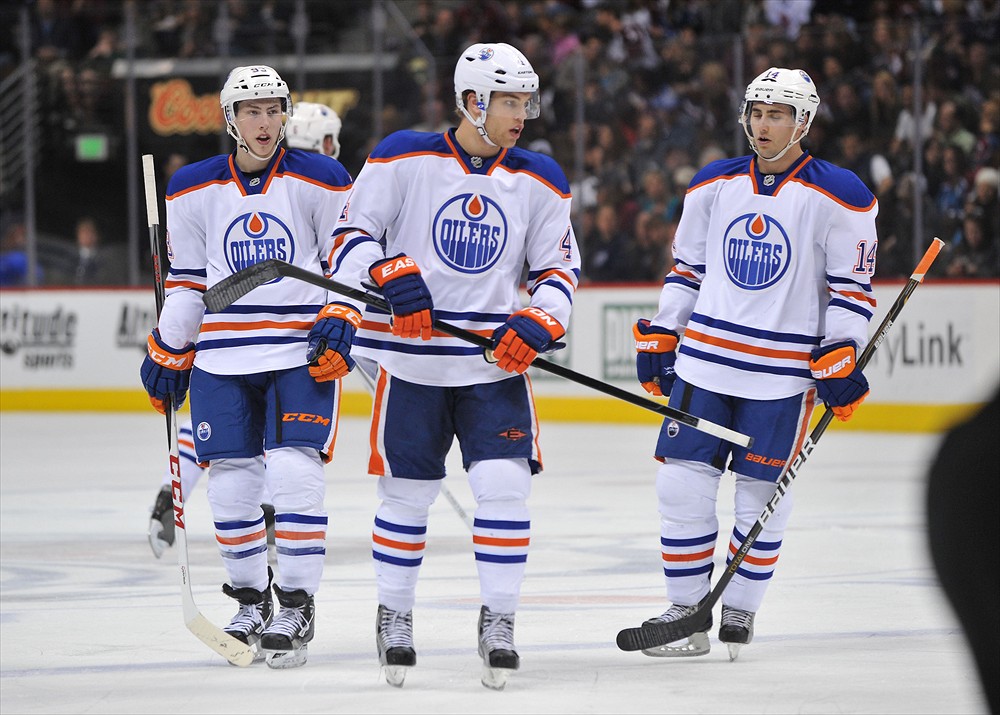 Yakupov – RNH – Hall
In all honesty, he should be given the next twenty or twenty-five games to play on a line with Taylor Hall and Ryan Nugent-Hopkins…and it should not even have to be a discussion. Arguably the best Yakupov has looked since Ralph Krueger was relieved of his duties as head coach prior to the start of the 2013-14 season, was right around the time of the Olympic break for the 2014 Sochi games. During that time, he was playing on a line with Hall and Nugent-Hopkins and for the first time in ages, started to resemble the player fans saw flashes of during his seventeen goal rookie season.
Unfortunately for him, the Oilers inability to win hockey games led to that trio being broken up shortly after the Sochi Olympics and it has never seen the light of day since. Why you ask? That is a very good question and likely one that only former head coach Dallas Eakins and perhaps the current general manager can honestly answer. Bottom line, something has to give because what they are currently doing is not working.
There are some who have suggested that maybe Yakupov would benefit from a stint in the American Hockey League with the Oklahoma City Barons and who knows…maybe he might.  At this point, anything other than the current status quo should be considered. One thing is crystal clear, the player needs to be thrown a bone and all he keeps being given is one anchor after another.
Again, whatever happened previously can no longer be the primary focus. It is time to turn the page and see what they can do for this young man before it becomes too late. From this point forward, all that really matters is how the Edmonton Oilers decide to use Nail Yakupov for the remainder of the current season. They most certainly have the ability to give him the opportunity to go out there and sink or swim but their hesitation to give him that shot, certainly speaks volumes as to how they ultimately foresee this one play out.
Rob Soria is the Author of Connor McDavid: Hockey's Next Great One. He has chronicled the Orange and Blue since creating his Oil Drop blog in 2011 and has also had his writings featured over at HometownHockey.ca and Vavel USA, where he has covered the NHL, MLB and ATP Tour. Rob was born, raised and still resides in Edmonton, Alberta and can be reached via twitter @Oil_Drop.