If you have been watching team USA play in the World Junior Hockey Championship, or if you've been following Boston University in college hockey. You've been exposed to the Jack Eichel phenomena.
The young USA star has been turning heads and giving goalies fits all over the world. Eichel has become one of the most talked about hockey players since T.J. Oshie deked Russian goaltender Sergei Bobrovsky out of his cup at the Sochi games.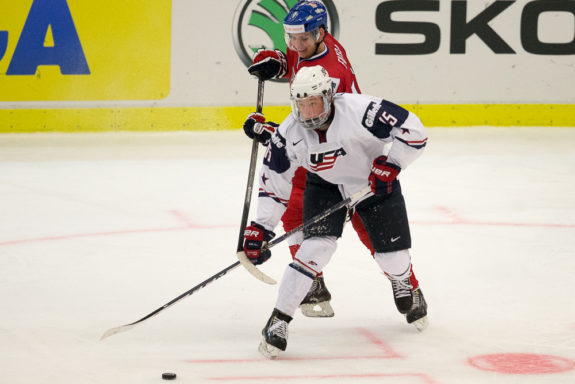 Some have considered Eichel the best U.S.-born center prospect since Mike Modano, who was taken No.1 overall in 1988 NHL Entry Draft by the Minnesota North Stars.
Watching Eichel you can sense that he's a special player and that he has the potential to be a great hockey player in the NHL. It's just a matter of time before he's playing in the NHL.
Probably next year, who knows?
Every hockey publication that I've perused recently has Eichel slated to go number two in the 2015 Entry Level Draft. More specifically, that's number two in the draft behind Canadian WJC forward Connor McDavid.
McDavid plays for the Erie Otters of the Ontario Hockey League. In 18 games, McDavid has scored (16g-35a—51pts). That's an amazing 2.83 points per game.
Our captain is going for the gold! Congrats to @cmcdavid97 and @HockeyCanada! http://t.co/CxFSIlieIX

— Erie Otters (@ErieOtters) January 5, 2015
McDavid vs. Eichel
Since McDavid plays in the OHL and Eichel plays in college, it's almost impossible to compare the two players' stats. First, Eichel is playing against older players in college hockey. Second, McDavid is racking up points against younger players in the OHL. This is not a slam on either league. Both college and Major Juniors are good routes for development and both players are great talents.
#USA #USAvsCAN #USAWJC #WJC2015 pic.twitter.com/fSisANKY0r

— Ellen DeLuca (@EDeLucaPhotos) December 31, 2014
However, we can compare their WJHC numbers. In his first five games for team Canada, McDavid scored (2g-5a—7pts). On the flip side, in five games Eichel scored (1g-3a—4pts). For  the sake of comparison, Dylan Larkin who scored (5g-2a—7pts) was the top player on team USA.
Comparing Eichel to the other first round draft choices on the USA WJC team, Alex Tuch scored (1g-1a—2pts), Sonny Milano (2g-2a—4pts).
One of the questions that I wanted to explore was how does Eichel compare to other college hockey greats? Since Eichel has only played 16 games, I am not sure how much of a comparison we can make. In my opinion, the only statistic that we can use to compare him to the others college hockey greats is points per game.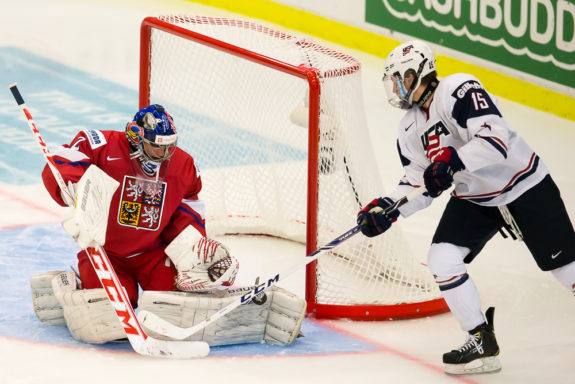 Comparing Eichel to other college hockey greats
Let's break this down further and compare Eichel to some of the other college hockey greats.
Paul Kariya 51 games, (33g-91a—124tps) 2.43 PPG
Martin St. Louis 139 games, (91g-176a—237pts) 1.92 PPG
Jack Eichel – 16 games, (8g-19a—27pts) PPG 1.69
Johnny Gaudreau 119 games, (78g-97a—175pts) 1.47 PPG
Dany Heatley – 77 games (52g-61a—113pts) PPG 1.47
Jaden Schwartz – 60 games (32g-56a—88pts) PPG1.47
Phil Kessel – 39 games, (28g-33a-51tps) PPG 1.31 PPG
Jonathan Toews – 66 games, (40g-45a—85pts) PPG 1.27
Paul Stastbt – 81 games, (36g-62—98pts) 1.21 PPG
James van Riemsdyk,  67 games, (28g-46a—74pts) 1.10 PPG
T.J. Oshie – 128 games, (59g-83a—142pts) 1.10 PPG
Max Pacioretty –39 games, (15g-24a—39pts) 1.05 PPG
David Backes – 115 games, (46g-73a—119pts) 1.03 PPG
Reilly Smith – 121 games, (66g-56a—122pts) 1.00 PPG
Blake Wheeler 127 games, (42g-54a—96pts).760 PPG
Is Eichel a one-year wonder?
Unfortunately, living in the west and covering the National Collegiate Hockey Conference, I haven't had a chance to see Eichel play in person. Occasionally, I get to see Boston University Terriers play on television. I have only seen Eichel play a handful of times on TV. Like most western college hockey fans, we can only hope he's not a one-year wonder.
Finally, through the first half of the season, Eichel has been statistically one of the best players in the NCAA. I am of the opinion that another year of college hockey would help his development. That being said, college hockey fans should enjoy him while we can.