It was a trade that anyone who follows the Edmonton Oilers knew was coming but by no means did it make it any easier for the vast majority of Oilers fans to stomach.
On the surface, moving David Perron to the Pittsburgh Penguins in exchange for a 2015 first round pick and Rob Klinkhammer may not qualify as the sort of move most were hoping for. However, in the grand scheme of things, it was a return that Craig MacTavish should not be overly disappointed with.
While the former first-round pick of the St. Louis Blues may turn out to be one helluva a pick up for Sidney Crosby and company, the Oilers are currently in "asset collecting" mode. From an organizational standpoint, grabbing another first round pick in what many consider to be a fairly deep draft class is a piece the Oilers current general manager could certainly use to his advantage during the coming off-season.
Trading Perron for late 1st draft pick? That's move for well down road. Fans I suspect would rather have help NOW.#oilers.

— Jim Matheson (@NHLbyMatty) January 2, 2015
There Will Be No Rebuilding Of The Rebuild
There are certainly those out there who seem to believe Edmonton will be looking to rebuild on their "original" rebuild in the coming months but to be completely honest, the chances of that occurring are slim and none. While management would gladly welcome the opportunity to add the likes of a Connor McDavid or Jack Eichel, this organization won't be "blowing" anything up.
Unless the Oilers can secure themselves one of the top two selections in this year's Entry Draft, something which today's deal with the Pens should help them accomplish, this will likely be the summer in which they will be open to moving any of their draft picks and some of their current crop of young talent, for legitimate National Hockey League players.
As good a player as Perron is, Edmonton were never going to secure a top two centre or top four defenceman in a trade for him, so the next best thing would be acquiring a first round pick. If nothing else, it is another bullet in the chamber for MacTavish to use and at this stage of the game, having that at his disposal may end up being far more valuable.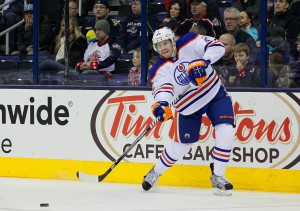 Could Jeff Petry Be Next?
 In all likelihood, the Oilers will be forced into making a similar decision when it comes to Jeff Petry over the coming months and if MacTavish were to play his cards right, he might just be able to get his hands on another first round selection. While expecting such a return for a pending unrestricted free agent blueliner who has little to no offensive upside would hardly be realistic, packaging him up with a second rounder may get it done and give Edmonton three selections inside the top thirty.
In order for this team to get the goaltender and top flight defenceman they so badly need, the Oilers are going to have to be willing to move some quality pieces and by the sounds of it, the other twenty-nine organizations in the league might be more interested in taking their chances at the draft table as opposed to some of Edmonton's current batch of youngsters. At least when it comes to the ones this organization appears willing to part with.
Rob Soria is the Author of Connor McDavid: Hockey's Next Great One. He has chronicled the Orange and Blue since creating his Oil Drop blog in 2011 and has also had his writings featured over at HometownHockey.ca and Vavel USA, where he has covered the NHL, MLB and ATP Tour. Rob was born, raised and still resides in Edmonton, Alberta and can be reached via twitter @Oil_Drop.