The top line for the Carolina Hurricanes in their Friday night tilt against the Philadelphia Flyers was Staal X two plus a Swedish beast. Captain Eric Staal, alternate captain Jordan Staal, and Elias Lindholm. The outcome of the game was a true marvel, as the Hurricanes scored more than one goal and won the contest 2-1. What was not a marvel was the play of 'Canes goalie Cam Ward. More on that later.
Breaking the ice
Brad Malone finally broke the ice and got his first goal of the season. The play was fantastic as Zach Boychuk broke free from the defensive zone and found Malone racing up the ice. Two on one for Flyers goalie Steve Mason as Ryan Murphy skated down with Malone. Malone kept the puck and whizzed it up and over Mason's glove. 1-0 Hurricanes.
Brad Malone has been showing more heart of late. His play in the last two Hurricanes outings has been much more focused, and last night's goal could be the beginning of more nice play for Malone.
The first period concluded with the 'Canes holding a 12-4 shots on goal advantage over the Flyers. Philadelphia looked slow, and rightfully so. They have been on a grueling road trip with Disney on Ice occupying their home venue at the Wells Fargo Center. Defensively, with the exception of the Malone goal, goalie Steve Mason was playing extremely well. Witness the save he made on the surging Jordan Staal:
Staal X two
The brothers Staal came through in splendid fashion early in the second period. Jordan Staal broke loose and fired the puck at Steve Mason. He deflected it and in the ensuing skirmish Brother Eric was face-to-face with the net at the shoved the puck in past Mason.
#Canes Goal GIF: Eric Staal collects a rebound and deposits his 10th goal of the season. #PHIvsCAR pic.twitter.com/5GrT2COI29

— Carolina Hurricanes (@Canes) January 3, 2015
The goal marked the fourth consecutive game in which Eric Staal notched a point, while Brother Jordan extended his point streak to two games. Not bad. Two games played and two points earned for Jordan Staal Who knows what this season would have looked like had he not been out for the first three months with a broken leg.
Just like that the 'Canes had done something they had not been able to do in ten of their fourteen games in December – score more than one goal in a game.  The presence of Jordan Staal in the lineup has been entirely positive this far for the Hurricanes. Of course it has only been two games. But, as Coach Bill Peters said after the game, what coach wouldn't want what Jordan brings to the game:
"6-4. 230. Knows how to play. Experience. Good in all three zones. I think any coach would want that in their lineup. It just changes us quite a bit. There's a chance Eric and Jordan can develop some chemistry moving forward."
The chemistry seems to be developing for sure. Staal X two plus Lindholm or Jeff Skinner – who was out with flu-like symptoms – or an Alexander Semin who decides to play up to his ability, can turn into a top line that other teams must take seriously.
Cam being Cam
Once again, the anchor for the Carolina Hurricanes was Cam Ward. Night in and night out the one consistent element for this team – beside scoring just one goal per game – has been the play of goalie Cam Ward. I wrote about his recent octopus-like performance on against the New York Rangers, and he is still playing like a man with multiple appendages. Here's a taste of Cam Ward saying no:
Cam being Cam means Ward is seeing the puck very well, and moving with anticipation. Against the Flyers he saved 23 of 24 shots, and stood fast in the final minutes as the Flyers came hard in an attempt to tie the game.Yes, there are many great goalies in the NHL. At this moment however, if I were looking for a goalie around which to build a playoff-contending team, I'd have to take a long hard look at Cam Ward. He's playing that well.
Kevlar is a good thing
The collective groan heard in Raleigh's PNC arena was a sound of shock at the NHL's leading scorer, Claude Giroux lying on the ice with blood coming out of his leg. His calf had met the slate blade of Hurricanes defenseman Justin Faulk and down he went.
https://twitter.com/DaveLozo/status/551197252963033088
Visions of the previous night when the Flyers saw Michael Del Zotto cut badly by a skate on his neck began to swirl. Two games with two injuries due to skate blades is more than anyone could expect, and hopes for Giroux to be okay were unanimous throughout.
As hockey fans are well aware, hockey guys are very tough. Michael Del Zotto tweeted out a picture of his neck laceration, (which is not for the faint of stomach), got 50 stitches, and returned to the game.
Michael Del Zotto took a skate to the neck. 50 stitches later he returned to the game. pic.twitter.com/clFTHeJReE

— Jack O'Callahan (@Jack_O_Callahan) January 1, 2015
As Claude Giroux made his way to the Hurricanes locker room for examination, sighs of relief rang throughout Raleigh and of course Philadelphia when it was reported that Giroux was "fine" and will play tonight against the New Jersey Devils.
https://twitter.com/ESPN_NHL/status/551246678838112259
Giroux was wearing the relatively new Kevlar socks, which prevented a much more serious injury. Flyers fans and hockey fans everywhere are thankful that the injury was not more serious. (My colleague with The Hockey Writers, Andy Dudones, has a very good breakdown of the game and excellent insight from a Flyers perspective.) But really, 50 stitches for Del Zotto and he's back in a game? A laceration to the calf and Giroux will be playing in the next game? These hockey guys are insanely tough and incredibly willing to go in the face of injury. Thank God that Claude Giroux was not injured seriously. A thank you note from Philly fans to the maker of Kevlar socks might be in order, too.
Random puck talk
Eric Staal is starting to show what he can do. He is the team captain and a very highly paid player in the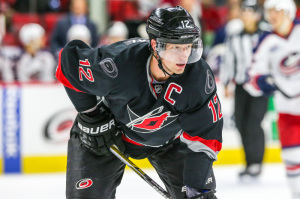 NHL. His team has been patient – much more so than the fans – as he has struggled to find his game. He has been injured and seems finally to be healthy. He is moving aggressively to the net more often and playing very hard both ways.
After the victory against the Flyers, the talk on the 'Canes radio post-game show with Mike Maniscalco turned as it usually does to fan questions about Ron Francis trading Eric Staal. Notwithstanding his no-trade clause, the truth is that Eric likes being in Raleigh and enjoys having his brother Jordan on the team. Trading Eric Staal is most likely not going to happen. He'd have to agree to the trade and the Hurricanes would need a huge return for his services. Is it a "never gonna happen" thing? Never say never in the world of the NHL. But, for the moment, Hurricanes fans should enjoy the potential of Staal X two and Cam being Cam.
Mark lives in the Raleigh, NC area and covers the Carolina Hurricanes.