Brad Malone of the Carolina Hurricanes has heart. Most of this season that fact has not been particularly obvious. In Monday night's tilt with the Montreal Canadiens, it was very obvious. Dropping the gloves with Brandon Prust is not necessarily the barometer of whether or not a player has heart, but was something that many Hurricanes fans appreciated nonetheless.
The short bout occurred around the 4:30 minute mark of the first period. Brad Malone and Brandon Prust were lined up next to one another on a face off and apparently decided it was time to go. You may disagree, but it seems that Malone got the better of Prust in this early game scrum:
My colleague with the Hockey Writers, Brianne Spiker wrote a nice piece on Prust a few days ago, describing him as hockey's "new age enforcer. It was not clear at the time what Prust was attempting to enforce with Brad Malone at the time, or if Malone was itching for some extracurricular activity. Perhaps payback by Malone for scoring first in the 'Canes game earlier this month against the Habs. In any event, as Hurricanes Hall of Fame radio voice Chuck Kaiton would say, "the boys went at it."
If you're scoring at home
As I said earlier, Brad Malone came out on top in the engagement with Brandon Prust this time around. Malone landed several direct-hit right hands, and seemed in control throughout the entire skirmish. For validation of my perspective, I checked out how the fans voted at www.hockeyfights.com and any comments they shared about the fight. Brad Malone got the nod from 50.6% of those who voted. Here is a typical fan comment on the fight:
Prust is one of my favorites, but there is no way he won this fight. Malone landed some good rights and Prust was mostly jabs.
Not a staggering result, but it goes along with my perspective. 32.5% scored it for Prust, and 16.9% called it a draw. (Isn't hockey a great sport? Where else can in-game brawls be voted on and tallied?) Anyway, I digress. Both players received fighting majors and the game resumed.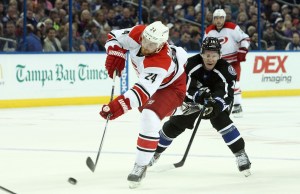 What does Brad Malone bring to the table?
Brad Malone is not really impressing anyone so far this season. He has played in 26 games and has zero points. He has a plus/minus of -12. He has notched these outstanding stats within the comfort of a two-year $1.3 million contract, paying him $600,000 this season and $700,000 next season. Perhaps his value to the front office comes in the form of his gritty play. He has 72 hits on the season, which translates into a shade under 2.8 per game.
There is some value to the team in having a player who is not afraid to get physical, and currently Brad Malone seems to be that guy that brings that to the table for the Carolina Hurricanes. I always felt that Tim Gleason would serve as the 'Canes resident enforcer. But Malone, while certainly not an enforcer, is playing a needed role on the team. How much longer he can be a Hurricane is a question that is up in the air, as the team needs desperately offense and a lot of it sooner rather than later.
'Canes drop another
Despite Brad Malone mixing it up early and firing up the 17,000+ at Raleigh's PNC Arena, the Hurricanes maintained their consistent one goal per game performance and lost to the Habs, 3-1. 'Canes goalie Cam Ward was once again reliable, saving 16 of 18, and keeping his team in the game throughout.
Canadiens goalie Carey Price played his usual outstanding game, saving 28 of 29 shots faced. He is 20-9-1 this year, the kind of season that 'Canes fans are dreaming that Cam Ward would be having if only the offense would produce. Price was strong in between the pipes against Carolina, stopping Jeff Skinner here at 15:21 in the second period:
J Staal returned, a bit
Jordan Staal finally was able to make his regular season debut against Montreal after three months on injured reserve. He was greeted with great warmth by the home crowd and got his game legs under him fairly quickly. He contributed an assist on a power play goal scored by his brother Eric Staal which was huge.
Jordan Staal assisted on brother Eric's goal last night in his season debut –> WATCH: http://t.co/k3jWJKL1CS pic.twitter.com/l0ISbogNeB

— Carolina Hurricanes (@Canes) December 30, 2014
Unfortunately it was the only time the 'Canes lit the lamp, as the consistent one-goal per game result I wrote about earlier in the week was once again in play. The team faces the Pittsburgh Penguins in Pittsburgh on New Year's Eve, where one goal is certainly not likely to yield a victory.
And this
Jordan Staal went down late in the game to the shock of everyone watching. Some might have seen this as intentional by P.K. Subban. I do not concur.
I lean toward word "lunge." You be the judge –> RT @MrWorkrate: @MSmithCanes https://t.co/AmQPrmOA2P

— Michael Smith (@MSmithCanes) December 30, 2014
Obviously we cannot know what is in a player's mind at any given time or on any given play. I choose to withhold judgement on Subban. If it was intentional, perhaps Brad Malone will square the account in Montreal on March 19th. If he is still in a Hurricanes sweater. Maybe they'll be scoring more than one goal a game by then, too.
Mark lives in the Raleigh, NC area and covers the Carolina Hurricanes.