For the Arizona Coyotes, this is turning into a very expensive game of musical chairs.
For the better part of the past few weeks, Mike Smith, considered the Coyotes' number one goal keeper and in possession of a $34 million contract, has been benched. Considered by some as one the elite goalies in the game, Smith has come upon hard times, very hard times, and continues to work on a plethora of issues. Plus, the solid play of Devan Dubnyk is pushing Smith deep on the bench and nearly out of sight.
Coming into Wednesday's game with the Stars in Dallas, Smith's numbers continue to be marginal. Appearing in 23 of the Coyotes' 36 contests this season, Smith has dropped 15, win only five, tied two and sports a 3.48 goals against, by far, the highest in his NHL career. To his regret, Smith has started one game since Dec. 11. In that one, on Dec. 22, he allowed four goals on 11 shots and was pulled in an eventual loss at Vancouver.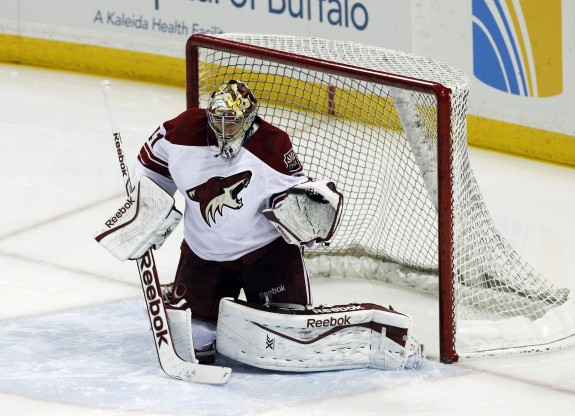 All of which has thrust Dubnyk into the spot light.
Starting the season as Smith's back-up, Dubnyk has clearly stepped forward and picked up the baton from Smith. The rather meteoric rise, he says, can be attributed to basic fundamentals.
"It's all about being set in the crease," Dubnyk said after practice Tuesday afternoon. "This allows you to slow down the game and get ready for the next play. Really, it's just a basic thing that goalies are taught from an early age."
Here, assistant and goalie coach Sean Burke worked with Dubnyk from day one of training camp and pointed out the necessity of being set in the net. From there, Dubnyk said, it's easier to see plays develop, experienced an heightened level of concentration and able to have a better vision of the entire rink.
Numbers, now, are in Dubnyk's favor.
Coming into the Dallas game on New Year's Eve, Dubnyk's save percentage is eighth best in the league at .925. His goals against of 2.49 (17 appearances)  is a career-best and better than his previous 2.57 for the Edmonton Oilers (47 appearances) during the 2012-13 season.
During the Coyotes' modest three-game winning streak, Dubnyk has stopped 91 of 95 shots and 223 of 241 shots in the month of December. Still, his position of moving Smith, permanently, to the bench remains uncertain.
day-to-day
"Yes, yes it is," said coach Dave Tippett after practice Tuesday when asked if the goalie situation is day-to day. "The starting goalie for the Dallas game will be determined (Wednesday morning)."
While Tippett said he will go with "hot hand," he also cautions that "the situation could easily change with a week, two weeks."
If Smith is to regain his job, there is one critical matter which he needs to confront.
"(Smith) must to translate what he does in practice into a game," Tippett said. "His work ethic and commitment remain strong and that was never in question. Right now, Dubnyk is playing better but, like I said before, this can flip. It's up the Mike to take an opportunity and run with it. But, Dubnyk is getting results."
What seems to exacerbate the goalie dilemma is Smith's salary.
After leading the Coyotes to the Western Conference finals in the spring of 2012, Smith signed a six-year, $34 million deal, according to geekcap.com. Should Tippett and management settle on Dubnyk as the number one goal, the Coyotes will pay a great of money to watch Smith collect splinters on the bench.
Buying out Smith's contract does not seem a reasonable nor intelligent way to go. Smith cannot become a free agent until the 2019-2020 season and the Coyotes are already committed to buying out the remainder of Mike Ribeiro's nearly $12 million owed until the end of the 2019-2020 season, according to geekcamp.com.
All of which means if Smith is to regain his status as one of the elite goalies in the league and redeem an awful first half of the season to his teammates, management and fans, he needs to elevate his game.
Now.
follow Mark Brown on Twitter, @journalist193
Mark Brown is a former sports editor for daily newspapers in the Philadelphia and Cincinnati markets. He was named Best Sports Columnist, honorable mention 2004 by the Associated Press Society of Ohio. He is a contributor to major daily newspapers, including the Chicago Sun Times, Philadelphia Inquirer, Honolulu Star-Bulletin, Milwaukee Journal, Arizona Republic, Nashville Tennessean and the Associated Press. He was a Featured Columnist for bleacherreport.com and covered the Arizona Coyotes.