This Saturday, the University of North Dakota hockey team entertains the USNDT U-18 Team in an exhibition game at Ralph Engelstad Arena. This will be the first time UND takes the ice in 2015. UND has not played a game since December 13, 2014.
Series History
Under head coach Dave Hakstol, UND is 5-0-0 against the USNDT U-18 team. During those five games, UND has outscored the USNDT U-18 22-12.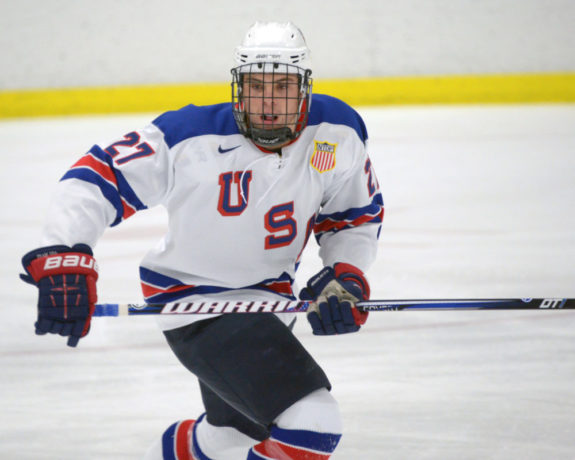 Tale of the tape
#2 North Dakota (13-4-2, 6-3-1 NCHC) vs. USNDT U-18 (21-8-2, 7-14-0 USHL).
Date: January 3, 2015 Game Time: Saturday 7:07 p.m.CT
Location: Ralph Engelstad Arena, Grand Forks, ND
Last time out: USNDT U-18 tied and loss to C.C. (2-2 T, 4-8 L).
Last time out: UND split with Denver (1-4 L, 3-1 W).
US Under-18 Team Offense: 10th USHL
US Under-18 Team Defense: 17th USHL
UND Offense: 14th Nationally
UND Defense: 11th Nationally
TV: Saturday – Midco Sports Network
Live Streaming: NCHC.TV
Key players to watch
North Dakota – Forwards: Drake Caggiula (8g-14a—22pts), Michael Parks (6g-14a—20pts), Mark MacMillan (8g-7a—15pts), Luke Johnson (4g-5a—9pts), Brendan O'Donnell (5g-2a—7pts). Defense: Jordan Schmaltz (3g-11a—14pts), Paul LaDue (3g-6a—9pts), Tucker Poolman (5g-2a—7pts), Gage Ausmus (2g-1a—3pts). Goalies: Zane McIntyre (13-4-2, 1.95 GAA, .929 SV%), Cam Johnson (0-0-0, 5.54 GAA, .765SV%).
UND Injuries: Troy Stecher (1g-8a—9pts) is out indefinitely.
At the World Junior Championship: Nick Schmaltz (3g-12a—15pts).
USNDT U-18 – Forwards: Jeremy Bracco (12g-34a—46pts), Matthew Tkachuk (19g-20a—39pts), Jack Roslovic (7g-21a—28pts), Christian Fischer (15g-13a—28pts), Brendan Warren (12g-12a—24pts). Defense: Joseph Masonius (5g-10a—15pts), Caleb Jones (2g-9a—11pts), Casey Fitzgerald (4g-7a—11pts), Christian Ever (2g-4a—6pts), Goalies: Michael Lackey (9-4-2, 3.22 GAA, .878 SV%). Luke Opilka (14-4-0, 2.92 GAA, .888 SV%).
At the World Junior Championship: Auston Matthews (24g-25a—49pts)
Special teams
USNDT U-18:  Overall stats: On the power play, U-18 team is (19.3%). On the penalty kill, U-18 is killing (81%) of their opponent's power plays.
USHL Stats: On the penalty kill, U-18 is ranked 17th in the USHL (77/104 74%). On the power play, U-18 is ranked in the 13th USHL (13/86 15.1%) .
North Dakota – UND's penalty kill is ranked 19th in the nation (73/84, 86.9%). UND's power play is ranked 11th in the nation (18/84, 21.4%).
USNDT U-18 not an easy out
If you have been following the USNDT U-18 this season, you will know they've beaten some good college hockey teams. The USNDT U-18 has wins over Miami University 3-0, Minnesota 5-4, and Wisconsin 5-4. In nine games against division I opponent's the USNDT U-18 has a 3-4-2, (.444) record.
USNDT's connection to the USA WJC Team
According to the USA NTDP site, there are 15 players with ties to the USA Hockey's National Team Development Program participating in the 2015 World Junior Hockey Championship.
Auston Matthews, (Scottsdale, AZ), J.T. Compher (Northbrook, IL), Jack Eichel (North Chelmsford, MA), Anthony Louis (Winfield, IL), Sonny Milano (Massapequa, NY), Tyler Motte (St. Clair, MI), John Hayden (Greenwich, CT), Alex Tuch (Baldwinsville, NY), Dylan Larkin (Waterford, MI.) ,Hudson Fasching (Apple Valley, MN); Noah Hanifin (Norwood, MA), Will Butcher (Sun Prairie, WI), Ryan Collins (Bloomington, MN), Zach Werenski (Grosse Pointe Woods, MI), Thatcher Demko (San Diego, CA).