by Eldon MacDonald (edited by @ChrisRalphTHW)
Usually I am the one ranking the smaller forwards lower than others. Not this year; the top ranked smaller forwards have exceeded expectations as a group and I have ranked them accordingly. Four of the five following forwards are ranked in the first round in the 2015 NHL Draft War Room Top 100 Rankings. 
[Editor's Note: E-Mac and I agree on many aspects of each and every draft class. The exception always seems to be the undersized skaters which I admittedly tend to have a soft spot for and covet more than most. – Chris Ralph]
2015 NHL Draft War Room: Top 5 Forwards Under 6'0
(Overall December War Room ranking in brackets from NHL Draft Ultimate Prospect Tracker; stats through Dec. 20th)
1. Mitch Marner (5th from 18th pre-season ranking)
London, OHL, C, 5'11, 164 (34-27-38-65)
I had reasonably high expectations for Mitch coming into the season as his even strength points per sixty minutes (ES 60) of 3.1 last year were the best of the first year draft eligible players for 2015 in the CHL not named Connor McDavid (who had 3.9). However, Mitch came out of the gates sputtering this season with only 4 points in his first ten games. Since then, Mitch has been just about if not the hottest player in junior hockey with 64 points in his last 24 games played. He kind of reminds me of Kyle Turris of the Ottawa Senators in his draft year – skinny as a beanpole but man can he play hockey. I think Mitch may have even more offensive upside than Turris. Size is not going to hold Mitch back due to his speed, vision, creativity, defensive ability and all-around offensive skills. He is simply an elite hockey player, something of a hybrid of Jonathan Drouin and Nikolaj Ehlers, which is why I have bumped him up to 5th.
More about Mitch Marner from @RossyYoungblood at @McKeensHockey here: http://t.co/StPejtECjI

— Dan Kramer (@DanKramerHabs) December 12, 2014
2. Nick Merkley (8th from 25th pre-season)
Kelowna, WHL, C/RW, 5'10, 187 (36-10-46-55)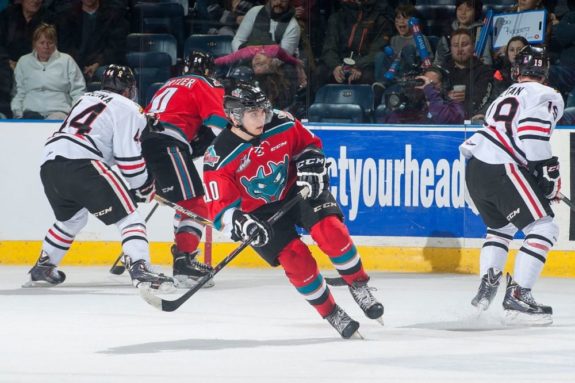 Yes, Nick Merkley had a brilliant rookie season in the WHL where he was rookie of the year. However, I looked at him as just another small player with good offensive skills. Then I saw him at the Ivan Hlinka tournament in the summer where he played mainly a third line defensive role and excelled at it. But I was still caught by surprise when Nick started to roll up the points big time when the regular season started. So I started watching him more and surprise, surprise the thing that struck me is that he isn't such a small guy or at least doesn't play like one. He is your western version Max Domi – a compact guy (sounds better than squat guy) who can deliver bone jarring hits as well having the skill to skate past a defender, the vision to pass to where a player is going to be and the determination to keep on pushing to succeed no matter what the situation. Yes, I have come to like Nick a lot. It will be interesting to see how he fares come draft day compared to players of a similar size such as Marzal and Konecny.
Nick Merkley makes the game easy for himself. Feet always pumping, fearless towards the puck. Confident in his ability to impact the game.

— Zenon Herasymiuk (@ZenonHerasymiuk) December 15, 2014
Here is a four point night versus the Brandon Wheat Kings. If that doesn't impress you, watch this highlight package against Spokane.
3. Travis Konecny (9th from 13th pre-season)
Ottawa, OHL, C, R, 5'10, 171 (32-12-15-27)
Travis Konecny is a high-end offensive player, team leader and determined difference maker that I expected would start the season with a bang. And he did, having an excellent summer Ivan Hlinka tournament where he captained Team Canada to a gold medal. The regular season was a different story, however, as Travis sustained an early season concussion. Working through the concussion seemed to slow him up a bit as Travis had only 12 points in his first 14 games. Since then he appeared to have turned the corner scoring 12 points in 8 games at one point, but most recently has notched just 3 in his last 6 games. Travis has all the skills but the two that brand him special are his ability to shoot at seemingly full speed and his determination to be the difference maker especially at crucial times in the game. He may have fallen on some rankings as a result of his slow start but I think he will be right up there, probably top 10, when the season is done.
http://t.co/NpWH0tZaAn
#12 Trais Konecny @traviskonecny
One of the most consistent forwards in the draft. Relentless & character leader.

— ISS Hockey (@ISShockey) December 15, 2014
Here is a shorthanded breakaway goal against the Barrie Colts for your viewing pleasure.
 4. Jeremy Bracco (15 from 29 pre-season)
US U18 NTDP, QMJHL, C, R, 5'9, 173 (27-12-33-45)
I was prepared not to like Jeremy Bracco this season. While he possessed top-notch talent, he looked like 5'0 and not much over 100 pounds. However, he showed up this year at Johnny (Gaudreau) Hockey size (with a few pounds added on) and played a highly energetic, highly entertaining, highly successful Johnny Hockey style of game. While still on the small side at 5'9 and 172 lb. I believe that his outstanding skating (speed, acceleration and agility), his stickhandling wizardry, his tape to tape passing along with high-end creativity and vision will continue to produce the offensive results that will make him a player worthy of a high draft pick.
Grab that puck! Jeremy Bracco just set the #NTDP career assists record (89), passing JD Forrest and Pat Kane. pic.twitter.com/2FN34JDlhq

— USA Hockey's NTDP (@USAHockeyNTDP) November 23, 2014
Here are his two goals from the US Top Prospects game where he played mainly with Jack Eichel.
5. Anthony Beauvillier (59th from unranked pre-season)
Shawinigan, QMJHL, C, L, 5'10, 181 (35-25-23-48)
I keep watching Shawinigan to see Dennis Yan but every time Anthony Beauvillier seems to jump off the ice and steal the spotlight. Anthony is the leader and heart of the team. He is the QMJHL's answer to Nick Merkley – maybe not quite as physical but just as industrious. He plays with a fire that doesn't seem to go out and combined with the speed needed from a smaller player just keeps making things happen all over the ice. I think that Anthony's passion for the game, his stockiness and his low center of gravity will combine to overcome any size issues as he climbs up the ranks.
Anthony Beauvilier: le feu du hockey. Très bon portrait de @gabrielbeland sur le #91 des Cataractes. http://t.co/5kDPKv00WF #LHJMQ

— Charles Lalande (@CharlesLalande_) November 21, 2014
More from the 2015 NHL Draft War Room Top 5 Series