by Eldon MacDonald (edited by @ChrisRalphTHW)
Here are the top five goaltenders eligible for the 2015 draft. Note that none of these lads have really stood out head and shoulders above the others and demanded they be chosen as the top goaltender. It is still a roll of the dice, as it often seems to be when it comes to drafting netminders. All five of the following goalies are ranked in the 2015 NHL Draft War Room Top 100 Rankings, with four positioned to be contenders to be drafted in the first two rounds at this point in the hockey season.
You probably could throw Sweden's Felix Sandstrom and Finland's Veini Vehviläinen into the mix as well. Usually one or two dark horses appear seemingly out of nowhere in the new year as well. Stay tuned, the season is still early.
(Overall December War Room ranking in brackets from NHL Draft Ultimate Prospect Tracker; stats through Dec. 20th)
Daniel Vladar (39th from 43rd pre-season)
HC Kladno, CZE 2 professional league, G, 6'5, 185 (7 – 2.11 – .930)
6' 5.5", 185 lb Czech Daniel "Darth" Vladar is 1 of 4 goalies to get an 'A' rating from @NHLCentralScout. pic.twitter.com/UGYqQh03Jl

— Guy Flaming (@TPS_Guy) November 20, 2014
http://t.co/NpWH0tZaAn
#1 G Daniel Vladar
Proven ability to steal games at every level. Massive frame & presence. Moves exceptionally well

— ISS Hockey (@ISShockey) December 4, 2014
MacKenzie Blackwood (46th from 35th pre-season)
Barrie, OHL, G, 6'4, 215 (15 – 3.63 – .895)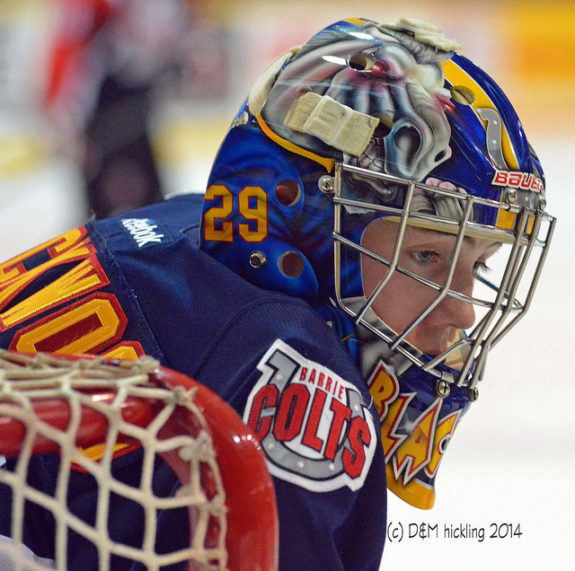 @OHLBarrieColts goalie Mackenzie Blackwood (@MacBlackwood1) to play for Team Orr at upcoming #CHL Prospects Game. http://t.co/zBEBrXuKwd

— Raymond Bowe (@RaymondBowe) December 17, 2014
Uptown Sports NHL Prospect Report: Top Rated Goalie Mackenzie Blackwood Built for Success http://t.co/gBnZ00WMjZ

— Uptown Hockey (@uptownhockey) November 24, 2014
Callum Booth (47th from 47th pre-season)
Québec, QMJHL, G, L, 6'3, 196 (19 – 2.89 – .905)
http://t.co/NpWH0tZaAn
#2 G Callum Booth @cjboothy
Tall, lean frame with active feet make him difficult to beat low. Ability to steal games.

— ISS Hockey (@ISShockey) December 5, 2014
5-1-0 and a .920 SV%? That's Callum Booth, and he's your @DoubleBlue360 Goalie of the Month for October! http://t.co/XHUTwhJ8Fa #NHLDraft

— FCHockey (@FCHockey) November 5, 2014
Matej Tomek (60th from Honourable Mention pre-season or 61 to 70)
Topeka, NAHL, G, L, 6'3, 181 (11 – 1.25- .944)
Slovak netminder Matej Tomek is in the @THNRyanKennedy spotlight – http://t.co/HqA16oMS5v

— Jakub Homoľa (@Jakub_Homola) October 1, 2014
Uncommitted 97 G Matej Tomek has been big time in the nets for Topeka. 6'3, athletic stopper from Slovakia who is as solid as they come.

— Over the Boards (@overtheboards) September 21, 2014
Ilya Samsonov (84th from unranked pre-season)
Stalnye Lisy Magnitogorsk, MHL, G, L, 6'3, 201 (10 – 2.19 – .929)
Last night #CanEast fell victim to a record-breaking 46 save shutout by Russian goalie Ilya Samsonov, lost 2-0 & finish 4th. #WJAC2014 #CCHL

— Andrew Foote (@afooteCCHL) December 20, 2014
http://t.co/TMB326PEad
G #2 Ilya Samsonov
Never quit attitude, recovery & athleticism are incredible. Air of confidence between pipes.

— ISS Hockey (@ISShockey) October 3, 2014
More from the 2015 NHL Draft War Room Top Five Series
Chris is THW's senior draft/prospect analyst and a Managing Editor. Watch for "The Next Ones" Prospect Profile series, exclusive rankings, mock drafts, as well as the annual THW NHL Entry Draft Guide. Follow @ChrisRalphYQ on Twitter as he infiltrates, dissects and analyzes all happenings of hockey prospects and the NHL entry draft. Email: cralph[at]thehockeywriters[dot]com