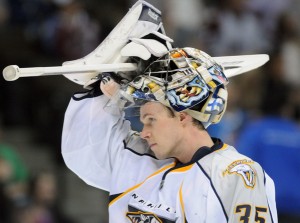 Every year around this time, during the run-up to the annual NHL Entry Draft, the question comes up regarding drafting goaltenders. While everyone agrees that having a few goaltenders in a stable of prospects is a smart move, there's a significant debate regarding when the best time to draft a goaltender.
In short, there's really no best time.
For starters, look at the NHL's best netminders. A quick rundown of the 17 goalies that won 30 (or more) games this season produces a shocking fact: they were all drafted from different rounds. Marc-Andre Fleury was drafted first overall, and another four 30+ game winners were also first round choices. Beyond that, there are three second rounders, one third rounder, three fifth rounders, one seventh rounder, one eighth rounder, a ninth rounder and one undrafted goalie.
Among the league's best goalies, it doesn't seem to matter when they're drafted. The difficulty is the variability in finding an elite goaltender in the masses of teenagers from around the world. If the draft as a whole is a crap-shoot, selecting a goalie can be even moreso, and that's ignoring the numerous developmental hurdles that goalies have to clear that other players generally aren't faced with.
The variability in finding and drafting goalies is best illustrated in two separate phenomenon: goalies drafted early who bombed, and goalies drafted late that turned out to be very good.
Looking at the period from 2000 to 2009, a lot of teams have burned early picks on bad goalies. The Flames drafted Brent Krahn 9th overall in 2000, only to have Krahn play zero games with the big club and 2001 second round choice Andrei Medvedev never left Russia. Other notably disappointing first round goaltenders include Hannu Toivonen (2002, Boston), Thomas McCollum (2008, Detroit) and Chet Pickard (2008, Nashville). Second round flops include Tobias Stephan (2002, Dallas), David Shantz (2004, Florida) and Maxime Daigneault (2002, Washington).
This variability in outcomes for goaltenders has led some clubs to become risk-averse, particularly in early rounds. Given the value of early-round draft picks – many of whom would be expected to help out at the NHL level eventually – this make sense: clubs want to hedge their bets and when almost every team has an early-round flop, it makes them less likely to draft a goalie early.
However, while almost every team has a horror story about a goaltender flopping, some clubs also have a wonderous story of a late-round pick turning into a steady NHL contributor. The Ducks chose Martin Gerber in the seventh round in 2001. The Kings took French netminder Cristobal Huet in the same round that year. Roman Cechmanek was a sixth round selection of the Flyers in 2000. Heck, Vezina nominee Pekka Rinne was chosen by Nashville in the eighth round, which actually doesn't exist anymore.
These late-round success stories, much like knowing a lottery winner, provide faint hope for teams considering using a later pick on a netminder. If they don't pan out, wasting a sixth round choice on a goalie is much easier to swallow than using up a second or third round choice.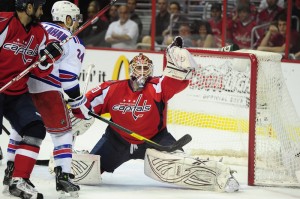 That said, the thought that another NHL team might snap up a coveted diamond-in-the-rough prospect has also led clubs to draft goalies in the middle rounds. Notable mid-round choices include Calgary Flames standout Mikka Kiprusoff (fifth round), Capitals rookie Braden Holtby (fourth round) and Phoenix's Mike Smith (fifth round).
In summation: drafting is hard and drafting goaltenders doubly so. A lot of things can (and do) go wrong in goaltender development and because of those factors, choosing a goalie very early in the draft can be a recipe for future disappointment. That said, teams need goalies and will always try to draft some, regardless of these possibilities. Minimizing risk leads teams to draft goalies late, but the chance of missing out on a gem may force teams to draft goaltenders in the mid-rounds. While not ideal, it's probably the best middle-ground approach for the teams involved.
Ryan Pike has covered the Calgary Flames and the NHL Draft extensively since 2010 as a Senior Writer for The Hockey Writers and Senior Contributing Editor of FlamesNation.ca. A member of the Professional Hockey Writers Association, he lives in Calgary.