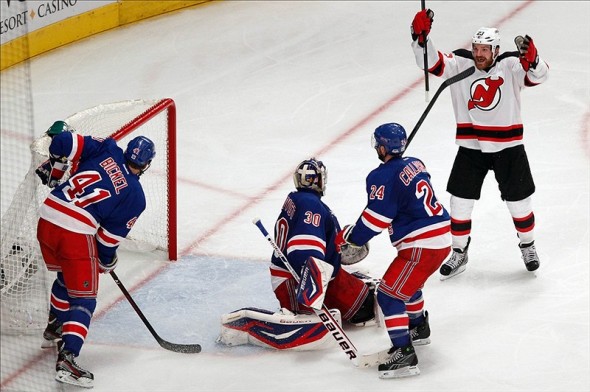 For the third time in three tries the New York Rangers lost Game 2 of a series at home, this time dropping a 3-2 decision to the New Jersey Devils in Game 2 at MSG. David Clarkson scored his third game-winning goal of these playoffs early in the third period, breaking a 2-2 deadlock and sending his team back home with home-ice advantage for Game 3 Saturday afternoon. "It's nice to get a split," said Devils coach Pete DeBoer after the game, "This is a tough place to win and we're happy to be going home tied." Clarkson has now has four career postseason goals, and three of them have been crucial — game -winners. "That's a big win for us," said Clarkson afterwards, "I think we are doing some good things, we knew we had to get the puck more to the net."
The first period of Game 2 started much different than its predecessor, as both teams were more intense and a little more physical. Both teams failed to score on their initial power play chances, but as the Rangers PP expired a make-shift line of Stephen Gionta, Zach Parise and Ilya Kovalchuk drew a penalty on the home team. Kovalchuk finally scored New Jersey's first goal of the series when he snapped a twisted wrist shot past Henrik Lundqvist's glove hand at 13:39. "I saw (Ryan) Callahan lay down, so I just went around him," he explained to reporters after the game. The Devils' sniper had time and space to get his shot off (a rarity so far in this playoff round) thanks to a great job by defenseman Marek Zidlicky who lured all four Rangers penalty-killers towards him before threading a perfect pass to a wide-open Kovalchuk.
Lundqvist kept it at only a one goal deficit with some end of period saves, including a tough-angle shot by Petr Sykora and New York headed to the first intermission trailing in goals (1-0), shots (8-5) and hits (16-12). His Rangers came flying out of the gates in period two and they capitalized on their first PP attempt of the period to even the score, getting the crowd back into the game.
Marc Staal's point shot was partially deflected by Devils defenseman Bryce Salvador and the puck caromed off the back boards, hit the inside of Martin Brodeur's leg pad and squirted over the goal line at 2:03. New York continued to dominate the early half of the period, holding New Jersey without a shot for the first eight minutes and they surpassed their first period shots on goal total by the six-minute mark of the middle period.
Rookie Chris Kreider made it 2-1 in favor of the Blueshirts on their third PP chance of the game when he deflected Anton Stralman's blue line shot past Brodeur with the shaft of his stick at 12:19. The Devils regained their composure and were able to even the game when Ryan Carter deflected Salvador's long shot over Lundqvist with only 1:48 left in the period. Carter's goal came after a long shift in the offensive zone that wore down the Rangers' five-man unit that was trapped during the period of the long change.
Just like in Game 1, Game 2 was tied at the end of two periods, although this time there were goals scored and the score was 2-2, not 0-0. The shots were also tied 17-17 and the Rangers were leading in hits by a 30-27 count.
The Devils came out swarming in the third period and Zidlicky carried the puck low in the offensive zone and passed to Salvador who passed to Adam Henrique, covering Zidlicky's position at the point. The rookie's long shot was skill-fully deflected by Clarkson for a 3-2 lead at 2:31, only his third goal of the postseason after his first 30-goal regular season. Salvador picked up his second assist on that goal, increasing his postseason point total to 8 (2g-6a) in 14 games after tallying only 9 points, all assists in 82 regular season games.
The Rangers leading goal scorer Marian Gaborik was benched for first 11 minutes of the third period (and the last two minutes) as the Devils were controlling the play and buzzing around the offensive zone for long periods of time. His Rangers finally got going in the last four minutes of the game, but it wasn't enough as Brodeur made some key saves (23 for the game) and his teammates made some key blocks and clears. "We wanted to play well, we hit a little bump with the two power play goals in the second," said the winning goalie to CBC television after the game. "It's a tough place to win hockey games (at MSG), we bounced back real well (tonight)."
Lundqvist, who made 24 saves, deserved a better fate because he played another solid game with several key saves, but the Devils made the right adjustments and got more traffic in front of him — resulting in two deflection goals. Now as the series heads to New Jersey, how will the Rangers respond/adjust and will the Devils be able to counteract what their opponent tries to do?
Dan's 3 Stars of the Game:
#1) Bryce Salvador (NJ) — 2 assists, 4 hits
#2) David Clarkson (NJ) — gw goal (3)

#3) Chris Kreider (NYR) — pp goal (4)

Dan Rice can be reached via Twitter: @DRdiablo321 or via email: drdiablo321@yahoo.com
Dan Rice is in his 9th year of reporting for THW & has covered NJ Devils home games for 15+ years at various websites. He began his journey working for legendary broadcaster/writer Stan Fischler from 2002-04 & completed an internship at the ECHL; he also has been writing features for the NWHL (nwhl.zone) website since 2016.