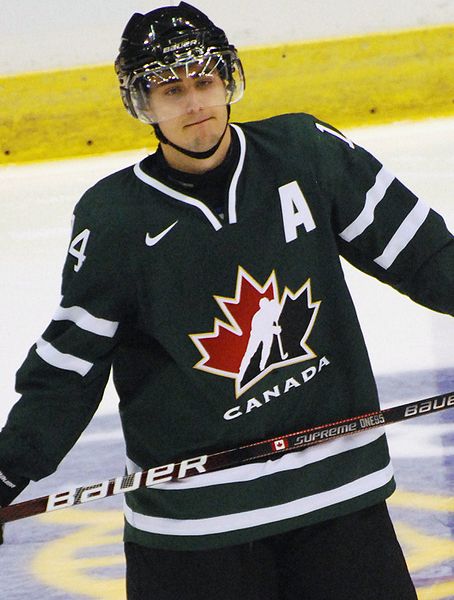 The seven game round robin seemed to take forever but it is at long last over. Early in the morning, the 2012 World Championships will take place for those of us in North America. That 6am ET start time may be a bit much for most but for the hockey diehards out there, they will be watching one way or the other.
First of all, let's take a look at the schedule brought to you thanks to our friends from the IIHF.
THU 17 MAY 13:00 GMT+3 Quarterfinals – Game 57 – CAN vs SVK Helsinki / Hartwall Arena

14:45 GMT+2 Quarterfinals – Game 58 – RUS vs NOR Stockholm / Globe Arena

18:30 GMT+3 Quarterfinals – Game 59 – USA vs FIN Helsinki / Hartwall Arena

20:15 GMT+2 Quarterfinals – Game 60 – SWE vs CZE Stockholm / Globe Arena
It always helps to have the standings handy. Here are the preliminary round standings for your perusal.
Group H
CAN — 6-0-1-0 – 19 pts, +20 GD
USA — 4-2-0-1 – 16 pts, +15 GD
FIN — 5-0-0-2 – 15 pts, +7 GD
SVK — 5-0-0-2 – 15 pts, +8 GD
FRA — 3-0-0-4 – 9 pts, -11 GD
SUI — 2-0-0-5 – 6 pts, -5 GD
BLR — 1-0-0-6 – 3 pts, -12 GD
KAZ — 0-0-1-6 – 1 pt, -22 GD
Group S
RUS — 7-0-0-0 – 21 pts, +19 GD
SWE — 6-0-0-1 – 18 pts, +14 GD
CZE — 4-1-0-2 – 14 pts, +13 GD
NOR — 4-0-1-2 – 13 pts, +14 GD
LAT — 2-0-0-5 – 6 pts, -8 GD
GER — 2-0-0-5 – 6 pts, -17 GD
DEN — 1-0-1-5 – 4 pts, -10 GD
ITA — 0-1-0-6 – 2 pts, -25 GD
======================================
WHAT WE NOTICED:
Russia was the story of the "Round Robin" as they went 7-0 and trounced Sweden in what could be best described as a rout in the truest sense. The game was tied at 3 and then Russia blitzed Sweden with four goals in the third period. It really was the only time Russia was tested in the first phase and they passed with amazing ease. Semyon Varlamov and company only gave up eight goals along the way as well. Sweden looked good but that one loss to Russia did create a lot more in the way of questions than answers. However they are a dangerous team and should not be overlooked.
Norway may have been the feel good story of the "Round Robin" as they won four games and made the Quarters. They also had the leading scorer in Patrick Thoresen (16 pts — 6 G, 10 A). Thoresen is a former NHL'er who went overseas because opportunities were few for him but he has NHL caliber talent no question about it. Do not forget about Per-Age Skroder who had a solid 11 points in seven games and looked every bit as dangerous as Thoresen. Norway was able to play respectably well against Sweden and Russia so they will not be that easy of an out.
Canada has been an interesting story because they have gone through the tournament relatively quiet which is unlike Canada. Yes they won six games and lost one in overtime to the Americans but they had a tough time against Slovakia and the Swiss also. John Tavares and Jordan Eberle led the way with four goals and no one should be surprised with that as they have been Canadian heroes for it seems like ever. Duncan Keith led the squad in scoring with 11 points (1 G 10 A). Cam Ward has been good for the most part but looked a bit shaky at times, especially against the Americans obviously. It will be interesting to see how things go in this round where every game could be your last.
Then there are the Americans. They seemingly are able to play well at times and then not so well. Team USA looked great against Canada and got them back on their heels. Then they gave up three first period goals to Slovakia in a 4-2 loss. It has been a weird run and has been littered with inconsistent play but Max Pacioretty has 12 points (2 G 10 A). The player to really keep an eye on maybe Justin Faulk and his seven points (four goals). Faulk has seemingly been everywhere and just has that presence for international ice. Him and Cam Fowler will be vital to how Team USA does in the Quarters and beyond.
=========================================
Now To The Predictions:
Group H:
1. Canada Vs. 4. Slovakia — Slovakia played Canada tough in the prelims, falling 3-2, despite really putting on some solid pressure in the third period. Honestly it looked like Peter Hamerlik outplayed his counterpart, Cam Ward. This shapes up to be a game that could go either way. Yes Canada is favored according to the IIHF site and app but when everything gets to the knockout round, all bets are off. Even faceoffs were pretty close to level. By the way, 27-23 Slovakia was the tally. Tomas Tatar was a major thorn in Canada's side in the first game as he scored a goal and seemed to frustrate Canada's slower defensemen constantly.
What else could happen here? The wild card could be a player like Teddy Purcell who has the knack of turning on the jets at any time. Canada has to turn it on in this one and they have the talent that far outweighs what Slovakia can bring but for some reason, Slovakia feasts off turnovers like few teams in this tournament can. Something tells me Canada pulls away in the third period with some defensive scoring for the exclamation point.
Prediction:  Canada 5  Slovakia 2
2. United States Vs. 3. Finland
With Kari Lehtonen out due to injury, this has the makings of a slam dunk for the Americans but remember this is the knockout round and even a 5-0 win in the round robin means little at this moment. Yes they out shot Finland 31-18 and dominated the scoring chances but Finland is a prideful team and when you lose like that at home, there is an anger that rages inside.
The key will be how guys like Max Pacioretty play. Pacioretty has 12 points so far and he was the best player on the ice in the Finland game by far with eight shots on net and five scoring chances. He had a goal and an assist. The real important factor will be how Jimmy Howard plays. For the most part, he has been pretty steady and that is what the US needs from him along with some timely saves. Finland has to get the game of their life from goalie Petri Vehanen. Also, Mikko Koivu and Mikael Granlund have to get it together along with Val Filppula. Something has to give for Finland and they have to find a way to neutralize the speed of Team USA. If one team can find a way, it is Finland.
When all is said and done, Team USA just has too much speed and finishing for Finland to win this but Finland knows its one or done now. That makes for a very interesting game with a close finish.
Prediction:  USA 3  Finland 2 (OT)
Group S:
1. Russia Vs. 4. Norway
Keep telling yourselves that upsets can happen but truthfully Norway could have a shot here. They are going to be massively out shot and Lars Volden will have to stop at least 40 shots but he did stop 42 in the 4-2 loss early in the prelims. Russia now has Alex Ovechkin and Alex Semin to add to the arsenal. When you combine this with talent like Pavel Datsyuk and Evgeni Malkin, the odds are stacked.
However, Patrick Thoresen has been ultra hot in the last two games with ten points in that span. Norway has the ability on the Power Play to drive Russian penalty killers nuts. Russia is still a slight favorite if this turns into a high scoring game but Norway has no way to go here but forward and fast paced. Safe is death. Per-age Skroder had 11 points in seven games while Thoresen had 16. These two players are going to have to carry Norway along with some unexpected contributions. Norway will test them but they just cannot match that kind of firepower.
Prediction:  Russia 6  Norway 3
2. Sweden Vs. 3 . Czech Republic
This is one that appears to end most similar to the first meeting. The Czechs will try to slow it down and make Sweden work for every inch of ice and the shots on goal reflected that (20-17 Sweden). However, the Swedes are going to come out angry to prove something still. Yes that Russia loss stung them hard. Whether Viktor Fasth or Jhonas Enroth starts does not matter, the Czechs will have a tough time scoring against a team who plays pretty solid team defense. Do not discount the Swedes' punch either. With Henrik Zetterberg and Johan Franzen on a line with Loui Eriksson, they are likely too much for the Czechs to handle.
The Czechs do have some talent. No one is discounting them completely here. Ales Hemsky and David Krejci are on this squad along with the immortal Petr Nedved, who still has some international gas in the tank. If a guy like Michael Frolik can get going, that would be a huge boost in a game where the Czechs are going to need to score at least three if not four.
Looking at the way the first game went and how the Swedes felt they had some major improvements to make after that one, it just seems they will have a bit much for the Czech Republic to handle.
Prediction:  Sweden 4  Czech Republic 2
========================================
What are your predictions?  By all means the floor is yours. Remember the action starts at 6am ET.
Simply a hockey writer who is a jack of all trades. No question is too big or too small and in fantasy hockey there is no such thing as a stupid question. Now a proud, accredited member of the FSWA. I am also a New Jersey Devils lead writer, prospects writer, humorist, and so much more. You can find me on Twitter at @ChrisWasselDFS