by Eldon MacDonald (edited by @ChrisRalphTHW)
The defensemen have generally met or exceeded pre-season expectations. Although, this could be considered more of a forward year, there are still a number of high quality blueliners who would look very good on any team. Nine defensemen are slotted in the in the first round of the 2015 NHL Draft War Room Top 100 Rankings and eight slotted to be drafted in the second round.
Of the 2015 NHL draft prospects here are the top five blueliners:
(Overall December War Room ranking in brackets from NHL Draft Ultimate Prospect Tracker; stats through Dec. 20th)
1. Noah Hanifin (3rd from 3rd pre-season)
Boston College, Hockey East – D, L, 6'3, 205 (17-2-5-7)
Going to the NCAA in your draft year is generally not a good plan if you want to improve your draft status. The reason for that is that first year players generally do not get the quantity and/or quality of ice time they would get if they had opted for the junior route. However, such does notappearto be the case for NoahHanifin as he is getting both the quantity and quality of ice time necessary to strut his stuff and so far he is making good use of his ice time. As I noted in my Oct-14 rankings, Noah is that NHL-sized defenseman with an elite skating ability and all the physical and mental tools that NHL teams are looking for in a defenseman these days. Bob MacKenzie featured Noah on TSN.ca if you wish to read more about him. Also check out:
Great shooting this video with Noah Hanifin. Gonna be a star. Good luck in the WJC!http://t.co/lfB6QxTbRa@NHanifin

— Steven Hoffner (@Hoffner_Steven) December 27, 2014
2. Oliver Kylington (7th from 6th pre-season)
Farjestads, SHL (top Swedish professional league) – D, L, 6'0, 181 (17-2-3-5) and AIK on loan (second tier Swedish professional league) – (10-3-3-6)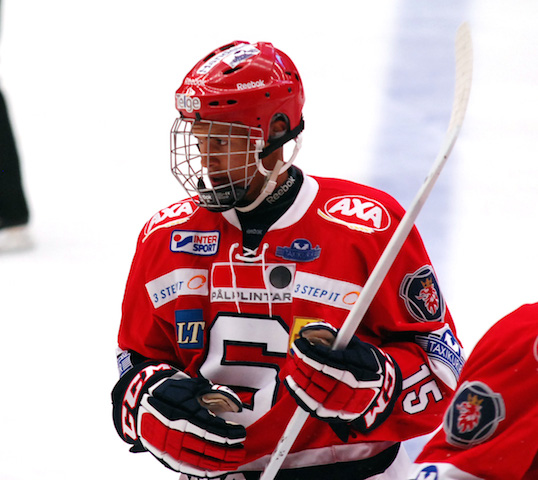 Oliver Kylington is the "Natural". He is blessed with a God-given ease of motion, whether it be in his skating or his passing. Just take a look at him in this SHL highlight reel and see if you don't agree. He started the season in the SHL but is currently on loan to AIK in the Allsvenskan league. His game is very good now but it is not yet equal to the possibilities suggested by his incredible physical skills. I am sure that time and practice will eventually bring his physical skills and his game closer to parity and when that happens you will be seeing a world-class defenseman.
3. Zach Werenski (10th from 20th pre-season)
University of Michigan, Big Ten – D, L, 6'2, 214 (15-3-9-12)
http://t.co/NpWH0tZaAn
#5 Zach Werenski @ZachWerenski
Elite talent of generating scoring chances when hes on the ice. Explosive tendencies.

— ISS Hockey (@ISShockey) December 8, 2014
At a ranking position of 20, I thought Zach Werenski would be good. At 10th, I think Zach is better than good; he is something special. Like Noah Hanifin, Zach is receiving quality ice time for the Wolverines and is making good use of it. As an offenseman, Zach is very good already – mobility, skating, breakout, power-play, vision , size. As a defender, Zach still has lots of room for growth; in particular, if he increases his physicality as a defender and is harder on the puck in the defensive zone he will be that all-around big-sized mobile d-man that all teams covet. A little improvement and Mr. Werenski could ratchet up the top 10 by the end of the year. Bother Werenski and the aforementioned Hanifin are key cogs on Team USA's World Junior team this year.
4. Jérémy Roy (14th from 17th pre-season)
Shawinigan, QMJHL, D, R, 6'0, 182 (29-3-24-27)
Jérémy Roy and Kay Schweri (2015-draft eligible) put on one of the best shows in the CHL on the Sherbrooke Phoenix power-play. Along with Tim "the goalman" Weiser (2013 – undrafted), Montreal Canadiens 2014 draftee, Daniel Audette, and Carl Neill (2014 – undrafted) they continue to produce and entertain on just about any given night. Jérémy could be drafted high for his power-play skills alone but he is also excellent in getting the puck out of the d-zone with either crisp, precision passes or by joining the rush himself. Only his modest size will likely keep him out of the top 10.
http://t.co/yWdXGfu3P4's December #2015NHLDraft rankings have Jeremy Roy 10th overall & 3rd amongst D #MomentumHockey http://t.co/vLVE2Qgqlr

— Momentum Hockey (@Momentum_Hockey) December 1, 2014
Here is one small sample of his play to whet your appetite – notice the crisp flick pass, a Jérémy Roy specialty.
5. Ivan Provorov (16th from 57th pre-season)
Brandon, WHL, D, L, 6,0, 200 (35-10-27-37)
OK, at 57 I was expecting good; at 16, I am thinking Ivan is a special player. I like him better each time I see him and have seen him quite a bit recently – both in the Super Series and league play. Equally adept as a power-play pointman or as a shutdown guy, Ivan has an unflappability about him that suggests that he will do the job no matter what the situation. If Ivan maintains his outstanding play, he has a chance to make Team Russia for the upcoming U20 championship in this month in Montreal and Toronto (he is one of 14 defensemen on the preliminary list). Update: He did indeed make the final cut:
https://twitter.com/iancmclaren/status/548518928323186688
Who else will emerge and contend as the cream of the crop patrolling the blueline of the 2015 NHL Draft class?
More from the 2015 NHL Draft War Room Top Five Series