In this translated interview, originally appearing in Russian on championat.com, Nail Yakupov commented on the critics to himself and the Oilers, talked about himself and his family and declared that he is going to leave it all on ice.
– If anyone is thinking that all is bad to me, well, I can say that all is good. Everything is great! My shape? I rate it at A+. I practiced very hard this summer, therefore I feel great and I'm ready to play any minute of a game. I'm always giving hundred percent in what I do. I try to enjoy playing. All is good to me, thanks God.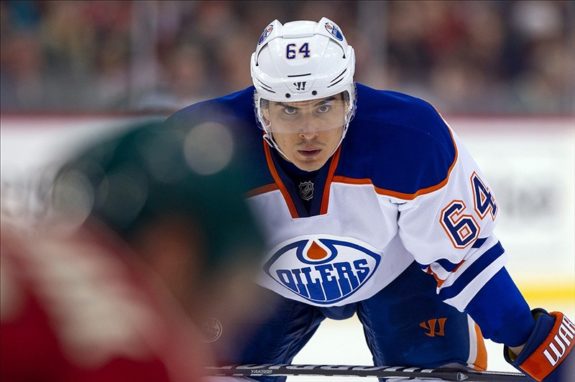 – But your team is at the bottom of the standings and not long ago fired the head coach.
– Hockey is a team sport. We are last in the standings and I can't say I'm very satisfied. I would like to have more points, more goals. We have some good chances, but we can't finish them. Maybe someone expects something special from me… But it doesn't matter to me who and what's expecting. I don't think about it. Only my team can expect things from me, my relatives, the ones who help me, and of course I really want to achieve some good results. In the first place I play for the logo on the jersey, for the fans who want to see their team winning. My task is to fight every second for the team, be in good conscience that I gave hundred percent, just as I'm doing now. I didn't score much. What can I do now? It means that I didn't score much, but also that there is still a chance. That's why I said that all is good to me.
– There is some impression that all the critics toward you are just for the sake of it.
– I don't read that stuff. Who's criticizing? People who sits on the sofa at home? I don't want to think about it. If they want to criticize, let them talk. If you'll pay attention to them all, you can hang up yourself. This is why I don't pay attention to such people. I don't play hockey for the critics. We play, try hard, work hard. Simply, it doesn't always work the way it should, and the team is losing many games. But critics will always exist, and they only make ourself stronger. This is why I say them a big thank you, but I won't read or listen to them. There are people I listen to, my coach, mama, daddy, my friends who can criticize me, and I will listen to their critics and try to fix things up. I don't know other critics and I won't listen to them or try to do what they say.
– Often in the press appear rumors on your trade. Did they really talked about it?
– It can happen with any player in any moment. I try not thinking about it. This is why I don't read, listen or watch anything. I don't know what's happening, if they want to trade some players or what. I'm now a part of the team I'm playing for and to which I'm giving all.
– What do you think about what's happening in Edmonton?
– All is going bad. First thing: when you lose some games, there is no positive mood. A negative environment develops in the locker room. But once again, if you pay attention to all this, you get caught in a loop and everything gets even worse. Every day we're talking with journalists, who always ask who, what and why. But all this means just one thing: more talking and less doing. This means that we should just go and work hard. Regarding other things, those questions aren't to me. We have a president, a general manager, the coaches who work on these things. It's not what we, the players, are supposed to do. We have our task: do our job as best we can. But it appears that right now we aren't doing it the way we should.
– In any case fans keep on loving you and patiently wait for results. Is the fans' support important to you?
– I think that lately fans aren't mentioning me too much on social network. They all have forgotten me (laughs). But well, you can understand pretty easily. It's hard for fans when their team is in such a position. There are people who keep on supporting, and other people who prefer criticizing. But you can feel the support, and it goes to your advantage. People keep on cheering on us, going to the games and being happy when we score. You can understand fans, they pay the tickets and want to enjoy the game. And they enjoy the game when their team wins. This is why we need to give an effort to make our fans happier.
– This year you suffered from many little injuries, but most of the time you got back on ice right after. Isn't it disappointing when you get hurt and the referee doesn't blow the whistle?
– Getting injured is never pleasing. But it's part of our game, and sometimes it happens. All is up to the player and how he is able to handle it. There are very little injuries, after which you can get back right away. It's easy to get a cut. It would be good to never suffer from more serious injuries. But sometimes sticks and pucks fly around. Unfortunately, we aren't knights, we don't wear plate armours, either way we couldn't skate that fast. If you're going to try to spare yourself, avoid injuries, you won't be of much use. Since childhood I've been taught not to spare myself. And therefore I won't spare myself. But everything should be done in a smart way. I'm not going to stop pucks with my teeth. A player must be smart and always think to his health first. You should always do things in a smart way and try to avoid injuring yourself or the opponents.
– In hard situations, do you tend to close yourself up or try to communicate more?
– I have a narrow circle of people with whom I communicate. I am a very social person, but I'm not going to impose myself to other people or to hurry making new friends because I have some good friends who have been with me for my whole life. We started being together when we were about 13 or 14, and we're still very close together now. I can say that I have two friends. Of course I know a lot of people, but I discuss personal matters only with a few people, my parents, my uncle, my friends. I need only their support and their help. I trust them and I'm used to being in such small circles.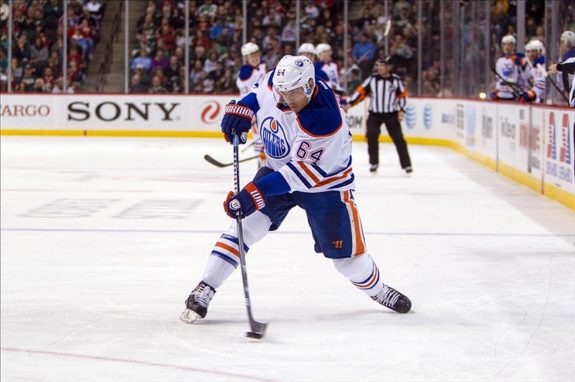 – Are your friends Russians?
– Yes, my friends are Russians. One is a former player, the other one is still playing. Probably we never talked as much as we did this year. Almost every day. They have never been abroad and I'll try to get them here for two weeks. I want to show them Canada, how's like living here, and they'll also see NHL games.
– Maybe they'll like Canada and will stay there.
– I'll tell you: living here is expansive. Very expansive. Nothing is as simple as it may seem, especially in Canada.
– Russia is in crisis too.
– In Russia it's hard as well. It's hard everywhere. There aren't easy places, that's why it's important to keep on working.
– Don't you have friends within the team?
– I have many buddies there. I talk with everyone, I don't have any bad tie with anyone of them. On the locker room there is a good working environment. But I can't call anyone of them a true friend. The mentality is very different and there are a few things which I wouldn't discuss with them. We have our interests, they have theirs, and everyone lives according to them. I'm not judging anyone, I'm simply very careful with people and I try avoiding doing bad things. The ties are good, but not deep. All the guys on the locker rooms are different, there are European guys too, from Czech Republic, Sweden, Finland, Russia. Someone meets other players also after hockey, while other guys have wives and kids, or other interests. In any case, hockey players often spend more time together at the arena than at home with their families.
– Is it important to you to be with other fellow Russian countrymen?
– It's not important at all. I'm used to it. And it wouldn't be even if I wouldn't know the language. Of course it has been hard, but now I talk English pretty well, even if still not perfectly yet, but I can talk, explain, buy things and, if necessary, I can sell too (laughs). You can find common language with any person. And even more so considering that all European players talk English very well even before getting to the NHL. For Russians it's harder, because they have to learn English while performing their job. But on the other hand, it's very good to have Russian team mates. You can talk in Russian with them and their families. I'm not talking about the players only: it's very important for their families too. Family members are always a bit in difficulty in other countries, this way they can find easily someone to communicate or to spend some time with. I'll spend the Christmas with [Nikita] Nikitin. I always enjoy listening to the Russian language, no matter from what kind of person it comes, being them a hockey player, a business man or a worker. If I meet a Russian person, I'm always happy to talk with him or her. But I don't put much stress on it and I don't pray God to have Russians in my environment. This is my job and coaches and general managers are going to pick the players for the team and it's not important if a player is from Russia, Finland, or Canada.
– Do you talk a lot with Nikita Nikitin?
– Of course, we are in very good ties. He's a great guy, an interesting person, very quiet. Before of his arrival I met him once only, I seen him on television, I heard about him, but I never met him. Now he's injured and we meet less frequently, but we always sit together on the plane, spend time during away games and we often have dinner together.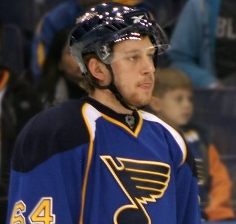 – Do you help each other?
– I thought that he would help me with English, but it ended up that I, a 20-years-old youngster, am helping an "old", 30-years-old man. Can you imagine it? (Laughs.) I can say that I'm his English teacher. If he has any question, I'll translate for him. Earlier he had Fedor Tyutin as a translator, he's here for 20 years already and perfectly knows the language. I don't talk a perfect English, but I can translate pretty much anything. This is why I help him as much as I can. Sometimes he says me "Tyutin used to translate better", and I reply "well, sorry, I'm just 20, I have still time to get better." (Laughs.)
– Your family lives with you in Canada for long time already. Are they used to Canadian life?
– Yes, they are used to it. They are with me for three years already. Oh, no! Four years! Not bad, time flies. (Laughs.) They are used to life here and enjoy it. It doesn't matter to them where to live. They just want to be with their kids. They like it in Canada. My little sister goes to school, she's used to it too, she doesn't miss home and doesn't cry. She talks a great English, better than me, she knows more words. My parents are used to life, people, everything here. The only thing is that they aren't too comfortable with the language, but they don't have any true problem.
– If your family is that used to Canada, do you all think to remain there after your career?
– Everyone likes being here and doesn't miss home. It's hard only when the season is over, there's nothing to do and you need to get back home, where I have friends and relatives. I simply want to get a rest from hockey and visit my grandparents and uncles. We don't even discuss, we always go home. I like spending time in our environment, with my friends, at our dacha, resting there and practicing for the new season. It's hard to spend all the 12 months in a country which isn't your own country and you just play or work. Even if gradually I got used to it, I'm still not ready to spend 12 months in Canada. Even if during the season I don't miss Russia. I like it in Canada a lot, I enjoy living there. But in summer we gather our things and get back home. There are some advantages, and I still want to spend some time at home, then with new strength and emotions re-start practicing and move there to live and play.
A professional hockey writer and translator. Loves Russian culture, language, and hockey. Reachable on twitter @AlexSerenRosso