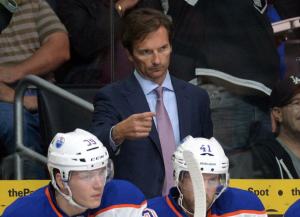 The last time Craig MacTavish was the head coach of the Oilers was in 2009. He was fired and replaced by Pat Quinn, who lasted one season behind the bench. Quinn was then replaced by Tom Renney who had the job for two seasons. Ralph Kruegar took over for a season, and then was replaced by Dallas Eakins, who made it for a season and a half. Eakins firing today came a couple weeks after the Oilers GM expressed faith in his coach. It's no surprise, then, that Eakins was let go, because a GM's vote of confidence is actually a kiss of death. The Oilers coaching carousel has come full circle, as now MacTavish will find himself behind the bench once again. And hey why not. After constructing a complete failure of a roster, it makes sense that he now has to be the one responsible to try and get some results out of them.
Was it Dallas Eakins' Fault?
Since Taylor Hall was drafted in 2009, the Oilers have had five different head coaches. The Oilers missed in the playoffs in all of those seasons, and are poised to miss again this year. But, they are in a re-build. After reaching the Stanley Cup final in 2006, they really bottomed out, and were rewarded with several high draft picks. But that re-build has somewhat stalled. The team is filled with holes. Their best players don't know how to play defence. Their goaltending is sub-par. They have no push-back, no confidence and no semblance of growth. The optics on Eakins don't look great. He has the worst winning percentage among the recent Oilers coaches, the team seems to be divided in the locker room, players are turning on each other and the culture in the organization is toxic. But how much of that is Eakins fault?
In Craig MacTavish's press conference after firing Eakins, he takes responsibility for the line-up. He also praised Eakins for the good things he's done with the team, but ultimately the losses were the deciding factor. We don't know if Eakins is a bad coach. There isn't much of a sample size, but essentially Eakins did similar work to what the other Oilers coaches did before him. It says a lot about the players when the coaches change, but the team's record does not. Was there a lack of work ethic? Maybe. Is that on the coach? To an extent it is, but the players need to be held accountable as well. MacTavish also stated that the team's problems are deeper than simply a coaching issue. He couldn't be more right. And perhaps he himself stepping in does make sense, because management can begin to fix what's wrong, and then allow the next coach to come in without having to fire someone else.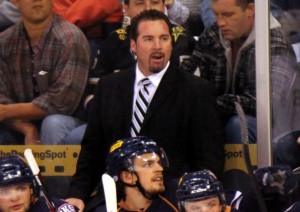 Todd Nelson will Eventually Take Over
Todd Nelson, currently with Oklahoma City, will be joining MacTavish behind the bench, and it's understood that he will eventually be the head coach of this team. But not yet. Nelson has the chance to get to know the players, to get to know the NHL, without actually having all the responsibility. And for all the things the Oilers have done wrong, this is finally something right. MacTavish can at least attempt to right the ship before putting everything on the shoulders of yet another inexperienced guy. Todd Nelson is a good coach, and he may very well be a great NHL head coach. Fortunately for him, he doesn't have to be the next lamb to the slaughter. At least not yet.
The Oilers have so many factors working against them, it's no wonder the state of the franchise looks so bleak. They are the only pro sports team (besides their CFL team) in a city who is hockey-mad. They get all of the scrutiny and all of the attention. They have such a storied and successful history, the past will constantly be remembered, and missed. They chose first overall three consecutive years, and have done little with that. Even though their constant losing is frustrating, they certainly aren't the first, and won't be the last team, to go through such a horrendous stretch. They just happen to be in the spotlight all the time, and their failures are magnified.
Will Todd Nelson be the permanent guy for this team? He might be, but he may not be. Will they suddenly go on a tear and put themselves into contention? No, because they aren't good enough. They need depth at center. They need better goaltending. They need an improved defense, and an improvement in overall defensive play. It won't be easy, and it won't happen right away. At the end of the day, management is to blame. But, as of now, they aren't going anywhere. For the sake of the great fans in this city, there is hope that this team will get better. They have to, right?
Marcy, a former hockey player, is a hockey correspondent on CTV News and TSN radio. She began her career as a Sports Journalist in 2009 and has been part of The Hockey Writers since 2010, where she is currently a senior writer and editor.