The Perplexing Niemi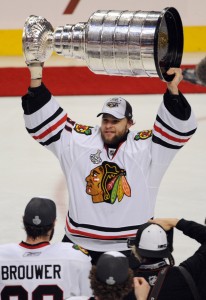 Antti Niemi is arguably the most perplexing goaltender in the entire NHL. The old school analysts love to point out his Stanley Cup ring as the main man between the pipes for the 2010 Chicago Blackhawks. However, outside the conference final in which he kicked butt (not coincidentally against San Jose), he actually wasn't very good in those playoffs. Since then he has been mostly reliable in the regular season for the Sharks. He was even nominated for the Vezina Trophy for the league's best goaltender in 2013. For the most part though, Niemi is the one big name Shark that has clearly dropped off in performance from regular season to the playoffs.
Patrick Marleau and Joe Thornton get the most flack for not producing during the postseason, but it's a silly narrative. Marleau's PPG in the regular season is nearly identical to his PPG in the playoffs (.70 vs .75), and Thornton's PPG in the playoffs is essentially the exact same as Jonathan Toews. As for Niemi, he is the one Shark who struggles come the postseason after typically doing well in the regular season. Over his San Jose career, Niemi's regular season save percentage is .917. A very solid number. In the playoffs however, that drops to a disappointing .907. For reference purposes, of all the goalies thus far this season who qualify, St. Louis netminder Jake Allen is 36th in the league with a .907 save percentage. Chances are the 36th best netminder isn't going to be good enough to backstop a Stanley Cup winner.
Most teams going deep in the playoffs consistently, have goaltenders with much better save percentages than Niemi. Jonathan Quick for example has a career .923 postseason save percentage. Corey Crawford, who took over for Niemi in Chicago, has a .920 save percentage in the playoffs, and Tuukka Rask sports a .930 playoff save percentage for the Boston Bruins. Thus far, Niemi has posted a save percentage of .919 or higher in three of his five regular seasons with the Sharks, but in only one out of four postseason's has he posted a save percentage of anywhere near .919 or higher. Twice he has actually been under .900. That's just not good enough.
Given that Niemi is in the last year of his contract, and the Sharks organization having long been high on backup goaltender Alex Stalock, will Niemi be moved by the March trade deadline? It is certainly possible. There are pros and cons to both keeping him and trading him. We'll start with the pros and cons of keeping him.
Pros & Cons to Keeping Him
As yours truly mentioned ad nauseam during the offseason, Antti Niemi was due for a good season. Every other year for the Sharks he has posted a .920 save percentage or higher in the regular season. Going into this season he was coming off a downish year .913 save percentage, so combine his every other year success and need for a new contract, chances are he was going to be really good. Thus far this season, he has been really good. After shutting out the Nashville Predators on Saturday night, Niemi is now sporting a .919 save percentage. The pros of keeping him are obvious. He is playing for a new contract, and if he was ever going to repeat his best playoff performance from two years ago when he finished with a .930 save percentage, this would be the season. San Jose is playing great hockey right now, winning seven out of their last eight games. They still have the roster, if they add one more quality player by the deadline, to make a legitimate run at the Stanley Cup. It is certainly plausible for Niemi to be the backstop as the Sharks skate with the Cup in June.
There are however, the cons of keeping Niemi. If they keep him and he struggles again in the postseason, the sharks will have a burned another year of Thornton and Marleau's careers on a goaltender who will have come up short in four out of five postseasons. If he plays well in the playoffs but the Sharks fall short of the cup, will San Jose be able to re-sign him? With the organization being so high on Stalock, will Niemi want to move on somewhere else for big money? He has only made $3.8 M the last few years with the Sharks. Are the Sharks prepared to lose Niemi as a free agent and not getting anything for him? If they don't win the cup this year, and he signs elsewhere in the offseason, they will have missed a chance to get something for him.
Pros & Cons of Trading Him
If the Sharks do decide to trade Niemi by the deadline there are some cons to that move. Stalock has played extremely well in his brief NHL career but that is the problem, it is extremely brief. While Stalock owns a terrific .929 career save percentage, it has only come over 26 starts. That isn't just a small sample size, it is a tiny one. By playing Niemi as much as they have both last season and this season, the Sharks have done themselves no favors in figuring out if Stalock can handle the every game load. That has been a complete and utter head scratcher for them not to play Stalock in more games. Moving Niemi would put the onus on an unproven goaltender, which is certainly a risk. However, when Niemi won his cup with Chicago, he was unproven, so it isn't a crazy suggestion in the slightest. It is somewhat dangerous though, if the Sharks move Niemi and don't acquire a veteran backup at the deadline and Stalock gets hurt, then they are down to current third stringer Troy Grosenick.
The pros to trading Niemi would be the potential to get a missing piece back in the deal. Perhaps certain players would require the Sharks to add in a draft choice, but the Sharks could use Niemi to acquire an NHL ready player. San Jose is in the market for either a right-handed shooting second pair puck mover, a top-9 right handed shooting right winger or perhaps a depth center. Now the majority of teams contending for a cup are rather set at the goaltending position. And many teams that would want a goaltender aren't looking to move assets for a rental because they are not in a position to compete this season. However, there are a number of possibilities.
Possible Destinations
Let's start with the least likely scenario but one that is fathomable nonetheless. As colleague David Lipscomb recently wrote, perhaps the injured Brian Elliott is fed up with his treatment in St. Louis. The Blues just signed Martin Brodeur but he is seriously playing on fumes. He is only a short term fill in solution, he isn't the answer for St. Louis. The aforementioned Jake Allen is still considered the long term solution in net but he hasn't yet shown he can be the guy. Perhaps the Blues feel they could use some more stability in net for this stretch run. Ryan Miller didn't work out last year as a rental but Niemi has much more to prove than Miller did. It would be unlikely but not inconceivable for the Sharks to move Niemi and a second round draft choice to St. Louis for the injured Elliott, and perhaps Patrik Berglund. It would be a trade that could help both teams.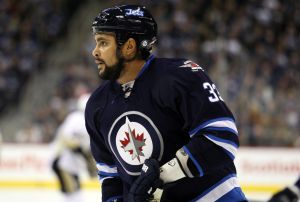 One would think the surprising Winnipeg Jets would be interested in upgrading from Ondrej Pavelec, who has not been very good over the years. He currently does have a respectable .914 save percentage, but is widely considered to be one of the worst No. 1 goaltenders in the league. For some reason the Jets organization continues to put their faith in him though, so a trade doesn't seem likely. However it is difficult to imagine the Jets wouldn't be willing to part ways with one of their defenseman if the return was right. With Jacob Trouba developing nicely on their blue-line, with Tobias Enstrom, and Zach Bogosian locked up long term, perhaps forward/defenseman rover Dustin Byfuglien could be moved. Again perhaps Niemi and a second round pick for Byfuglien who has just one year left on his deal after this season. Could also help both teams but doesn't seem likely.
There is always the Philadelphia Flyers, who can never seem to get it right when it come to goaltending. While Steve Mason is having a good season with a .918 save percentage, backup Ray Emery is sitting at .899 with a significantly higher GAA as well than his counterpart. There have been rumors about Niemi to the Flyers in the past. Flyers GM Ron Hextall is a former goaltender himself, is he keen on rolling with Mason between the pipes? Perhaps Niemi would be enticing to an organization that long had goaltending issues. Flyers though are in the bottom third in the league in goals against despite Mason's solid .918 so seems unlikely they would want to move a good defenseman for a goaltender. They are in the middle of the pack goal scoring wise, so doubtful they would give up on a forward like Matt Read for a goaltender. Seems like Mason will have to be their guy in nets.
Nobody in the Atlantic division would be interested in a No. 1 goaltender except for perhaps Ottawa or Buffalo at the bottom but they wouldn't be interested in a rental. In the Metropolitan, one might think the Penguins would switch things up after all the criticisms towards Marc-Andre Fleury but he's playing well this year and recently signed an extension. The three bottom feeders in that division are set with their No. 1 goaltenders so even if Niemi were signed past this year, none of them would be a fit. The Washington Captials have Braden Holtby as their No. 1, so wouldn't be a real fit either. The Eastern conference landing spots for a Western conference goaltender are few and far between.
Finding Nemo A New Home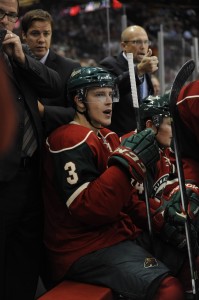 The best and only likely landing spot if the Sharks were indeed to trade Niemi would actually be the Minnesota Wild. Typically we always think of the Wild as being a team stocked with goaltending. However Nicklas Backstrom hasn't been Nicklas Backstrom in a long time. Josh Harding has major health concerns and Darcy Kuemper is currently leading the Wild with an extremely underwhelming .906 save percentage. Minnesota is a team prime for a cup run but they could definitely use an upgrade between the pipes. They finally have the forward fire power, are a top tier possession team, and have Ryan Suter anchoring their back end. Picking up Niemi might be their final piece of the puzzle. The Sharks love themselves some Charlie Coyle, they knew what they had when they traded him to Minnesota in part of the Brent Burns deal. Once again, perhaps Niemi and a second rounder for Coyle? The young forward may be too high of an asking price but what if Niemi were to agree to a contract extension first? Niemi-Coyle swap would seem fair for both teams if that were the case. Coyle only has 11 points in 28 games but he is a big, big body and is still only 22-years-old. Both Niemi and Coyle are tremendously talented players at their respective positions but both have struggled at times. Wild need goaltending and the Sharks need a right-handed shooting forward to add to their depth up front.
Andrew has been credentialed to cover the Sharks since 2010 and the 49ers since 2012. He graduated with his BA in Broadcast Electronic Communication Arts in 2013 from San Francisco State University.