1943 Wings, 2011 Bruins, 2015 Sharks?
First things first, I'm a realist. No, I do not see the San Jose Sharks pulling off what the 1943 Red Wings and 2011 Bruins did in winning the Stanley Cup one year after blowing a 3-0 series lead. (Although it is fascinating to note that two out of the three previous NHL teams to lose a series after being up 3-0, came back to win the Cup the following season.)
With a string of bizarre offseason moves that you can read more about here, the usual optimistic side of me is gone. Not only have the Sharks failed to bring in any new NHL talent this offseason, they continually misuse their roster. They annually overload their top lines and feature a fourth line that provides zero offense.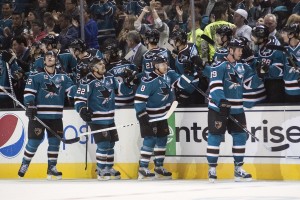 That said, anyone picking the Sharks to miss the playoffs does not realize the hefty amount of talent on this roster. Joe Thornton, Patrick Marleau, Logan Couture, Joe Pavelski. Tomas Hertl, Brent Burns, Marc-Edouard Vlasic, and Justin Braun make up an elite core of five forwards and three defenseman.
Furthermore, have I mentioned that goaltender Antti Niemi is in a contract year? Niemi seems to shine every other season. After a down year in 2013-14, the 2010 Cup winner with the Blackhawks is due for a bounce-back campaign. When you add in that motivation of a big pay day, it isn't far fetched to expect a monster performance from a goaltender who has posted save percentages of .920 (or better) twice in four seasons.
Top Six Rental
While it is difficult to picture the Sharks winning the Cup after their horrid offseason, they do have six million left in cap space. Depending on how young players perform in the first half, the Sharks could be just one top-six winger short of having a roster as good as any in the NHL.
For kicks, let's say the Sharks come to their senses and realize they are just one stud forward away from their best shot at winning the Cup. Bobby Ryan happens to be in his final year with the Ottawa Senators and the former Anaheim Duck has plenty of experience playing against the Los Angeles Kings. Even if Ryan likes Ottawa and vice versa, they could come to an agreement that it's best for the organization to trade him for some picks/prospects and then re-sign him. I don't pretend to be close to the situation in Ottawa but it is feasible to the outsider that Ryan would want to test the market for the first time in his career, and the Senators wouldn't want to lose him for nothing.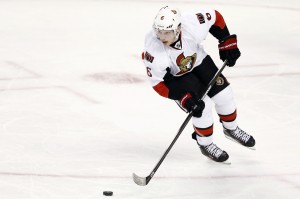 Let's say the price to rent Ryan is steep, very steep, first round pick and top prospect Nikolay Goldobin. If Matt Nieto is flourishing into a top-6 player in his sophomore season, maybe it would be a move the Sharks could afford.
Before Goldobin fans freak out, just take a look at what the Sharks could possibly have as their forward lines and top defense pairs for the stretch run:
Tomas Hertl—Joe Thornton—Bobby Ryan
Patrick Marleau—Logan Couture—Matt Nieto
Raffi Torres—Joe Pavelski—Tommy Wingels
James Sheppard—Andrew Desjardins—Tyler Kennedy
Marc-Edouard Vlasic-Brent Burns
Justin Braun-Jason Demers
Depending on how the younger defensemen perform, Demers and Braun would ideally be split up. However this is just to show how filthy talented of a lineup the Sharks would be featuring.
Contract Questions Post Victory Parade
Whether it be Ryan or someone else, the Sharks will need to add a skilled forward (or defenseman and move Burns back to forward again) if they want to become champions. And chances are said player will be due for a new contract. After winning the Cup, how much effort will San Jose want to put into bringing him back?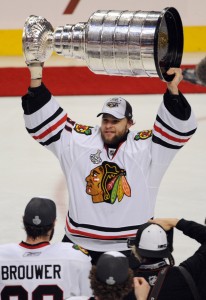 Then there would be the concern of the other two unrestricted free agents. Braun is up for his first nice pay day, and could easily garner a raise from his $1.25 million to $4 million, and Irwin perhaps from $1 million to as much as $3 million. That's not to mention the following offseason (summer 2016) both Hertl and Nieto will be due for their RFA bridge contracts.
And finally, if it is in fact Niemi who backstops the Sharks to their first Stanley Cup, the Finnish netminder will be in line for a gargantuan pay raise. After all he has only been making $3.8 million per season on his first extension. Considering the man who replaced him in Chicago is now making $6 million, that would make the starting point for Niemi. Do the Sharks want their No. 1 goaltender taking up 6.5, 7, 7.5, or possibly more of their salary space? Maybe, but given Niemi's track record of ups and downs, would they find him worthy of a top-5 goaltending salary?
With a second ring in his trophy case, Niemi would be able to feast in the open market waters. He could basically name his price with how gaga general managers are when it comes to goalies and "championship experience." It might seem bizarre, certainly a unique occurrence, but it's possible Niemi becomes a Cup castoff for the second time in his career.