Alexander Kadeykin has been one of the surprises of the 2013-14 season as he became the team's top scorer with eight goals and 23 points in 53 regular season games in his first year of pro hockey. A few months later, he was selected by the Detroit Red Wings during the seventh round of the NHL Entry Draft. In this translated interview, originally appearing on the Russian portal championat.com, Kadeykin talked about the draft, explained why he didn't attend the rookie camp, and shared his ties with Evgeny Artyukhin.
– What did you first think when you had learned that you were drafted by the Red Wings?
– Frankly, I didn't expect to get drafted. I knew that some teams were interested in me, but you know the "Russian Factor" yourself. The first thing they ask you is "What are your feelings about leaving the KHL?" Therefore it's hard to say. Of course, I did follow the draft, but not too much. I'm still under contract with Atlant and I still have a lot to show.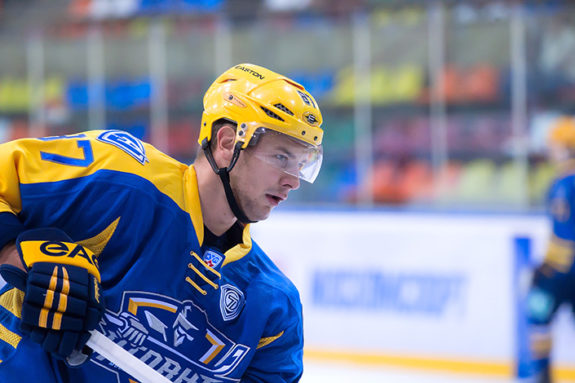 – Pavel Datsyuk was selected with a late round pick as well. Is that encouraging?
– Many good players were drafted late, like Datsyuk, or Zetterberg. The round and the number of your selection have little meaning. Each drafted player has a chance. When you get drafted the team has many hopes, but there is a lot of work to be done. Of course I'm very happy that Detroit drafted me, but, as I said, it's just the start.
– Did you ask Vyacheslav Kozlov about the Red Wings?
– Yes, I did ask him about the team. He's a very experienced player and he spent many years in Detroit, so of course I did ask him. He talked about the Red Wings, life in North America. But at this point talking about anything concrete makes little sense.
– Why didn't you attend the rookie camp?
– I didn't have a visa. Unfortunately the rookie camp would start the next week and gathering all the papers in such a small timeframe would have been impossible.
– The sophomore season is always harder than the rookie one. Do you think you will have to face more pressure?
– Yes, when you are a rookie, you don't get much attention, people is still wondering what kind of player you are, and so on. Last year we showed that we can play at a high level, but now we'll have another role within the team with more responsibility. We all will do our best to live up to the expectations.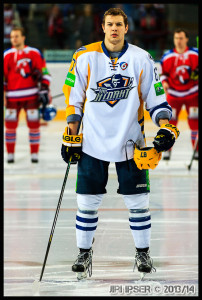 – Was it easier getting to the senior team with a number of players from your junior team, as opposed to doing it alone?
– Yes, of course, we already played together. Adapting to the team's environment has been easier. And we also play well together. It has been easier, especially at the start of the season.
– How much did Evgeny Artyukhin's presence help you and Sergey Shmelev in becoming the team's top scorers?
– Hard to say. We helped him and he helped us. The next season will show what kind of results we'll achieve without him.
– Did you feel safer playing with him?
– Yes, his presence gave us confidence, but last year he didn't fight at all.
– Maybe no one wanted to give him a go.
– Maybe. His glance is enough to cut many players down to size. But it's hard to say how it would be without him. Now that he'll play for CSKA Moscow, we'll be able to draw comparisons.