It's a month before the NHL grind begins, and if you're a competent armchair GM unlike myself, it's prep time for fantasy hockey. Nothing is more important than the bragging rights up for grabs in finishing before all your chump friends.
Smart armchair GM's take in every contingency – trades, signings, departures, depth charts, ice time – to make calculated decisions at the draft table.
One of the most common mistakes is drafting your favourite skaters or players on your favourite team. While it's not the most successful draft strategy, there's no denying it makes the fantasy season a bit more fun, cheering and tracking your favourite players the entire season.
So if you're a Ducks fan, here are four skaters you should consider rostering on your fantasy squad for the 2014-15 NHL season.
---
Ryan Getzlaf (C)
Projection: 74GP – 27G – 68A – 95P – 52 PIM – 190 SOG – +20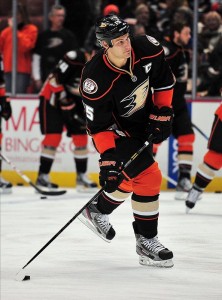 A no brainer pick, you can't go wrong with taking Getz in the first round of your draft. The big Anaheim captain produces in all categories, and can take over weeks in H2H formats by filling the stats sheet across the board. His two main weaknesses in fantasy hockey – goals, SOG – were shored up last campaign, potting 30 goals for the first time in his career, and finally eclipsing the 200 SOG plateau. While the old Getzlaf would mix it up and be good for 80+ PIM, he's had to subdue his on-ice antics now that he's in a leadership role. Still, he mixes it up more than your average PPG player, so if your league uses a lot of stats in its scoring system, Getzlaf is a fine choice.
Keep in mind that if your league has positional requirements, center is the deepest position to fill, so if it's a choice between Getzlaf and a winger who'll do similar, take the winger.
---
Corey Perry (RW)
Projection: 80GP – 41G – 39A – 80P – 76 PIM – 270 SOG – +28
Is Corey Perry the best winger in fantasy hockey?
Probably. Like his centerman, Perry just packs on the stats for your fantasy hockey team. Sure a guy like Alex Ovechkin might outscore and outshoot Perry, but when you factor in what Perry does in other areas (compare each player's +/- for starters), he's simply the better asset.
He's a lock for 40 goals, his pestering play can win you the PIM battle (misconducts), and he shoots the puck a ton. The endearing quality to drafting Perry is he's extremely durable, only missing nine games over the past six seasons.
Can't ask for much more – a sure-fire top-five pick, if he's available, take him, and enjoy the lofty production all year.
---
Cam Fowler (D)
Projection: 77GP – 11G – 39A – 50P – 10 PIM – 120 SOG – +5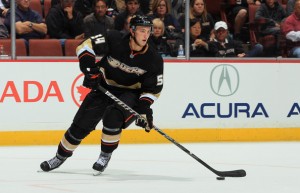 If you really want a defenceman off the Ducks' roster, Cam Fowler is the only viable option (assuming you want a good team/want to do well). The sleek skating blueliner really developed his two way game last year, showing the same offensive upside he flashed in his 40-point rookie season. With more responsibility and maturity, along with a stronger team around him, Fowler should see another spike in production. His peripheral stats are, and always have been, relatively average, but he should be one of the higher scoring blueliners next year.
For leagues that count shots blocked, Fowler has some hidden value as his block rate is better than most of his offensive peers.
---
Dany Heatley (LW)
Projection: 78GP – 30G – 25A – 50P – 22 PIM – 155 SOG – +7
When I first started fantasy hockey, there wasn't a more coveted player to own than Dany Heatley. His stats and value were insane. A lock for 50G, 50A, 80PIM, league-leading +/-, and 300+ SOG while being both LW/RW eligible made him the best all-around asset in fantasy hockey.
Those days in Ottawa are well in the past, with the ex-sniper last hitting the 30 goal plateau in '09-'10.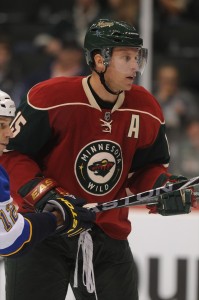 So why am I advocating wasting using a draft pick on Heatley? In the right situation, he could be the mayor of value town. This is a guy everyone except Bob Murray has written off, and you can use that to your advantage, snagging Heatley in the lower rounds of your draft. And the payoff could be huge.
He'll certainly have a go on the top line with the Dynamic Duo, and if he sticks, he's fantasy gold. Even if he bumps around the top-six and sees some second PP unit time, he'll be in good position to score 25, maybe 30 goals (pushing it here, but possible). Getting that type of value late in drafts is what makes championship rosters, not the decision in the first round where you debate between multiple 90-point players.
Having said all that, Heatley could be a bust and waiver-wire fodder after the first month. But when taking in his surroundings and contingencies, as well as past performance and ability, it's a fair gamble for armchair GMs to consider come draft day.
---
Honourable mentions:
Ryan Kesler – Centering the second line should put him in a position to succeed. Playing with a stronger supporting cast certainly helps, and the change of scenery factor could spike his production as well. Always an injury concern, however.
John Gibson/Frederik Andersen – Choosing a goalie from one of the best teams in the league is usually a wise fantasy move, but who'll have the starter's reigns is anyone's guess at this point. Whoever starts will have tremendous value, if for no reason besides the team playing in front of them. If they platoon, a more consistent starter is probably a better use of a pick.
Jakob Silfverberg – He was off to a strong start before an injury derailed his year. A smart all-around player, he could find himself on the top line sooner rather than later. And if that happens, he's an auto-roster.
Freelance sports writer. Ex-intern at The Hockey News and 680 News.