Ron Hextall has done it again. After making yet another move that initially left the public in confusion, the first-year GM continued his slow, yet diligent chiseling of a franchise with more obstacles than the set of American Gladiators. By signing forward Zac Rinaldo to a two-year extension, Hextall stays one step ahead of everyone else. But how?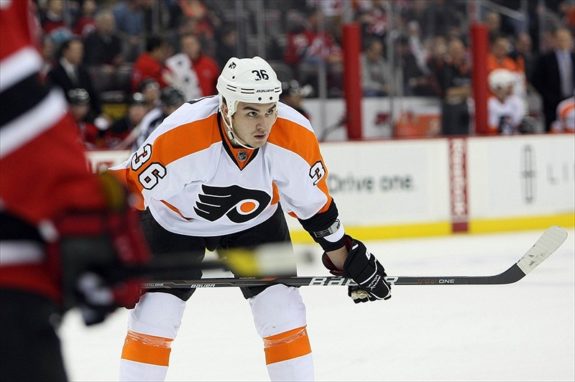 A Hextallian Type Player, or Desperation?
Zac Rinaldo will never be projected to have the type of impact his GM had while tending goal for the Flyers in the past. But the ingredients are certainly there to see why this deal was done in the first place. Rinaldo is one of the better skaters on the roster, and his edginess that earned him 153 minutes in the sin bin last season is akin to Hextall in his old playing days. But to point to this coincidental tidbit as the logic in locking up the 24-year-old Rinaldo a year before his current deal expires is as foolish as second-guessing Hextall in the first place.
"Here's the thing about Rinaldo: he's talked all along about how he thinks he can be a more-effective player, how he thinks he can be more than just a human wrecking ball. He says he can be a penalty killer and a positive even strength hockey player and a goal scorer and whatever else, and admits that he needs to be better than what he currently is, despite his high hit totals and "energy" attributes." — Travis Hughes, Broad Street Hockey
After exuberantly signing his new contract, Rinaldo echoed these sentiments yet again.
(By the way, if you're enjoying this post you can receive others just like it in your Inbox. Just click this link to receive  our free newsletter).
"Philadelphia is where I started my NHL career and this is where I want to be so I am really happy," said Rinaldo. "This definitely gives me a lot of confidence by the Flyers showing that they have confidence in me. I know they want to see me get better as a player, and this is the place to do it."
Rinaldo wants to get better. He aspires to be that guy who adds value to the penalty killing unit, and even shake the rep that he's offensively challenged. And that's fine and dandy; but does that warrant a new contract? Considering Rinaldo himself was surprised at the timing of the extension, the resounding answer is no.
The Philadelphia Flyers have only 3 projected regulars drafted and developed by the org. Giroux, Couturier and Rinaldo. #capproblems

— (((Ryan Wagman))) (@RAWagman) September 4, 2014

Appearing in only 67 games last season, Rinaldo's pair of goals was one shy of his career high, which was set the season before. And in 14 playoff games over the course of three seasons, he's given the Flyers as many points as Joe Fan on the couch. And in 165 regular season NHL games, Rinaldo's 470 penalty minutes reveal just what kind of project Hextall is investing in.
"Over his career, Rinaldo has averaged just 7:44 per game. Hovering between fourth liner and healthy scratch, he does most of his on-ice work with his fists. According to hockeyfights.com, Rinaldo has been involved in 27 fights over his three-year NHL career.

"Rinaldo also has been twice suspended in his career for illegal hits. Most recently he was docked four games last season for a check to the head on Buffalo Sabres defenseman Chad Ruhwedel." — Chris Peters, CBS Sports
Usually, a player with Rinaldo's body of work would be shown the door once his current deal expires. So why did Hextall jump the gun? The answer is found in various aspects.
https://twitter.com/dowdjim/status/507177258952704000
First, at the risk of mimicking a broken record, the Flyers are using every square inch of the salary cap allotted to them. And despite a year remaining on his current deal, Rinaldo's $850,000 cap hit over the next two seasons won't suffocate the Flyers as they look to pry some space in that very cap. Worst case scenario, he has a repeat performance of last season and is essentially either traded for a Coke machine, sent to the press box, or sent down to the AHL.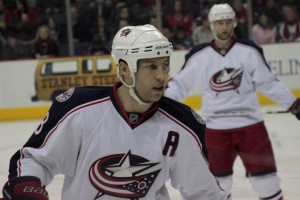 Insight Beyond Points
As mentioned earlier, Rinaldo is actually a decent to good skater. And from the preceding moves Hextall has made, re-upping Rinaldo is just another part of the trend that favors skating over size. Remember the initial shock of learning about the Scott Hartnell trade? It just so turns out, as we've learned since, that R.J. Umberger's contract improved the outlook of the roster from a salary cap perspective, as well as bringing in an upgrade in the skating department.
"With Rinaldo now under the full-time tutelage and mentorship of assistant coach Ian Laperriere, the Flyers hope he can harness his speed and tenacity into a valuable fourth-line position. Under Laperriere last season, Rinaldo earned nearly 30 seconds of shorthanded play per game, compared with the 31 seconds he received in the entire 2013 campaign." — philly.com
Two-year extension for Zac Rinaldo. Gotta think the Flyers will keep working with him on the PK. Would be another way for him to contribute.

— Tim Riday (@TimRiday) September 2, 2014
While it's widely documented that Rinaldo is second in penalty minutes since breaking into the league in the 2010-11 season, few actually know the effort he's putting in to change this disparaging trend. In a nutshell, Hextall stays ahead of everyone else by knowing his team down to the deepest, minuscule detail.
"General manager Ron Hextall and his staff have given Rinaldo a huge vote of confidence with this deal. They must believe Rinaldo is an asset to the team and believe he can become a useful energy player as well as a better offensive player. The 24-year-old is not a lost cause yet. He has displayed a strong work ethic to better himself and he even spent a small amount of time on the team's penalty kill last season.

"Rinaldo has also worked to build a rapport with the officials. Since his rookie year, he has made an effort to speak with the refs about calls made on the ice so he understands why he was called for an infraction." — Tom Foti, Broad Street Buzz
This isn't to tease a more friendly and considerate Rinaldo on the ice. He hits people. Like the Inglorious Bastards kill Nazi's, lighting the competition up like the 4th of July is what Rinaldo does. This should offset any possession criticism that's been lobbed into this recent signing. He's a fourth liner who doesn't even play eight minutes a game.
Sure, the Chicago Blackhawks were a bounce away from playing in their third Stanley Cup in five seasons. And they were dead last in the league in hits last season with 1,375. The Flyers were sixth in this department. But what jumps out is who led the entire league: your Stanley Cup Champions. Yes, that's right. The Kings tied Philly's Metropolitan rival, the Columbus Blue Jackets, for the most hits last season with 2,609. With three division rivals within the top 10 in hits last season, it's easy to see why Hextall sees the value in Rinaldo's physical style.
https://www.youtube.com/watch?v=363rUTmZWMg
At the end of the day, this move is a preemptive step to give Rinaldo an opportunity to develop his game, while maintaining an intimidating presence. Ideally, seeing Rinaldo develop into the type of player Dan Carcillo has been throughout his tenures from Philadelphia to New York would be nice. While Rinaldo is the better skater, Carcillo is the better hockey player. Sure, Carcillo was, and continues to play an undisciplined style. But look who we're comparing him to.
Like it or not, Rinaldo is in orange and black for three more seasons. And if you fall into the camp of disgust, take heart in the fact that the contract didn't include a NMC/NTC.